We had our first tiny snowfall last evening. I could have sworn that my snowshoes winked at me in anticipation of winter. Or were they flirting with my skis that were parked next to them? Perhaps I just need to get away!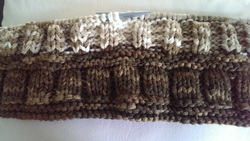 I've been working on my knitting project. Although I'm not going to divulge what I'm making, I'll show you how far I got yesterday.
Click on the image for a more detailed view!
As much as I would have liked to spend more time on it, I had to attend to other business. I will try to squeeze in an hour or so today of knitting.


I had a very nice wine last evening. It was a 2010 Hill Family Estate Syrah from the Clark Vineyard. On the nose, strong earthy tones and rich fruit greeted me. I tasted lush fruits with black cherry being predominant. There was a hint of vanilla and other berries that I couldn't identify. Soft tannins and a very smooth finish made this a most enjoyable wine. And of course, the company and food were an added bonus! http://www.hillfamilyestate.com

By the way, did you know that the word Syrah is derived from Shiraz, a city in Iran?


Cheers…and Happy Friday!
Penina