So it seems that I need to backtrack a few days. As I mentioned in a previous post, I attended a wine seminar and tasting on Wednesday for Chianti Classico.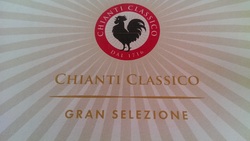 The purpose of the seminar was to introduce a new classification to the top of their DOCG quality pyramid, Chianti Classico Gran Selezione. The most important elements of this classification are as follows:

1) Wine must be produced from a single vineyard or from a selection of the estate's best grapes.

2) Minimum aging requirement is 30 months, including 3 months of bottle aging. (mostly French oak is used)

3) Strict chemical parameters & outstanding organoleptic characteristics are judged.


We tasted eight 2010 Gran Selezione. They were all a deep ruby color with heady aromas and each one unique on the palate. The wines that "spoke" the most to me were the Antinori, Isole e Olena and Felsina. When I have time, I will elaborate more on my experience and share tasting notes.


I will also have to catch up on the wine that I had last night as well!

Happy Friday!

Cheers!
Penina