Where the hell did summer go? I was back to wearing a sweater, socks and boots yesterday! Brr…. Fortunately, I spent most of the day in the office, so I can't complain too much!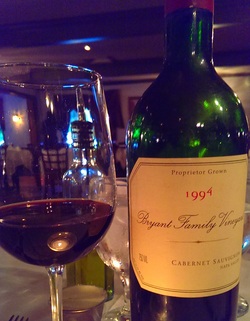 Last evening a good friend shared one of his very special bottles of wine with me. It was a 1994 Bryant Family Vineyard Cabernet Sauvignon. Wow! It was beyond "awesome". I tried to get a photo of the deep and intense purple color of the wine, but as you can see, the lighting was too dark to capture it.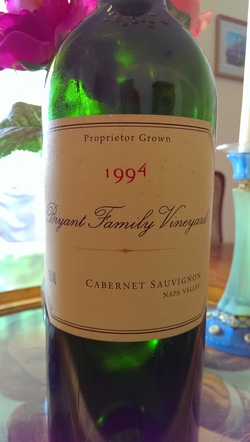 The wine had a beautiful nose of blackberries, blueberries, dark roasted coffee beans and spice. On the palate, it was rich with dark fruit, spice and licorice. The tannins were imperceptible, giving the wine a silky quality. Dark cherries, licorice and spice lingered on the palate for a long finish. This is truly one of the finest wines I've had of late!
http://www.bryantwines.com
The sun is shining today and I'm off on an adventure!

Happy Wednesday!

Cheers!
Penina