It's been a beautiful weekend. The weather, the foliage and company have been stellar. Apple picking, sight seeing and possibly one too many orchards were all part of the package.

But the "holiday" isn't over yet. The skies are blue and I'm off on another adventure.

I'll return on Wednesday with my take on "Wines of Portugal Showcase".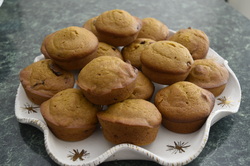 And yes...I finally made the pumpkin muffins with pomegranate infused cranberries!

Happy Monday!

Cheers!
Penina