It was a lovely weekend filled with birthday and holiday celebrations. I enjoyed attending a few parties without the fuss of my planning and cooking for a change! The various festivities offered catered finger food or buffet style home cooked dishes along with an assortment of wine, champagne and other spirits. I didn't taste or open any interesting wines over the past few days, but I did enjoy the Veuve Clicquot that was being passed around at one of the parties!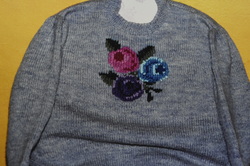 As I ease myself back into the world of design and knitting, I've been going over some of the "artwear" I have made over the years in the hopes of inspiring and igniting my creative juices again. I came across this sweater that I designed for my niece. It is a basic crew neck sweater that I knitted and then hand embroidered flowers on it to give it a little pizzazz. The sweater has given me a few ideas for some winter hats. It's a little more work, but worth the effort and end results!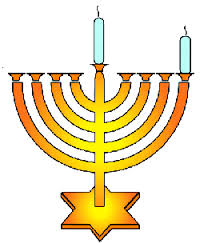 Hanukkah begins at sundown tonight. Potato latkes served with an array of toppings and Soofganiyot (Israeli Doughnuts) are traditional treats served on this holiday. There are many recipes that can be found online or perhaps you have a favorite that you might want to share. If I find my Orange Soofganiyot recipe, I'll post it.


If you are lighting the candles, I wish you a very Happy Hanukkah!

Cheers!
Penina