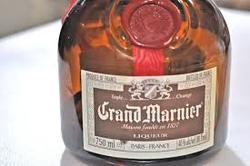 Last evening while sitting with a friend and enjoying some Grand Marnier poured over vanilla ice cream, we engaged in an interesting discussion about the disappearance of the "after-dinner drink". At best, one might indulge in a dessert wine, glass of port, snifter of cognac, scotch or perhaps a little Sambuca with their espresso. When is the last time you can recall anyone having a King Alfonse, Coconut Cream Martini, Irish coffee or Pernod after dinner?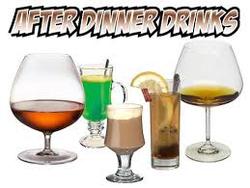 With more people imbibing wine with their meals these days, the desire for "old fashioned" after-dinner drinks seems to have fallen by the wayside. However, there are some very good spirits/mixed drinks to indulge in after a meal.

When I lived in Miami Beach back in the early 70s, after-dinner drinks were quite popular. One of my favorite drinks was the King Alfonse. Not only was it festive, but it was a dessert as well. I was always fascinated with how the cream stayed on top of the Crème de Cacao without floating to the bottom. The drink was made at the table and quite entertaining to watch. The Crème de Cacao was poured into the glass, then whipped cream was slowly poured over the back of a bar spoon onto the Crème de Cacao.

This is the only photo I could find of a King Alfonse drink, courtesy of Cheri Photography.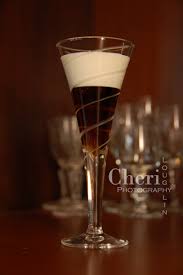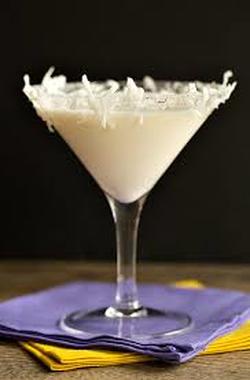 Once upon a time my cabinet was stocked with, berry, chocolate, coffee, crème and fruit liqueurs. Perhaps it is time to restock and get inventive for the summer months ahead. Let's bring back the after-dinner drink!

Happy Wednesday!

Cheers!
Penina