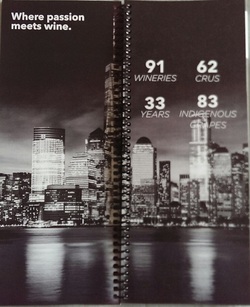 On Monday I went to the Vias Imports Grand Portfolio Tasting held at the IAC building in NYC. It was a beautiful venue to hold a wine tasting. Vias Imports has one of the most comprehensive portfolios of Italian wine in the US. In addition to Italy, their portfolio includes wines from Argentina, Austria, France, Lebanon, Spain, and the United States.
With over 200 indigenous varietals that express Italy's unique and diverse regions, there were many wines to taste, including several other countries. It was an afternoon of learning a little history and tasting a few varietals for the first time.

One of the varietals that were new for me was the Barbarossa grape. I learned that some of the oldest Barbarossa vines in Italy are located in the Emilia-Romagna region. Fattoria Paradiso owns a hundred-year-old vineyard and produces this grape. I tasted the 2010 Il Dosso Barbarossa Forli, IGT made with 100% Barbarossa. It was fresh with cherry and hints of mint and chocolate.

Another grape that was new to me was Dolcetto, found in the Piedmont region of Northwest Italy. I tasted a 2014 Vilot Dolcetto D'Alba from Ca Viola Vineyards. Made with 100% Dolcetto, it had lots of blackberry, licorice and a hint of almonds on the finish.

I met with Matteo Menicacci, winemaker and producer at Castello Di Meleto in Tuscany. He encouraged me to try the 2014 Vigna Casi Chianti Classico Riserva, DOCG. Made with 100% Sangiovese grape, it was smooth and elegant with floral and berries dancing on the palate. The vineyard is rich in history and it is worth visiting their website. http://www.castellomeleto.it

I will revisit and share some of the many varietals that I tasted in future posts. But before I sign off, I must tell you about a heavenly wine from Le Salette, located in the Classica Valpolicella region. The 2012 La Marega Amarone Della Valpolicella Classico DOCG was exquisite. This Valpolicella blend was packed with spices, strawberry, herbs, chocolate and plum with a velvety finish. I would drink this for dessert!

Have a great Wednesday!

Cheers!
Penina