No knitting or wine commentaries today. I want to talk about an organization that I volunteer for that is very dear to my heart.

Puppies Behind Bars


This is an incredible program that was started by Gloria Gilbert Stoga. PBB trains prison inmates in maximum-security prisons to raise service dogs for wounded war veterans and explosive detection canines for law enforcement. The puppies are well loved and cared for by the inmates that raise them.
I encourage you to visit the PBB website to learn more about it.
www.puppiesbehindbars.com
The video will touch your heart.
The volunteer program for PBB is about socializing these future working dogs. I have been doing it for several years now. It is truly rewarding and a win/win situation for everyone involved! I have watched these dogs from 8 weeks old to 24 months old grow into well-trained, devoted service dogs. I take the puppies out of the prison and expose them to the outside world. In return, I am rewarded with kisses and love from them!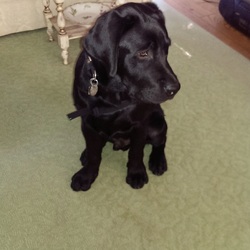 This is Zeus. He is 5 months old. We bonded yesterday. He is going to make a great service dog for someone!

Cheers!
Penina