After spending a good part of the day yesterday without electricity, the "powers that be," finally fixed the problem and I was able to communicate with the world again. It amazes and scares me how dependent I have become on the use of Internet, phones, TV, running water (I have a well) and lights.

During my "down" time, I took the opportunity to knit a few more inches of my wrap. Normally, I can crank out a project in one day, but my other jobs have been demanding attention.


As you can see, the pattern is really starting to "pop". I'm not so sure that I want to turn this into a large wrap. I'll keep going for a while and see where this takes me. This is part of the fun with my knitting projects. I'll start out with a concept and pattern in my head and as I go along, I might end up with something totally different.


Since the Stanley Cup was on last night, I wanted to make an easy and quick meal that didn't demand much kitchen time and could be eaten while watching the game. One of my "go to" recipes is salmon en papillote (or any other fish). I just add whatever veggies and herbs I have on hand, toss in some wine and lemon, then throw it in the oven to bake for about 20 minutes.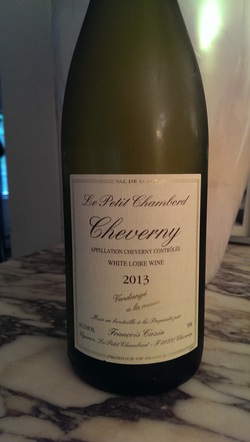 We opened a bottle of Cheverny, White Loire wine which is 70% Sauvignon Blanc and 30% Chardonnay. It was light and crisp with the usual grapefruit, a hint of pear and earth. It went well with the meal.


Until next time…

Cheers!
Penina