Once upon a time, there was a Benedictine monk and cellar master who lived and worked at Hautvillers Abbey; his name was Dom Pérignon (1658-1715). As legend has it, it was Dom Pérignon who discovered how to turn the still vin de Champagne into a foamy, bubbly wine. This is indeed a controversial subject and one that I will pursue at another time. My focus today is on another legend in the making whose origins are from Hautvillers as well.

Hautvillers is a traditional Champagne village located on the right bank of the Great Valley of the Marne in the foothills of Montagne de Reims in France. Premier Cru is exclusively grown here. Chardonnay, Pinot Noir and Pinot Meunier are grown in soil containing chalk and belemnites originating from the Mesozoic era.

Hautvillers is a small village with only 850 inhabitants and nestled amongst the residents is Champagne Marion-Bosser, a small cooperative producer that has been in the family for five generations. Today, Champagne Marion-Bosser is led by the dynamic mother-daughter team of Bernadette and Elodie Marion.

Elodie's maternal great-grandfather launched Marion-Bosser, which was then passed down from mother to daughter with each ensuing generation. At a point in time, Elodie's grandmother moved the family to Paris and leased out the vineyards, but Bernadette moved the family back to Hautvillers in 1994 to take over the vineyards again. At the age of forty, Bernadette immersed herself in school to learn farming and winemaking. Her daughter Elodie also pursued an education, enrolling in the Beaune wine school CFPPA in Burgundy. After completing eight years of study in Burgundy, Elodie returned to Hautvillers in 2009 to work alongside her mother in running the domaine.

Marion-Bosser owns three hectares of old-vine premier cru vineyards, most of which are Pinot Noir, in their home village. They source out their Chardonnay from grand-cru vineyards in Oger and Vertus. These impressive women work the vines by themselves and practice sustainability that is influenced by Elodie's Burgundian education. Elodie makes her wine at the local cooperative, which demands strict specifications from farming techniques to winemaking. In addition, she has the advantage of using state-of-the-art equipment and is surrounded by fellow enologists. Needless to say, the wines reflect the passion and dedication that has gone into making them.

Images of Hautvillers courtesy of Marion-Bosser

Elodie prefers to age the champagne before the wine is bottled and likes to keep the dosages low, preserving "the fresh character of the grapes intact".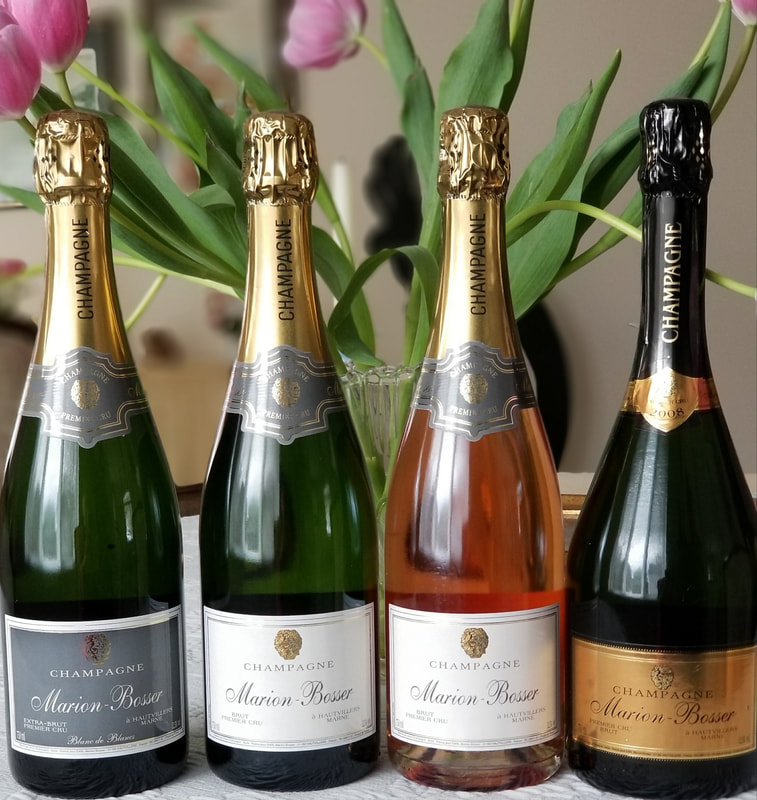 Brut Tradition, Premier Cru is 60% Chardonnay and 40% Pinot Noir. It is aged for 3 years on lees. The color is golden with a soft bouquet of floral, pear and stone fruit. The palate offers fine, persistent bubbles with tart apples, stone fruit and hints of nuts and yeast. This is a lively champagne with lots of freshness and a lingering taste of lemon zest.
Alcohol: 12.5%
SRP: $47.99

Extra-Brut Blanc De Blancs Premier Cru is 100% Chardonnay. It is aged for 3 years on lees. The color is light straw with aromas of lemon, granny apples and minerality. The palate offers soft fruit with crisp acidity, refreshing mousse, toast and fine bubbles. This is a dry wine with a clean finish.
Alcohol: 12.5%
SRP: $53.00

Brut Rose, Premier Cru is 55% Chardonnay, 30% Pinot Noir and 15% Pinot Noir red wine. It is aged for 3 years on lees. The color is pink salmon with delicate aromas of strawberry and red berries. The palate offers persistent fine bubbles with strawberry, raspberry, hints of citrus and minerality. Beautifully balanced, creamy and a crisp finish. I enjoyed sipping it with my gourmet grilled cheese sandwich!
Alcohol: 12.5%
SRP: $56.99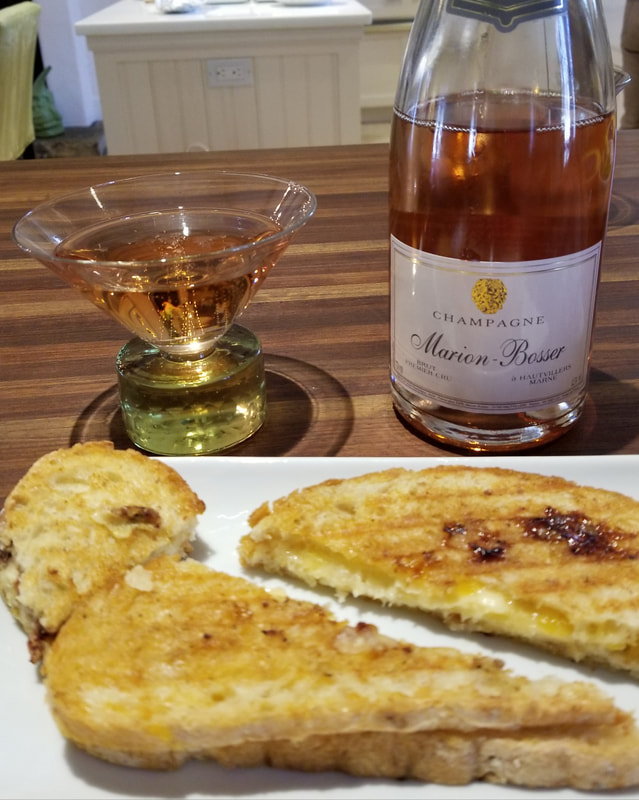 Millesime 2006, Premier Cru 2008 is 50% Chardonnay and 50% Pinot Noir. It is aged for 5 years on lees. The color is golden yellow with lovely aromas of stone fruit, soft red berries and baked bread. Stone fruit dominates the palate with fine bubbles, soft fruit and a lemon zest finish. This is a crisp, dry and bold wine.
Alcohol: 12.5%
SRP: $74.99

All of the above champagnes will pair well with an array of food or drink beautifully as an aperitif. My guests enjoyed sipping and nibbling on a variety of cheeses, fig spread, fruit and shrimp with cocktail sauce.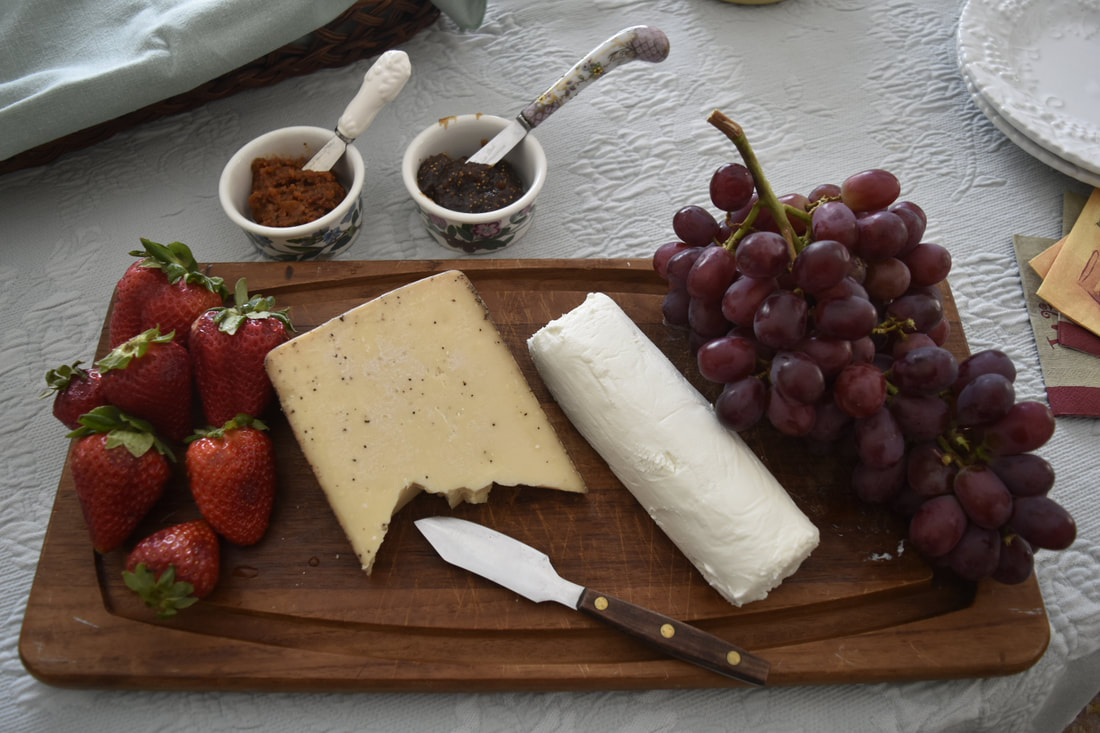 As their brochure states "this family-run estate has made wines with care, precision and a passion for terroir, from generation to generation for more than a century. They are passionate about the land and about the wine." And it clearly shows in each bottle of these elegant wines!