A few days ago I had the opportunity to taste a large sampling of wines from Croatia. With twenty-two wineries represented, my palate was treated to some very impressive wines.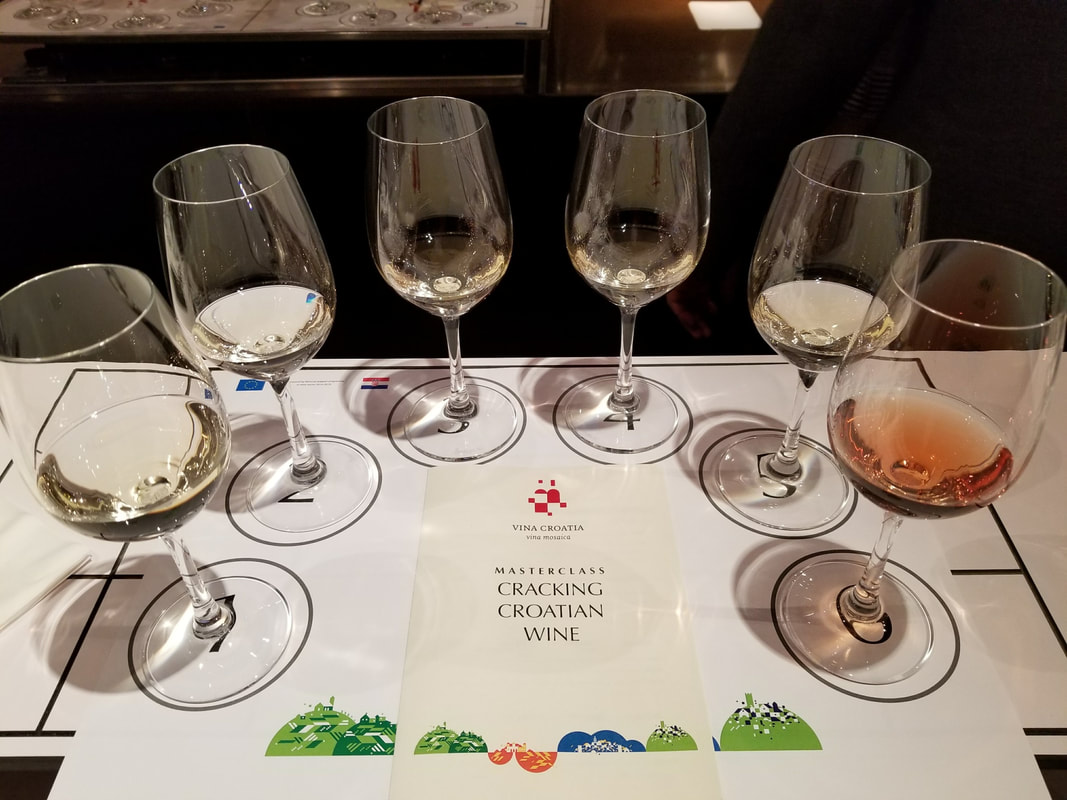 Today's post is a general overview of Croatian wine. I will be getting into a more in-depth study of each region, the wines, producers and some history in future posts.

Croatia stretches over Central and Southeastern Europe with a very long coastline hugging the Adriatic Sea.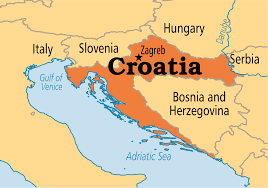 There are four wine regions throughout Croatia with twelve sub-regions and 66 appellations. The climate and soils vary throughout these regions. The Adriatic coastline enjoys typical Mediterranean climate of hot, dry summers and cool, rainy winters. Further inland in Central Croatia, the Dinaric Alps run parallel to the Adriatic Sea creating an alpine climate at the higher altitudes. Depending on the region, one can find a variety of soils, with white soils of limestone, iron-rich clay soils and stony karst soil being the most dominant. Here is a fun fact: Croatia is home to the Slavonian oak forest, which provides oak for the casks preferred by many European winemakers for aging their finest wines!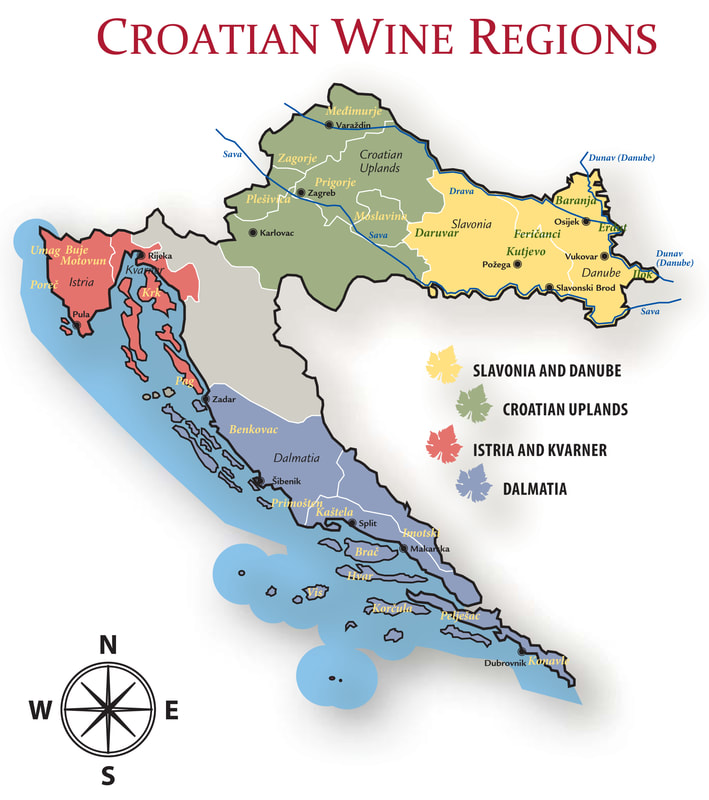 There are 130 indigenous grape varieties in Croatia of which 40 are in production. Over 60% of wine produced in Croatia is white. Here is a list of just a few of the indigenous grape varieties:

Red grapes
Tribidrag is genetically identical to Zinfandel and the oldest recorded name for the variety.
Plavac Mali (offspring to Zinfandel) and considered "king of the Croatian wines".
Teran found mostly in western Istria region
Babić found mostly in the Central Dalmatia region

White grapes
Graševina (most planted grape variety in Croatia)
Pošip found mostly in Dalmatia region
Malvazija Istarska (second most planted grape in Croatia)
Grk found mostly on Lumbarda, a small island off the coast
Debit found primarily in the Dalmatia region
Generally speaking, the majority of white wines that I tasted were very aromatic, dry, crisp, light and fresh, with a perfect balance of fruit, citrus, and minerality. I must admit that the white wines were my favorite.

The red wines run the gamut from soft to chewy tannins with layers of dark fruit, spice and herbs that are full-bodied and robust to softer medium-bodied reds of cherry, sweet berries, spice and floral.


I tasted a few rosés that were very impressive, including a standout from Vina Laguna Perla Rosé NV made with Teran grapes. Vina Laguna is located in the Istria wine region.

Among the many producers present was
Grgić Vina Winery
, owned by winemaker Mike Grgich, who became famous in 1976 when his Chateau Montelena Chardonnay won first prize at the "Judgment of Paris." Both his Pošip 2016 (white) and Plavac mali 2015 (red) were outstanding. His winery is located in the Peljesac Peninsula, part of the Dalmatia region.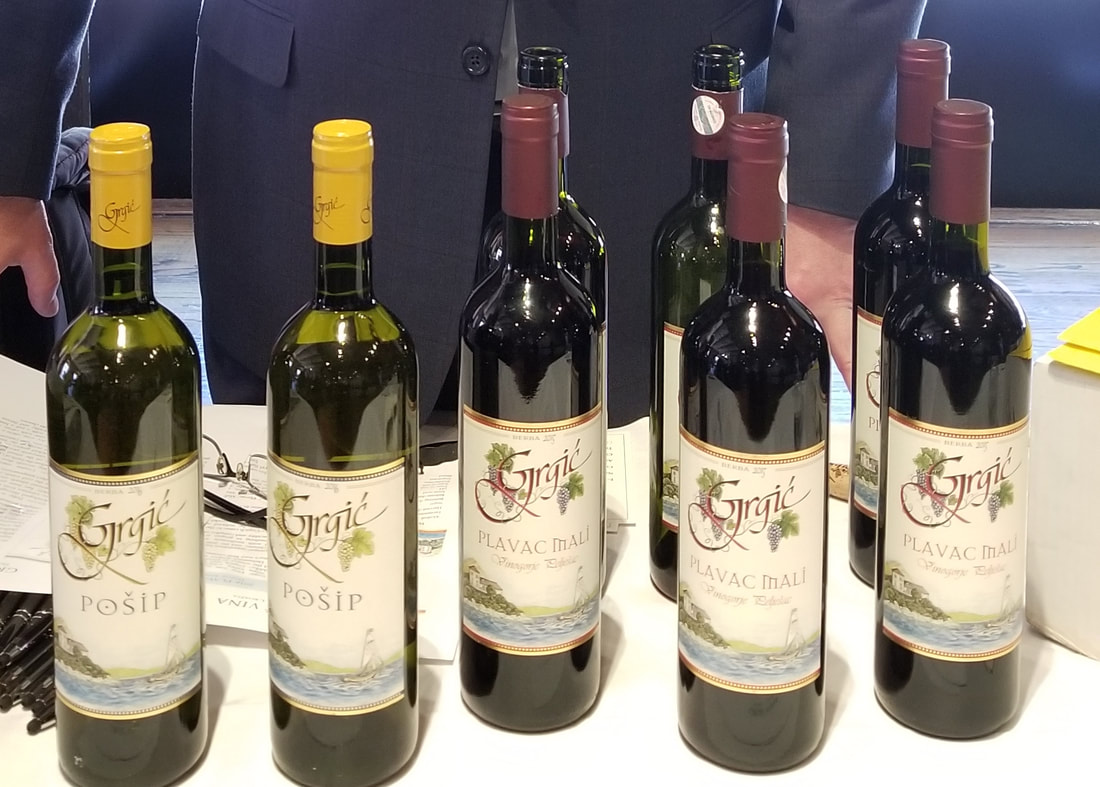 In addition to the wines, I tasted amazing olive oil from several producers. Wow---just wow!

As I said earlier, this is just a quick introduction to Croatian wine…I have more to cover! The names of the varietals can be daunting, but I hope I have peaked your curiosity enough to pick up a bottle the next time in you're in a wine shop. If you do, share your thoughts with me!