The past few days of humid and rainy weather has had me reaching for "cold" drinks with lots of ice. Although my freezer is stocked with vodka and the bottom shelf of the refrigerator is dedicated to wine, I've been guzzling non-alcoholic drinks. Oh my!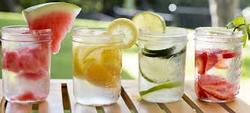 Iced tea and iced coffee can tend to get boring after a while, so I started searching for interesting recipes in addition to having a few of my own. Of course, one of the easiest beverages to prepare is infusing water with your favorite fruits, vegetables, herbs and spices. It's refreshing, healthy and a great way to hydrate! Just combine the water with the ingredients that you like and let sit in the refrigerator for at least 12 hours. The longer it sits, the stronger the flavor! The best part is that you can keep adding water to the blend and it will continue to infuse! A favorite blend of mine is strawberry, lemon thyme and basil. The combinations are endless and a little creativity and imagination can go a long way.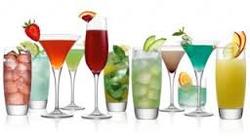 Another easy preparation is to add pureed or chopped fruits and herbs to your favorite lemonade. You can give it an added dimension by adding a little seltzer.
Pureed mangos and raspberries make a delicious thirst quencher, especially when served "slushy" style after cooling in the freezer.

If you're craving an exotic drink, but don't want the alcohol, just add extra juice, club soda, ice cubes or whatever the recipe calls for sans the alcohol.


And lastly, making up fruit/herb ice cube trays, is a fun way to not only add flavor to your beverage, but it is a great conversation piece as well. Chop the fruit/herbs into small chunks and fill the ice cube trays. Make sure you add enough water to each cube to cover completely. Allow to freeze and enjoy!

Stay cool and have a great Saturday!

Cheers!
Penina