It never ceases to amaze and impress me the amount of quality-focused wines that are being produced in South America. I have written many stories about wines from Chile, Argentina, Uruguay and Brazil. And as I have mentioned before, the wines are unique, filled with distinctive characteristics and many are "pocketbook" friendly!

Although today's story takes place in Argentina, it actually begins in France. Jean Bousquet and his family expand four generations of winemaking and are originally from the city of Carcassonne, in Southwest France. Their family winery and vineyards were located close by in the commune of Pennautier.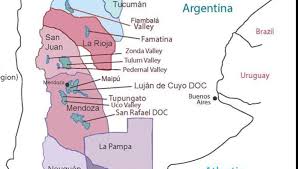 In 1990, Jean Bousquet and his family made a trip to Mendoza, Argentina, specifically to the Gualtallary Valley to learn about the region. The Gualtallary Valley is situated high up in the Tupungato district of the Uco Valley with altitudes that reach up to 5,249 ft. Bousquet was impressed with the region's unique characteristics and qualities even though the land was barren of vines. Back then the area was considered too cold for growing grapes and the very idea of planting vines was shrugged off by the locals. However, Bousquet had a vision to turn the cool climate land into a winery and vineyards to make organically grown wines.

The photos below show the land prior to 1990 and the winery today.

Having divested almost everything he owned, including the family winery and vineyards in France, Bousquet purchased 998 acres in 1997 in the Gualtallary Valley in Tupungato. Sitting at an altitude of 4,000 feet, it is considered one of the highest altitude vineyards in Mendoza and the world!

And so the Bousquet family began their new life in Argentina at Domaine Bousquet.

"The objective of the Bousquet family was to unite our tradition of European wine making with the ideal agricultural conditions in Mendoza."

Bousquet realized from the get go that with the low amount of rainfall in this region, he would need a water source. So, in 1998 they began digging a 495 ft. well, which took two years to complete. Between the drip irrigation system and desert like conditions, they control the amount of water needed to produce grapes with lower pH, resulting in beautifully balanced wines. His first vintage was released in 2005.

Bousquet's daughter Anne and her husband Labid al Ameri, who were living in Boston, became involved with the company after visiting Argentina in 2002. After numerous trips back and forth and Labid joining his father-in-law full time in 2005, they finally moved to Tupungato in 2009. Anne and Labid became full owners in 2011, bringing with them their shared philosophy on organic and economic sustainability. With Anne's background as an economist, she assists in financial planning, day-to-day operation management and business development. Labid has a degree in Finance and in 2005 he created the commercial structure for Domaine Bousquet, which now has a brand presence in over 50 countries.

With the benefits of cool climate, sandy soil, controlled water irrigation and healthy organic grapes, it certainly sets the stage for quality wines.

I recently had the opportunity to try two wines from Domaine Bousquet, Gaia Red Blend and Gaia White Blend.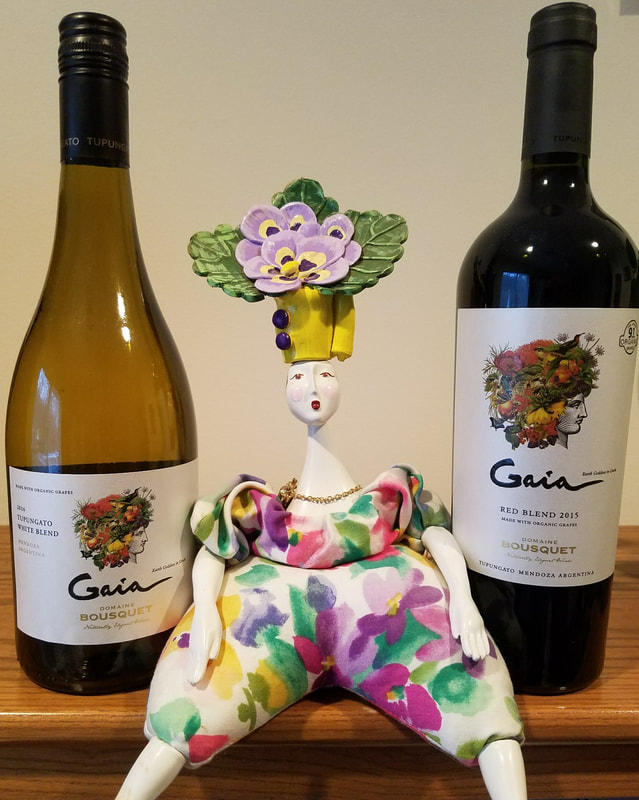 In Greek mythology, Gaia is the Mother Earth goddess, the ancestral mother of all life. And considering that Gaia wine is all organic, it is a fitting name.

The grapes are harvested manually, barrel fermented and aged in French oak.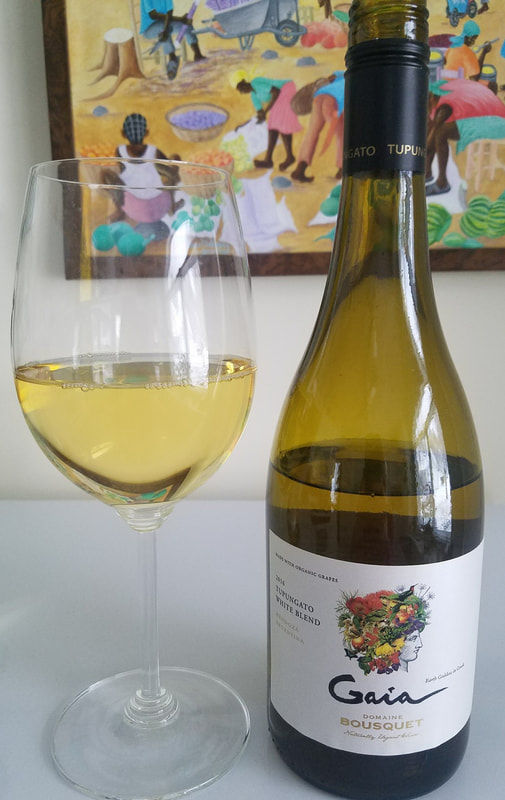 Gaia White Blend 2016 is made with 50% Chardonnay, 35% Pinot Gris and 15% Sauvignon Blanc. The color is a crisp yellow with aromatic notes of soft citrus, floral and pear. It is fresh and lively on the palate with subtle notes of pear, citrus and green apples. The finish is dry with hints of tropical fruit lingering on the palate. This is a perfect wine to serve with oysters, seafood, cheese and fruit.

Alcohol: 12.5%
SRP: $18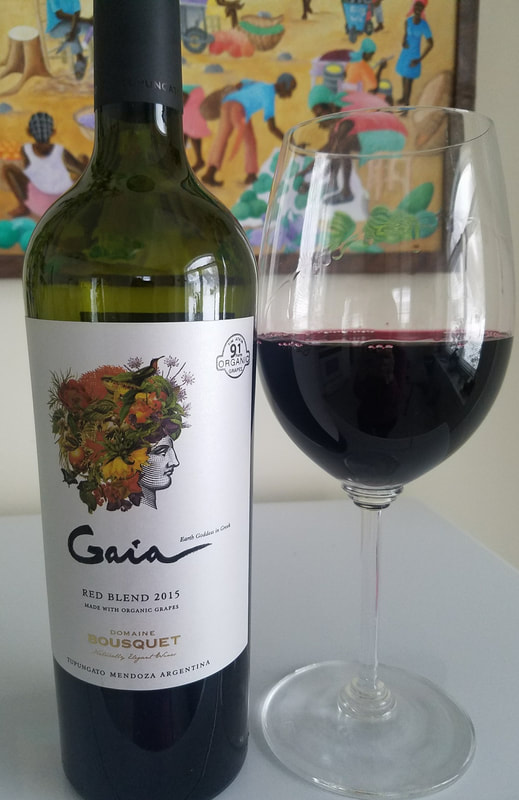 Gaia Red Blend 2015 is made with 50% Malbec, 45% Syrah and 5% Cabernet Sauvignon. The color is dark purple with heady aromas of anise, violet and dark berries. The palate offers silky tannins with dark fruit, dark cherry, hints of spice and white pepper on a long finish. This is a wine that will complement just about any dish from appetizers to dessert!

Alcohol: 14.5%
SRP: $20

I look forward to trying the other range of wines that Domaine Basquet has to offer, such as their Premium, Reserve and Grand Reserve lines and single bottling Ameri Icon and Dulce.
France + Argentina = delicious wines! Simple math!
Cheers!
Penina
To leave a comment or if you have an inquiry, please contact me at
wineknittercomments@gmail.com