It was a beautiful day for touring the wine regions of Spain at Spain's Great Match Wine Food Design event. There were more than 300 wines to taste from seven wine regions and culinary treats to savor from New York's top Spanish restaurants. There were thirty-five featured denominations of origin represented in addition to several wine seminars being offered. It was a whirlwind event and I learned a lot.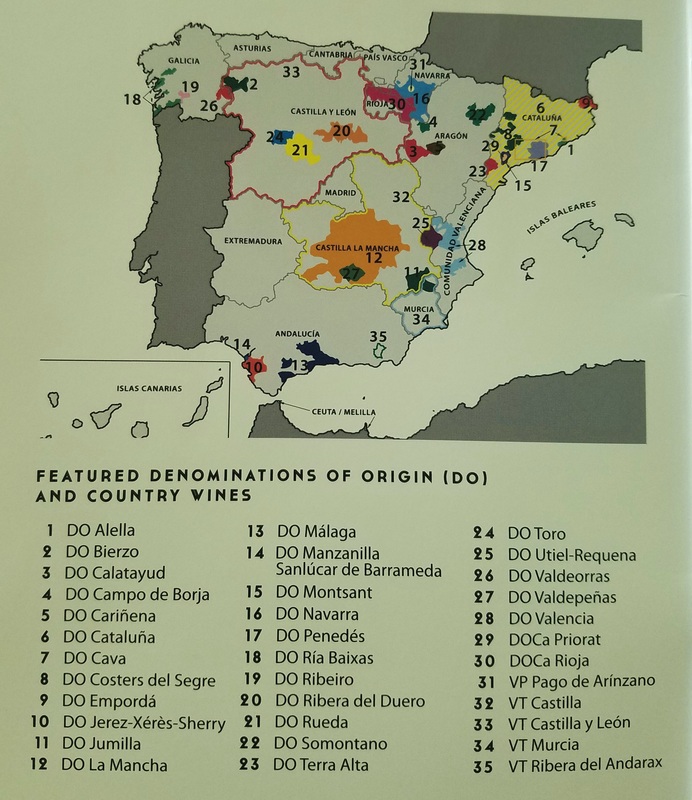 Spain is no stranger to wine making with a history dating back at least three thousand years. The Phoenicians planted grapes around 1100 BC in what is known today as the Sherry region. Wine commerce ended with the arrival of the Islamic Moors in 711 AD and did not commence again until the Moors were defeated in 1492. Jumping ahead to the present, according to the International Organization of Vine and Wine, as of 2015, Spain ranks 3rd in wine production, with Italy and France taking the lead. An interesting fact: Spain has more land devoted to vineyards than any other European country. Over 400 varieties of grape are planted throughout Spain.

Here is a very small list of principle indigenous grapes.

Tempranillo is Spain's most famous and noble red grape. Garnacha, Mencía, Monastrell and Cariñena are just a few of Spain's other noted red grapes.

Albariño, Verdejo, Godello, Palomino, Malvasía Moscatel and Xarel.Lo are among some of Spain's well-known white grapes.

In future posts, I'll be talking about Cava Sparkling Wine, Spain's answer to Champagne and Sherry, a fortified wine that originated in Spain. In the meantime, I have put together a mini slide show to give you a "taste" of the event, because sometimes a picture is worth a thousand words! And yes, the wines were delicious and memorable! Just click on the photo to pause, forward or reverse.

Have a great weekend!

Cheers!
Penina