This past Friday, I had the opportunity to visit the Culinary Institute of America, nestled on a majestic setting overlooking the Hudson River in Hyde Park, New York. The CIA also has campuses in California, Texas and Singapore.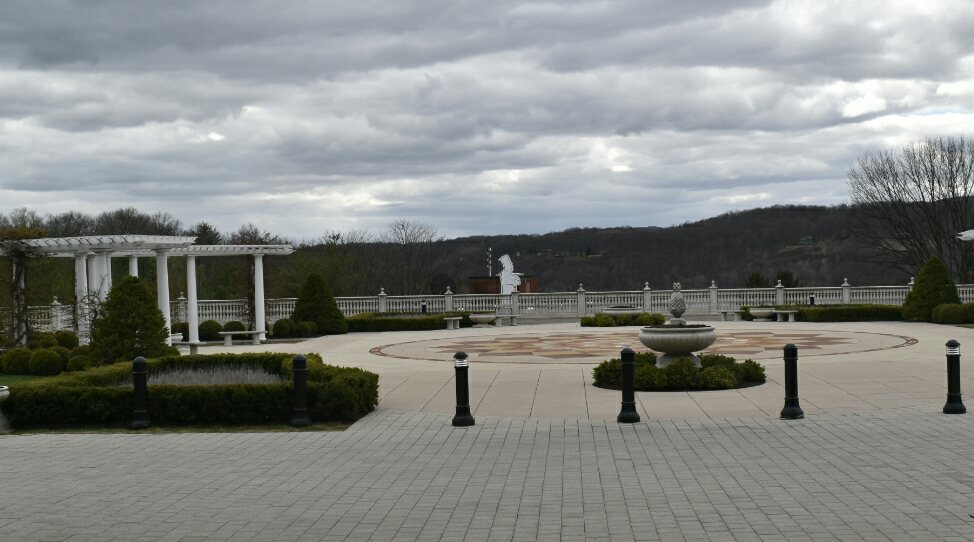 Frances Roth and Katharine Angell founded the CIA in 1946. It is a private, not-for-profit culinary college and is one of the foremost culinary schools in the world. The CIA offers an array of Associate and Bachelor's degrees in professional culinary arts and baking to majors in management, culinary science and applied food studies, just to name a few options. The college also offers certificate programs and courses for professionals and food/wine fanciers.
It is a bustling 170-acre campus with over 2,900 students hailing from every state and 30 foreign countries as well! As I drove into this impressive community, students in their chef jackets were scurrying from one building to another creating an air of excitement and enthusiasm. In addition to dorms, library and administrative buildings, the CIA has five diverse restaurants on campus that serve as hands-on teaching kitchens and classrooms for the students.


The American Bounty Restaurant focuses on the seasons and local products, offering traditional regional dishes. The Bocuse Restaurant is named after the famous French chef, Paul Bocuse. It serves classic French cuisine using "ultra-modern cooking techniques". Pangea offers an eclectic, global menu of "plant-forward" dishes with the idea of protecting food resources. Ristorante Caterina de' Medici is authentic Tuscan style dining. And last, but certainly not least, the very popular Apple Pie Bakery Café shows off the talents of the CIA's students and faculty baking & pastry artistry. It also offers simple café cuisine.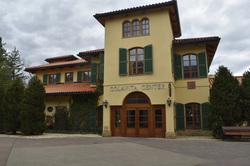 With so many interesting food options, I finally decided on Ristorante Caterina de' Medici. The restaurant is located in the Colavita Center for Italian Food & Wine. It is an impressive Tuscan-style building that is also equipped with teaching kitchens and classrooms dedicated to the study of Italian food, wine and culture. The restaurant is beautifully decorated with Venetian glass chandeliers and imported tapestry-upholstered chairs. From the moment we were seated to the time that we left, the students were gracious, attentive and very professional!

Our main server explained to us that the students do a rotation of time spent in "back of house" (the kitchen) and then "front of house" to get the full experience of working in a restaurant. She said that after being in the kitchen and creating the food it was also very exciting to watch the reactions of the diners consuming it. And as for our dining experience…

We enjoyed a myriad of dishes that delighted our palate. The presentation was pleasing to the eye as well! We started our dining experience with Torta di Cipolle, an onion tart with balsamic vinegar and Ribollita alla Toscana, a Tuscan bean, bread and vegetable soup. The fish entrees were limited, so we both opted for the Salmone alla Griglia, grilled salmon prepared with green lentils, fennel and garlic croutons. It was a nice fusion of flavors.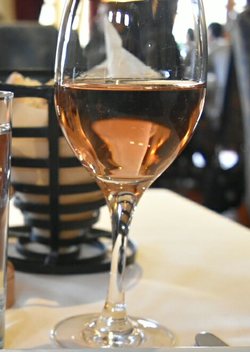 I opted for a glass of Banfi Centine Rosé Toscana 2014 to have with my meal. It was dry and refreshing with lovely berry notes that led to a crisp and long finish. It complemented all the dishes, including dessert.

We hardly had any room left in our tummies for dessert, but we ordered Tiramisu and a warm chocolate lava cake with vanilla gelato.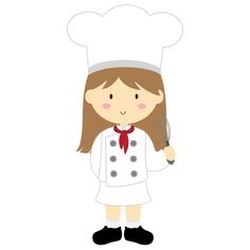 The CIA is impressive with much to offer and the students' passion for the culinary arts is contagious! I just might look into taking one of their weekend Food Enthusiast Courses! Check out their website!
http://enthusiasts.ciachef.edu

Have a great Saturday!

Cheers!
Penina