Last week I attended the Descorchados (uncorked in Spanish) Wine Tasting in NY. Seventy-three wineries were represented from Argentina, Brazil, Chile and Uruguay. In addition to tasting some outstanding wines, I had the opportunity to meet and talk with many of the winemakers one on one. There were stories to be told and wines to be shared. Many of the wine labels were quite whimsical, capturing the history and stories of the wineries.

So…let me start with Argentina and one winemaker.

When one thinks of wine from Argentina, Malbec is usually the first wine that comes to mind. Mendoza, Argentina is considered the "heart of wine growing" in this country. Over 70% of all Argentine wine comes from Mendoza, which includes about 85% of its Malbec! In addition, Bonarda, Cabernet Sauvignon, Merlot, Tempranillo, Syrah and a small amount of Cabernet Franc are among the grapes that are grown there. The Chardonnays and Sauvignon Blanc are eye openers, as well as the recent comeback of Semillón.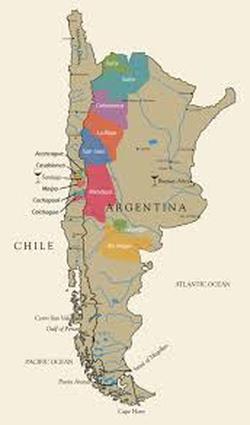 At the wine tasting, I "toured" around Argentina from north to south and in between. The most significant wine valleys of Argentina are The Calchaquies Valleys, La Famatina Valleys, San Juan and of course, Mendoza. Each wine valley produces a particular grape, style and flavor. Depending on the terroir, a grape can have completely different or distinct characteristics when grown in just a slightly higher or lower elevation.

Matias Riccitelli is the proprietor and winemaker of Riccitelli Wines, located in Mendoza. Born and raised in Argentina, he is the son of renowned Norton winemaker Jorge Riccatelli. Using traditional techniques as well as the newest technology, Matias has created some exceptional wines.

He poured four unique wines for me, starting with "Hey Malbec!" a 100% Malbec grown in Luján de Cuyo. It was soft, juicy and pure. He then poured "The Apple Doesn't Fall Far From the Tree", another 100% Malbec harvested from three different vineyards. This was more complex, yielding a richer palate and more pronounced tannins. And I quote from his website "Just as an apple doesn't fall far from the tree, a wine cannot be made without a story. My winemaking reflects what I was taught by my family and reflects the passion that characterizes each one of us". The third 100% Malbec he poured was República Del Malbec. The grapes were grown in Vistabula and Luján de Cuyo. The wine was concentrated and smooth with lush berries and spices. "We made this wine in honor of all those immigrants who planted, worked and taught us, gave us the blessing of our flagship varietal who for over 100 years lives in this land, which has taken a unique identity in the world." The last wine Matias poured was a 2015 Old Vines Semillón that is a new addition to his portfolio. The vineyards are located in Rio Negro and are said to be around seventy years old, which is key to the quality and natural balance of the wines. The wine was lively, fresh and had just the right amount of "sweet". It was a treat to taste it. Matias's enthusiasm and passion for his wines is contagious! I look forward to trying more of his wines soon!
http://www.matiasriccitelli.com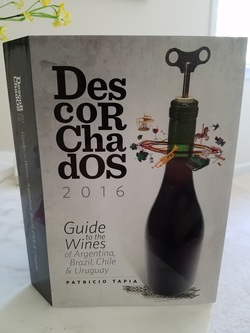 As I was leaving the event, I was given a copy of "Descorchados 2016 Guide to the Wines of Argentina, Brazil, Chile & Uruguay". Written by Patricio Tapia a noted wine critic, this comprehensive 960-page book (weighing 4 pounds) is the 17th edition.

I will write about more of the Argentine winemakers I met in future posts. There is also more to come with regard to Chile, Brazil and Uruguay!

Happy Tuesday!

Cheers!
Penina