Spring is being quite obstinate in making an appearance. And, I am getting quite tired of the chilly temperatures and forecasts of impending snow showers. I'm ready to trade in my winter coat and gloves for a sundress and sandals!

So, to liven things up a bit, I brought a bit of spring indoors and to my dining table. I opened a bottle of Rosé that I had just received from the Côtes-du-Rhône and served it with delicious smoked salmon pasta. The wine was Ferraton Père & Fils Samorëns Rosé 2017. I tasted and reviewed the 2016 vintage last year and I was not disappointed with the 2017 vintage!

The Côtes-du-Rhône vineyards, located in Southern France, extend from Vienne to Avignon and include 171 vineyards. The region enjoys a Mediterranean climate conducive to grape growing that also reflects in the characteristics of the wine. The grapes for this particular wine were grown on the right bank of the Rhône in limestone, sand, pebbles and clay soil.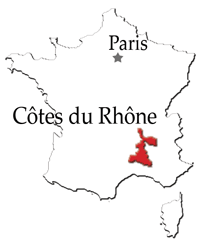 Ferraton Père & Fils estate is located in Tain l'Hermitage and was founded in 1946 by Jean Orëns Ferraton. His son Michel, inheriting the same passion as his father, introduced the first Hermitage, Crozes-Hermitage and Saint-Joseph wines to the world. Michel Chapoutier, a highly regarded winemaker and close friend of the Ferratons' introduced organic viticulture to the vineyards in 1998 and he eventually formed a partnership with the Ferratons. By 2000, all of the vineyards were converted to biodynamic farming and are now certified organic. What began in 1946 as a .3 hectare estate (some of these vines still produce fruit), Ferraton now has an annual production of about 350,000 bottles. Today, Ferraton is headed by oenologist Damien Brisset, who is supported by a young, dynamic team with an average age in the mid-thirties.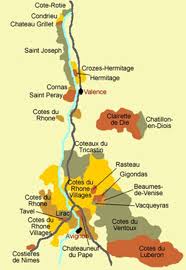 The Samorëns Rosé 2017 is a blend of 75% Grenache with Syrah and Cinsault. The color is rich coral with delicate aromas of fresh berries, soft floral, hints of citrus and melon. The palate offers red berries, peach, floral and a touch of vanilla on the finish. This is a dry, medium-bodied wine with good acidity and minerality. It's perfect to serve as an aperitif or with light pasta dishes, seafood and even dessert!
Alcohol: 13.5%
SRP: $15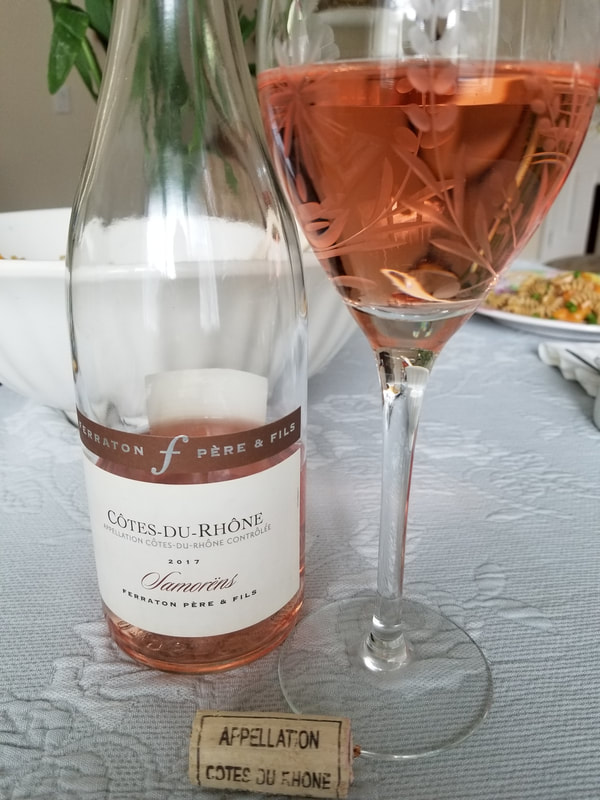 The pasta dish is made with smoked salmon, roasted squash, peas, shallots, herbs and Parmesan cheese. I served it warm, but it is delicious as a cold entrée to present throughout the summer as well. And of course, the rosé was an ideal accompaniment to the meal.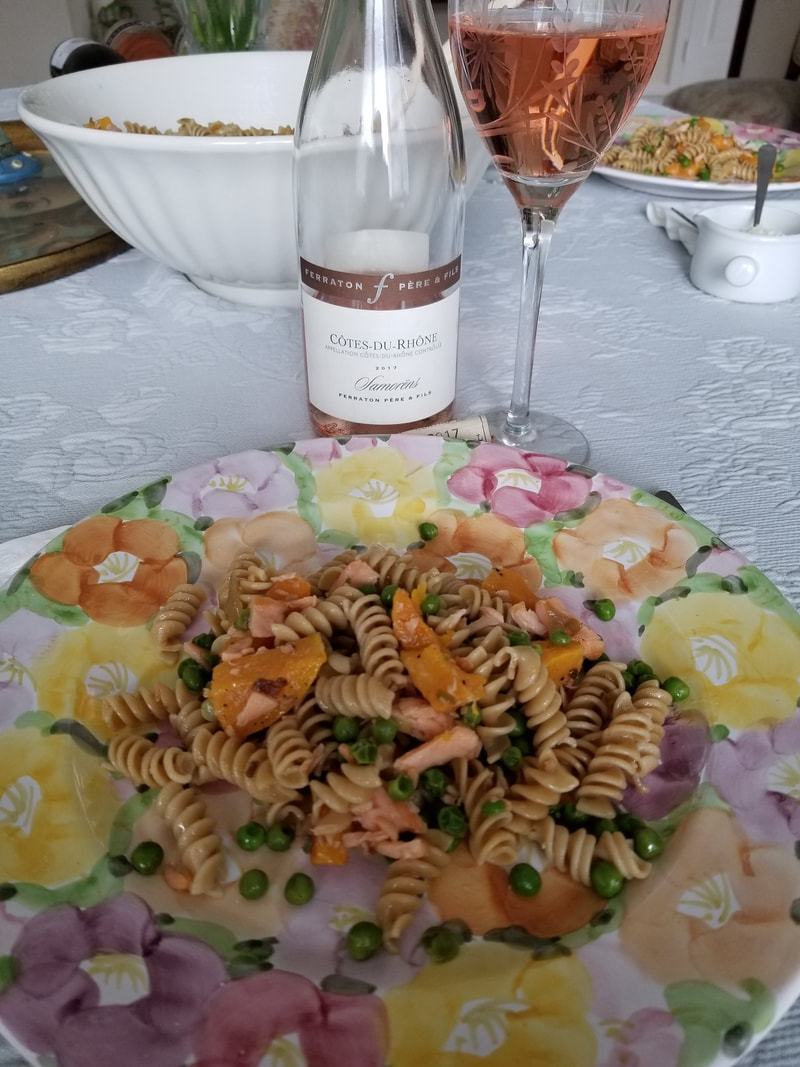 I'm counting the days until I can finally sit outside, enjoy the sunset, grill food and sip some wine! I have lots of bubbly to share with you in the coming weeks. Until then…
Cheers!
Penina
To leave a comment or if you have an inquiry, please contact me at
wineknittercomments@gmail.com