Sherry is a fortified white wine that is making a big comeback. I recently attended the 5th annual Sherry tasting in NYC where I met with 21 winemakers and representatives pouring over 150 different Sherries!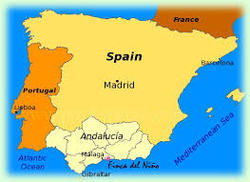 Sherry has been around for centuries and is considered one of the oldest wines in the world. Authentic sherry can only come from the southwest area of Spain, in Andalucía which is recognized by the DO (denomination de origin).

There are three main towns here that form a triangle called the "Sherry Triangle". It is from within this triangle of Jerez, El Puerto de Santa Maria and Sanlúcar de Barrameda that sherry is made. The grapes used for making Sherry are Palomino, Muscatel and Pedro Himenez. The soil, which is chalk and limestone based, the winds, humidity and seasonal changes in this area all contribute to giving Sherry its unique characteristics.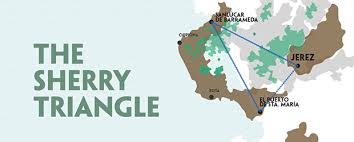 Sherry is known for its aromatic, salty and nutty profile and runs from dry to sweet, although the majority of sherry produced is dry. The color of Sherry ranges from light straw to dark brown. The photo below was taken from a Sherry seminar that I attended last year and represents a wide range of Sherry colors.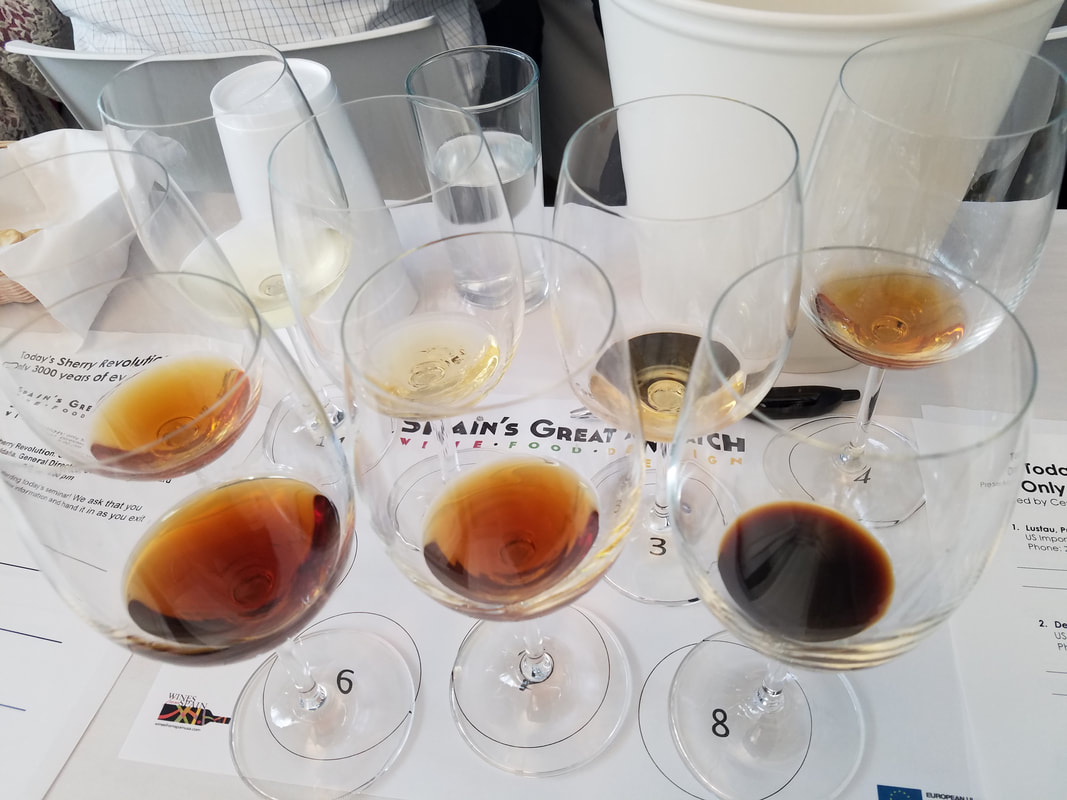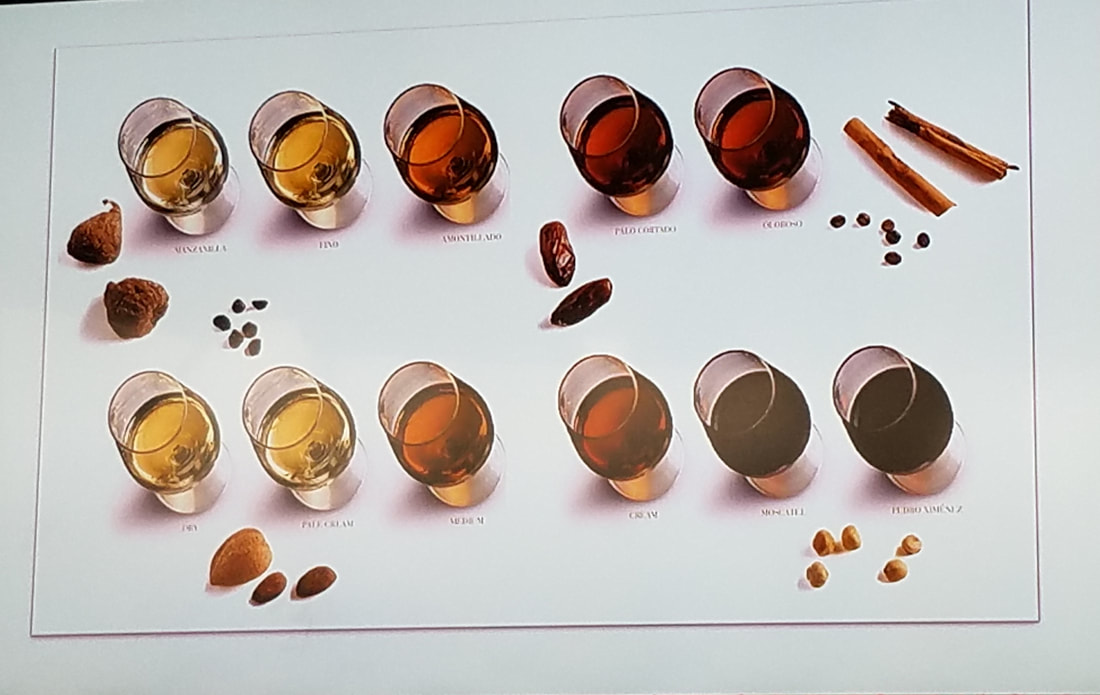 All Sherry is aged for a minimum of three years and aged in old Sherry casks using the Solera system. The Solera system is an aging process that uses new batches of Sherry mixed with older ones in a tiered or pyramid structure. The bottom tier is the solera, the eldest Sherry, which never entirely leave the system. The rows above contain the younger Sherries (criadera). Once a portion of the wine is extracted from the solera, it is replaced with the same amount of wine from the first criadera and so on, creating a unique complexity and personality in the wine. Because Sherry is a blend of different vintages it is impossible to give an exact age of a wine that has been aged in a solera. So it is possible that one could be drinking a Sherry that might contain anywhere from 3 to 100 vintages!

There are several types of Sherry available. Here is a quick rundown on how they differ.

Fino de Jerez is the youngest (usually 3-5 years old) and the driest of Sherries. They age under a layer of Flor (yeast). This layer of Flor protects the wine from being oxidized and it also consumes all the sugar in the wine, creating a dry Sherry. Fino only comes from Jerez and El Puerto de Santa Maria.

Manzanilla is another dry Sherry that is just like Fino, except that Manzanilla comes only from the coastal town of Sanlúcar. Both Fino and Manzanilla have more wine salinity than the other styles. They will complement fish and shellfish.

Amontillado is an aged Fino or Manzanilla. Once the layer of Flor fades the wine begins to oxidize and takes on a new character. It can be fortified up to 18%. The color is darker and it is less briny, but nuttier and richer on the palate. These wines pair well with white meat and game.

Palo Cortado is an interesting Sherry that begins as a Fino or Manzanilla but for no known reason it unexpectedly loses its layer of Flor too soon. Once the Flor dies, the wine takes on oxygen and requires further fortification. In other words, it does "its own thing". This wine has richness but is crisp as well.

Oloroso ('scented' in Spanish) intentionally never develops flor. Aging through oxidation of up to 40+ years produces a full-bodied, aromatic, dark and rich wine. Oloroso contains the most amount of alcohol in a sherry with levels of 18% to 20%. This is a great wine for hearty entrees, meats and stews.

Pedro Ximenez (PX) is an intensely sweet wine and the sweetest of the Sherries. The grapes are dried in the sun allowing the juices to concentrate prior to pressing. This is a rich wine that oozes raisins, nuts and fig.

Cream Sherry is usually a blend of Oloroso, PX or Moscatel but can come in a variety of styles. This is a semi-sweet wine that is aromatic, dark in color with classic notes of nuts and caramel.

Here are just a few of the Sherries that I tasted the other day.



When it comes to pairing Sherry with food, there is a saying of which I have no idea of its origin:

If it swims… drink with Fino or Manzanilla)
If it flies… drink with Amontillado
If it walks… drink with Oloroso

Sherry is versatile and there is a style for everyone. Pair it with food, drink it as you would a favorite whiskey or explore mixing it in a cocktail. Sherry is making a strong comeback and I think it's about time!

Cheers!
Penina