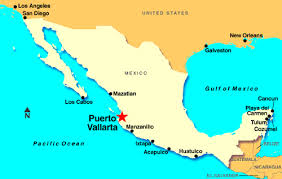 The temperature in Puerto Vallarta yesterday was a sunny 77 degrees. I enjoyed a few hours basking in the culture, albeit I was 2766 miles away! Through the wonderful hospitality of Puerto Vallarta Tourism, I tasted the local cuisine, learned about the culture and all the fun activities that are available in this magical resort.

| | |
| --- | --- |
| | Puerto Vallarta is a beautiful beach resort on Mexico's Pacific coast of Bahia de Banderas. It is the fifth largest city in the state of Jalisco. The average daily temperature is usually in the mid to high 70s making it an ideal vacation spot. In addition to warm weather and inviting beaches, there are many attractions to be had that would entertain both young and old. From adrenalin pumping adventures such as sky diving, zip lining, flyboarding and rappelling down waterfalls, to the more serene activities like, snorkeling, whale watching, shopping, gallery hopping and touring tequila factories (my favorite), it's all here. |
There are vacation packages to accommodate everyone including family packages, honeymoon packages…and wait for it…divorce packages! There truly is something for everyone! Most of the resorts are all-inclusive and offer great deals.

My afternoon started with two traditional non-alcoholic Mexican beverages, Horchata and Agua de Jamaica. Horchata is made with rice, ground almonds, milk, cinnamon and sugar. It is delicious and not too sweet. Agua de Jamaica is made with dried hibiscus flowers and water. It is prepared much in the same way as brewing tea. It was tart, but refreshing.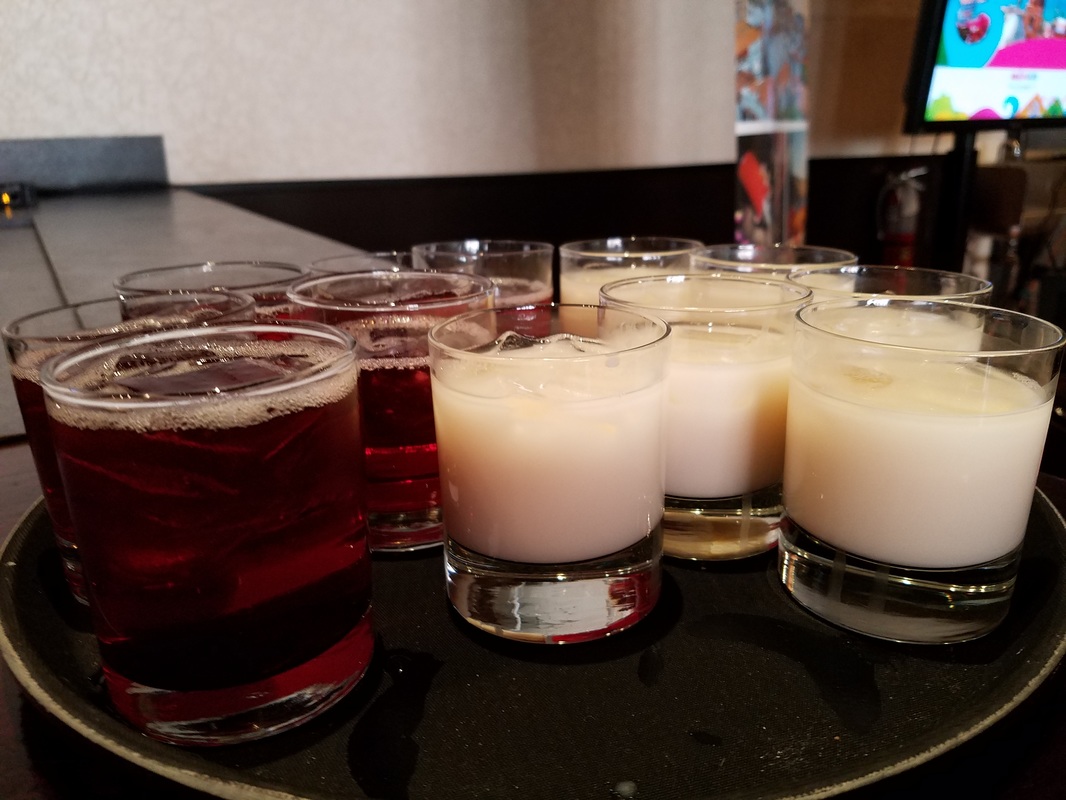 Chef Mario Portillo entertained us with stories as he demonstrated and prepared lunch. Mario began his foray into cooking at the age of five when he helped his father prepare omelets. He has been a chef for the past ten years and will be opening his own restaurant in Puerto Vallarta on October 19th.

We were served family style salad and Sea Bass with pineapple-smoked puree on top of bean salad with tomatoes, red onion, peppers and cilantro. It was delicious!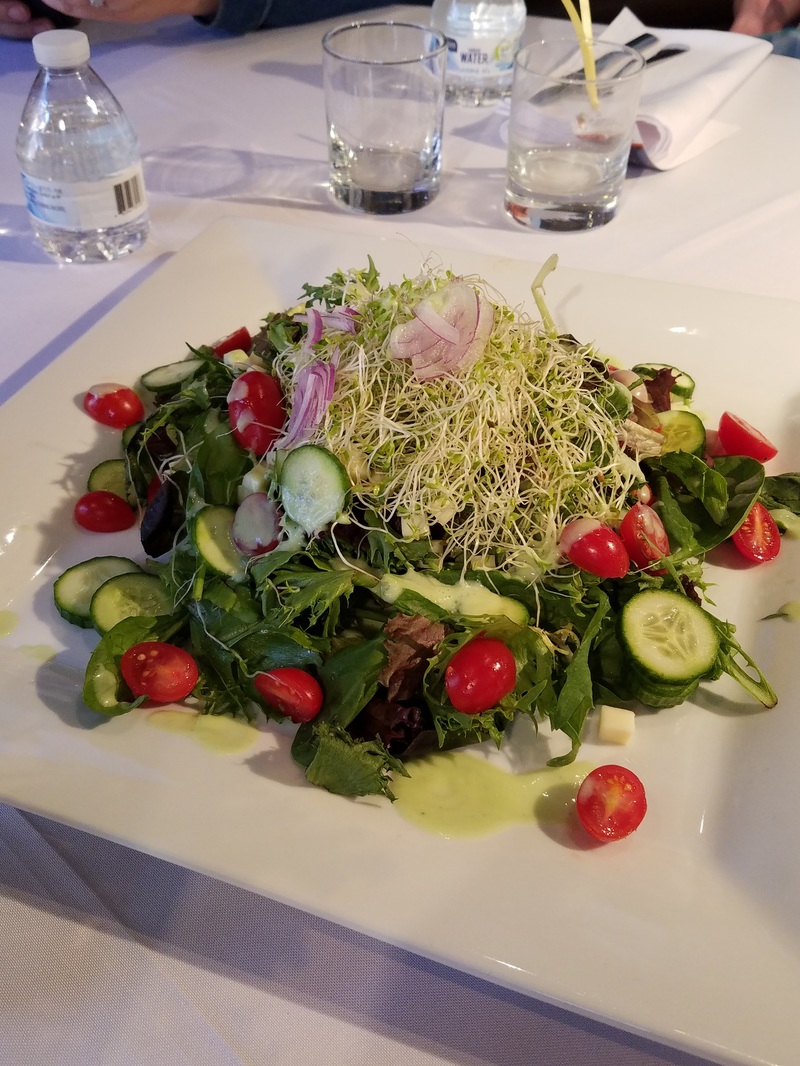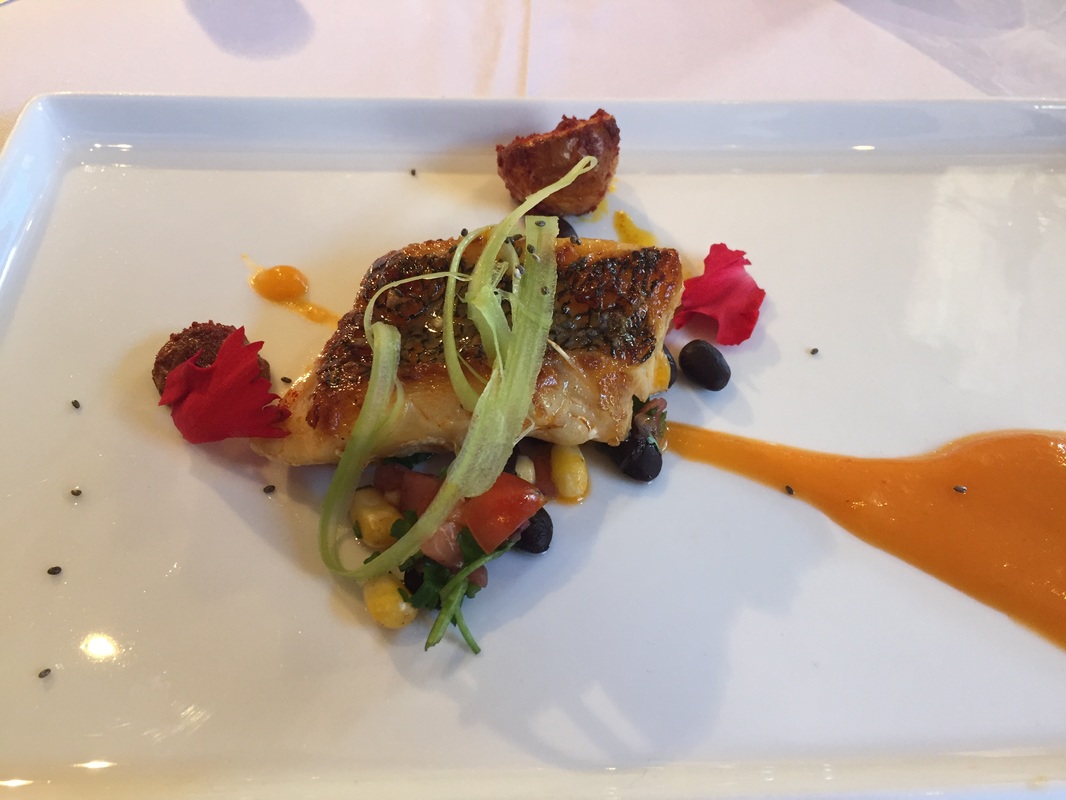 The local fish of Puerto Vallarta is Mahi Mahi, Red Snapper, Marlin, Oysters, Octopus, Mussels and Shrimp. Using quality ingredients from the sea and land, there is ample opportunity to sample local fare while vacationing. Pescado embarazado (pregnant fish) is a typical representation. It is grilled fish on a stick that has been marinated in lime over coals and served with huichol salsa. Another favorite dish is Birria, using goat or lamb which is cooked in a very spicy sauce. Tamales, chiles en nogada, shrimp stew, Pico de Gallo and plantain empanadas are also local favorites.

Of course, what would visiting Mexico be without tasting Tequila or touring a distillery! Tequila is made from the Blue Agave plant that is native to Mexico. Tequila is only produced in the state of Jalisco and a few limited municipalities. There are over 1377 registered brands of Tequila to choose from.

In addition to Tequila, Damiana, Mezcal, Xtabentún, and Raicilla are also native Mexican drinks.

Damiana is an herbal-based liqueur made from the Damiana herb. Mezcal is a distilled beverage made from any agave plant that grows in Mexico. Xtabentún is made from anise seed and fermented honey that is produced by honeybees from the nectar of xtabentún flowers. Rum is then added to the mixture. Raicilla is a distilled spirit. Although it is similar to Tequila and Mezcal, Raicilla is considered a "moonshine" product.

I'm looking forward to hopping on a plane to Puerto Vallarta and hopefully spending more than just a few hours enjoying beautiful weather, great cuisine and a little adventure!

Salud!
Penina