Okay, so you're probably wondering what wine has to do with knitting. Actually nothing….and everything! I have many passions in my life, as you will come to learn if you choose to follow this blog. However, two passions that stand out are wine and designing knitwear….cooking a close 3rd.

They are all creative processes (yes, even wine). And somewhere along the way, these passions began to overlap each other and further inspired my creativity to knit, explore wine and cook.

For instance, today I decided to open a 1997 Estancia Meritage, Alexander Valley, a Bordeaux-style blend of Cabernet Sauvignon, Merlot and Cabernet Franc. It's deep ruby color, infused with hints of cherry, dark chocolate, espresso and a long satisfying finish was enough to inspire me to grab several different textures and colors of yarn to begin a new knitting project. Of course, the Estancia was at my side.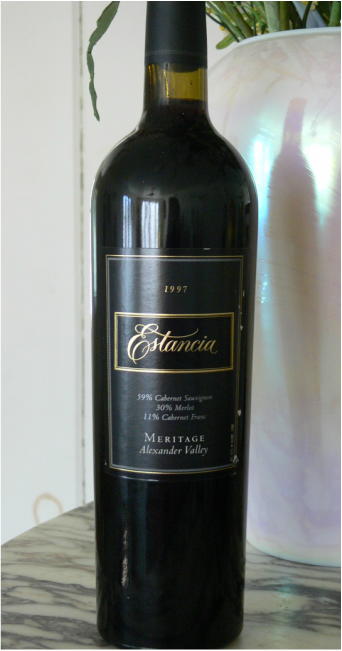 Unlike my glass of Estancia, which had by now established it's presence, I had no idea where my flying fingers were going to take me. My yarns consisted of a rich chocolate cotton, creamy silk blend and metallic hints of gold and honey. I had three luscious yarns and a journey of exploration ahead of me. Wait a minute. Am I talking about the wine or my knitting project?

I began by casting on the silk blend…knit one, purl one, sip, knit one. For the most part, I usually have a concept in mind when I begin a knitting project. However, half the fun for me is not knowing where a project is going to take me. I like the yarns to "speak to me". If they speak too loudly, then it's time to put the wine aside.

Just to set the record straight, I do not drink wine with every knitting project, and if I do, one glass is sufficient. Hopefully, you will come to love and embrace my humor, and not take me too literally!

I hope to have a finished project to show you tomorrow.

As always, I welcome your comments.

Cheers!
Penina