I had every intention yesterday of posting a story on tequila, but the day slipped away from me. And now, the weekend is here and I'm inundated with work and social engagements.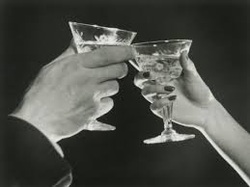 I kicked off the weekend with a "Happy Hour" of friends and Grey Goose martinis last night. Sated from a few hours of belly laughs and good cheer, I blissfully crawled into bed.



Today the sky is blue, the sun is shining and I'm dusting off my cross-country skis with the intention of meeting my friends later for a romp in the snow.


So, on that note, I need to complete my obligations today so that I can go play!

Happy Saturday!

Cheers!
Penina