Saturday turned out to be quite the party scene at my house. An impromptu visit from a friend to watch the NY Rangers play, turned into more friends coming over to watch the Preakness Stakes.


It was a lot of fun until I ran out of beer and white wine! So, we switched to vodka and scotch…but not together! With a starving crowd and no food to serve, we had pizza and snacks delivered and the party resumed!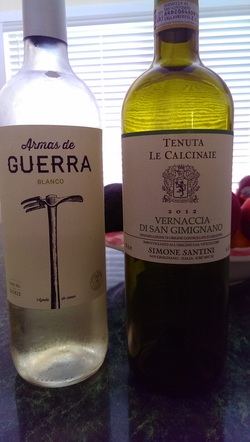 Among some of the wines that we depleted were a 2013 Armas de Guerra and a 2012 Tenuta Le Calcinaie Vernaccia di San Gimignano. They are both very refreshing, light and what I call "great starter wines".

The 2012 Tenuta is an Italian wine from Tuscany and 100% Vernaccia grape. It had tones of white fruit, peach and grapefruit. Very refreshing on a warm day.

The 2013 Armas de Guerra Blanca is from the region of Bierzo of Spain. It is a blend of 85% Doña Blanca and 15% Godello. It was a lovely floral blend, with peach and was light and crisp.

Both of these wines are modestly priced and worth stocking up on. It's a great way to start the party before bringing out the bigger wines!


Enjoy your Sunday!

Cheers!
Penina