The sun is shining and I have many things to do today. But before I run out the door, I want to tell you about the wine I tasted last night.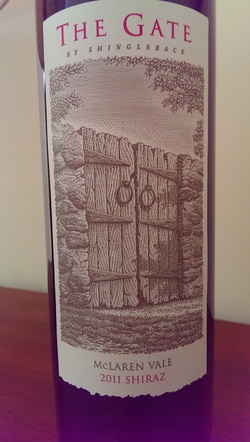 I wanted to open something hearty and special for my "300th" post. So I chose Shingleback's 2011 The Gate Shiraz. The wine is produced in the McLaren Vale area of South Australia. It scored high points in the 90's and has won many awards. I can understand why!
The moment it was opened, I knew we were in for a treat. This full-bodied wine was deep purple with aromas of dark fruit, oak and spices. The palate was a feast of layers, oozing dark jams, cherry, oak, pepper, spices and a hint of vanilla. Silky tannins and a solid backbone gave way to a long finish.
http://www.shingleback.com.au
I have five more bottles that I will savor over the next 10 years or so!
Have a great Tuesday!

Cheers!
Penina