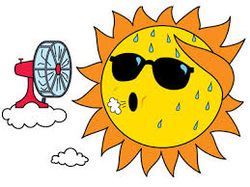 It has been quite a challenge dealing with the high heat and humidity for the last few days. There seems to be no let up.


A few nights ago, I planned a "deck party". However, with the soaring temperatures, I decided to move it indoors where the central air conditioning was blasting! Instead of wine, friends gravitated towards drinks with ice cubes. The "go to" drink of the evening was my invention of vodka mixed with orange juice and pure pomegranate juice. I guess you could say it was my version of a tequila sunrise. I'm calling it the "the Vodka Sunset!


In addition to drinks, I kept the fare light, but satisfying. I prepared a platter of fresh mozzarella with my homegrown tomatoes and basil. The shrimp was cold and succulent with a tangy sauce. I also served a delicious chopped salad, finger sandwiches and fresh fruit salad. Good friends, music and the perfect lighting were the final ingredients for a wonderful indoor summer garden party!


Have a great Wednesday!

Cheers!
Penina