As much as I would like to discuss the wonderful wine that I had last evening, I will save it for another post. As promised, I'd like to continue my exploration of Portuguese wines.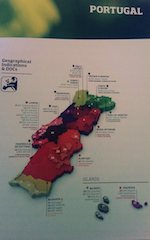 The Vinho Verde region stretches across the northwest of Portugal which includes nine sub-regions. The popular Alvarinho wines are a specialty of the sub regions Moncao and Melgaco in the northern part of the Vinho Verde region. Lima Cavado and Ave sub-regions are to the south where the main grapes are Loureiro, Arinto and Trajadura.


Quinta da Lixa is an award winning, family run company owned by the Meireles family. It is located in the Sousa sub-region of the Vinho Verde region. Their table was filled with colorful and enticing wine bottles. The Pouco Comum 2014 is 100% Alvarinho. It had floral and fruity aromas with citrus, floral and tropical fruit notes on the palate. It was crisp with a long finish. The Anjos de Portugal 2014 Rosé was quite lively and made with Touriga Nacional and Espadeiro grapes. It was fruity with hints of grapefruit and melon. The Aromas das Castas 2014 is made with Alvarinho and Trajadura grapes. These grapes are considered "two of the noblest " grape varieties in the Vinho Verde region. The dominant flavor was peach, but hints of pear and herbs came through. It was quite refreshing.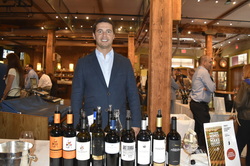 My last stop for today is back in the Alentejo region where I met Alexandre Relvas, of Casa Agricola Alexandre Relvas. He acquired the winery in 1997. It is situated in the municipality of Redondo. In addition to producing around 3 million bottles of wine a year,

the owners are dedicated to breeding and conservation of local species. They also breed Merino sheep and sell the wool, which perked my interest as a knitter. Alexandre started me off with a taste of Ciconia Touriga Nacional 2014. This ruby colored wine had intense aromas of dark fruit, earth and spice. The palate offered dark berry, spice and a hint of truffle. It was very smooth with soft tannins. The next pour was Ciconia Reserva Tinto 2013. This red blend of Aragonez, Syrah and Touriga Nacional was filled with ripe berry, spices and medium tannins. It had a richness to it that will certainly improve with age.


Although I have to catch up with other wines/countries that I have tasted recently, I will return to Portugal to give you my spin on their wines.

Have a great Thursday!

Cheers!
Penina