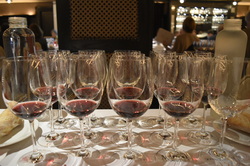 On Tuesday I attended The Grandi Marchi Experience in NYC, a guided tasting of Italy's top terroirs. The event was held at Del Posto, another amazing creation of Mario Batali located in the now trendy meatpacking district.



Gloria Maoroti Frazee, the Director of Video & Education, Wine Spectator, moderated the event. Not only did we taste the wines, but also had the pleasure of hearing from the principles of each winery as we swirled and sipped. Each spokesperson had a wonderful story to tell. We heard about their fathers, grandfathers and great-grandfathers who's input helped to make the wines what they are today.

The Institute of Fine Italian Wines-Premium brands is comprised of nineteen important Italian wineries with the objective to promote culture and commercialism of high end Italian wine to world markets. The wineries are defined by high standards of product and brand image at national and international levels.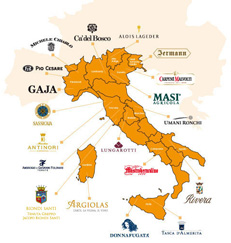 Of the nineteen wineries that make up the institute, fifteen wineries were present yesterday. We tasted 15 wines from Lombardy, Tuscany, Marches, Piedmont, Sardinia, Sicily, Campania, Puglia, Umbria and Veneto. We started with a refreshing 2006 Cuvée Annamarie Clementi and ended with a 2008 Ben Ryé Passito di Pantelleria D.O.C Limited Edition dessert wine. In between we tasted two more whites and eleven reds from producers such as Gaja, Tenuta San Guido, Antinori, Masi, Rivera and Pio Cesare.


I will elaborate on some of the wines that I tasted in tomorrow's post.

Have a great Wednesday!

Cheers!
Penina