Due to my busy schedule today, I'm squeezing in a quick post about Masi Agricola Spa in the Valpolicella Classico region (Veneto). I attended a wine tasting this past September where I sampled a few vintages of their Amarone. I think my post about it is worth sharing again.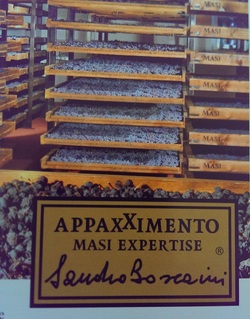 "I made my way to Veneto, where Tony Apostolakos, the U.S. Director of Masi Agricola was waiting to guide me through a tasting of Amarone. It is interesting to note that Sandro Boscaini, the owner of Masi, is referred to as " Mr. Amarone" due to the unique crafting of his wines. He uses the appassimento method to concentrate aromas and flavors in wine. The Appaxximento symbol can be found on his labels guaranteeing the authenticity and quality of Masi Wine. I'll highlight a few of the wines I tasted. The 2011 Costasera Amarone was full-bodied with cherry, plum and spices. The 2008 Vaio Armaron Amarone, aged in cherry wood casks for four months, was amazing. The aroma and flavor of cherries, spices and fruit lingered on the palate. Before I departed I was treated to a taste of 1999 Amarone della Valpolicella Classico. It had a beautiful bouquet of fruit and earth, with dark fruit and spice on the palate."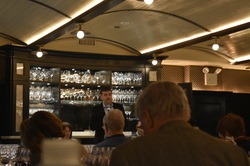 On Tuesday, at the Grandi Marchi Seminar, Sandro Boscaini's son, Raffaele led us through a guided tasting of 2009 Riserva di Costasera. It is made with 70% Corvina, 15% Rondinella, 10% Oseleta and 5% Molinara grapes. Oak Maturation is 38-40 months with 6 months in the bottle. The color was deep ruby with aromas of cherry, plum and a touch of earth. The palate offered rich black cherry, spice and a hint of pepper. It was elegant and full-bodied with smooth tannins. Alcohol 15.5%.
I will definitely add this wine to my collection.
http://www.masi.it
Happy Thursday!

Cheers!
Penina