When it comes to celebrations, such as a birthday, wedding announcement or a special achievement, we tend to reach for those tucked away bottles that only get opened and poured on such occasions.

I'm all for celebrating with rare champagne and vintage wines, but there is also something very special about opening an exceptional or rare bottle of wine with a friend or loved one "just because". Sometimes sharing a vintage wine is celebration enough!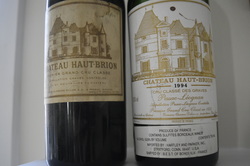 I had the opportunity recently to enjoy a vintage bottle of Château Haut-Brion, a Premier Cru Classé (First Growth). The occasion? Friendship! We only opened one of these bottles and I will let you know in my next post if it was the 61' or 94' vintage!


Château Haut-Brion is produced in Pessac located just outside the city of Bordeaux. Of the five first growths, it is the only wine with the
Pessac-Léognan
appellation. It also has one of the longest histories of any Bordeaux wine château and has been growing grapes to produce Bordeaux wine for almost 600 years! Haut-Brion is the earliest identified first growth that was included in the official 1855 Classification. The name is derived from the Celtic term "Briga", meaning a rise or mount in the land.
When Jean de Pontac married Jeanne de Bellon in 1525, she brought the first portion of the Bordeaux wine property called Haut-Brion as a dowry. Pontac bought the title to the domain of Haut-Brion in 1553 and continued to expand and improve the property. Pontac died at the age of 101, having married twice more, siring 15 children and ensuring a legacy for generations to come. In 1801,Haut-Brion was sold to
Talleyrand
, Prince of
Benevento
making him the first "non-family" to own Château Haut-Brion. In 1935, Clarence Dillon, an American financier bought the Château. Today, Dillon's granddaughter, Joan Dillon is head of the Château.
The first official review of Château Haut-Brion wine and any wine ever came from Samuel Pepys on April 10th, 1663. He wrote, "There I drank a sort of French wine called Ho-Bryan that hath a good and most particular
taste
I never met with." An interesting wine review!
Château Haut-Brion was one of the first Bordeaux châteaux to begin using stainless steel vats for vinification in 1961. Double skinned, stainless steel vats were introduced at the Château in 1991. The wine is aged in up to 100% new French oak for about 24 months. The blending takes place just after fermentation is finished and prior to the aging process in the barrel has started.
The best vintages for the red wine of Château Haut-Brion are: 2012, 2010, 2009, 2008, 2006, 2005, 2000, 1998, 1996, 1995, 1990, 1989, 1985, 1982, 1961, 1959, 1955, 1953, 1950, 1949, 1948, 1947, 1945, 1934, 1929, 1928, 1926 and 1921.
Tomorrow I will share my take with tasting Château Haut-Brion. And hopefully, it will be an interesting review! In the meantime, grab that bottle of wine you've been saving and share it with someone special…"just because".
Cheers!
Penina