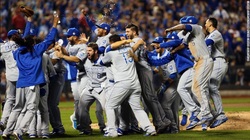 The World Series is over and even though I'm a Mets fan, the KC Royals deserved to win. It was enjoyable watching a few of the games with friends, drinking nice wine and munching on food. However, last night I looked forward to crawling into bed before midnight!


As the holiday season approaches, everyone is starting to plan their menus and deciding what wine to serve. Or, if an invited guest, what house gift to bring. Not everyone cooks the "traditional" turkey for Thanksgiving. I have made poached salmon in addition to turkey on many a Thanksgiving holiday. And most of the side dishes that I make go well with both entrees.

There are many wines to choose from that will pair well with a meat or meatless Thanksgiving dinner such as sparkling wines that can be elegant and versatile. When choosing whites you might want to go with a wine that has well-balanced acidity such as Riesling, Sauvignon Blanc and Albarino. With red wines, the focus should be on soft tannins so it doesn't compete with the flavor of the food such as Zinfandel, Syrah, Pinot Noir and Rosés. All these wines make a nice complement to the meal and there are many more grapes to choose from. There is no right or wrong choice, it is truly a personal preference. I will explore more wines for the holidays in the next week or so.



The other evening I had a lovely 2010 Hooker "Blind Side" California Zinfandel. It was easy to drink and I wouldn't hesitate to serve it with a holiday meal. It is a blend of 79% Zinfandel, 20% Petite Sirah and 1% Merlot. The aromas of berries, spice, caramel and raspberry gave way to cranberry, vanilla, pepper and tobacco on the palate. The finish was long and earthy with spice and pepper lingering. I was imagining how well it would complement my Ice Cream Pumpkin Pie. http://www.lawerfamilywines.com

An interesting note about the name of the wine: Betsy Lawer's father and husband both played the "hooker" position on rugby teams. Her father played for Stanford and her husband played for Duke….hence the "Hooker" label.


Have a great Tuesday!

Cheers!
Penina