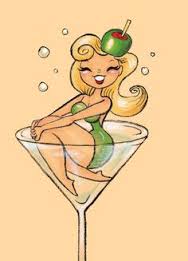 As I have mentioned time and again, I tend to be a "purist" when it comes to drinking vodka. I like it cold and neat, although I won't turn my nose up at a well made martini! I remember a few years back sitting at a restaurant bar late in the evening with a friend sampling all the flavored vodkas, gratis the bartender. It was a fruit contest of apple, cherry, orange, lemon, tangerine and peach. Nothing tasted real and most of it was very sweet and syrupy. I was forever cured of wanting any flavored vodka again.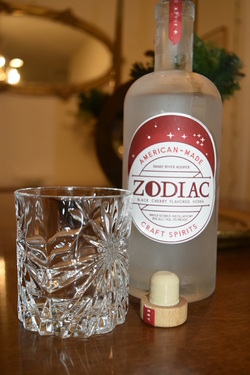 But last evening, I tried American-Made Zodiac Black Cherry Vodka. I reviewed their Zodiac Original potato vodka about a year ago and was very impressed with it. You can read the review at
http://thewineknitter.com/1/post/2014/11/day-132.html
. So I was quite anxious to taste their newest product.
Zodiac Black Cherry Vodka is handcrafted potato vodka, made with natural cherry flavors using 100% locally sourced ingredients in Idaho. The vodka is distilled once and is 70 proof. The color was clear with subtle notes of maraschino cherry and vanilla on the nose. The aromas segued onto the palate giving a little more cherry and heat on the finish. It was not cloyingly sweet, as most fruit flavored vodkas tend to be. It was smooth and easy to drink straight. This vodka would make a great mixer in a cocktail and I'm definitely going to try a Black Cherry Martini with a dash of lemon juice. Yum!
www.zodiacvodka.com
Have a great Tuesday!

Cheers!
Penina