Wednesday was filled with laughter and good cheer as friends and co-workers gathered together to celebrate the holiday at a beautifully decorated restaurant.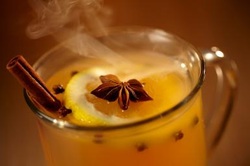 We kicked off the festivities with an array of cocktail orders. I chose the Rum Toddy made with Infused Rum and Spiced Apple Cider. It was warm and delicious!

The basic concept of infusing is to start with a base liquor such as vodka, rum or gin, then add a single or combination of flavors to it like herbs, spices or fruit flavors. It is quite simple to prepare. Start with a clean mason jar. Add the flavors to the jar and then fill with the spirit of your choice. Cover tightly and shake. Store in a dark place for minimum of 3 days, shaking the mixture a few times a day. Do a taste test after 3 days to determine if it is has reached the flavor you want. When ready, discard the flavoring ingredients, place infusion in a clean jar and store at room temperature. Enjoy!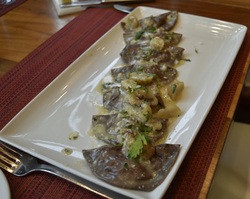 In addition to a Baby Arugula salad and appetizers for the table, I enjoyed Chocolate Mezzaluna as a main course. The pasta was stuffed with butternut squash ricotta cheese, roasted chestnuts, parsnip puree in a brown butter garlic sage lemon sauce. It was quite unusual and very tasty, although a touch too much lemon in the sauce.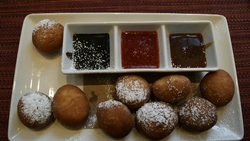 The meal ended with Petits Beignet, served with strawberry preserves, caramel and chocolate sauce.



We were all pleasantly sated by the end of the meal and possibly a few ounces heavier!


Have a great Thursday!

Cheers!
Penina