Since I am banned from knitting for another week or two, I thought I would share a poem that I wrote quite a few years ago. Although I'm not describing or reviewing a particular wine in this poem, it does evoke an experience. Use your imagination and enjoy…

RED WINE

I opened a bottle of wine tonight

and poured you into a goblet.

You were the color of rubies

and rich Victorian secrets.

You smelled of the earth with

the promise of pleasure to come.

I brought you to my lips inhaling your sweet essence.

You entered my mouth, lingering there for a moment,

then slowly slid down my throat.

Thirsty for more of you, I took you again.

This time I allowed all of you to sate me with your exotic flavors.

I could no longer control myself.

Glass after glass you erupted inside me.

And now my bottle is empty.

My greed and passion have consumed you.

Perhaps, I shall choose Champagne next time.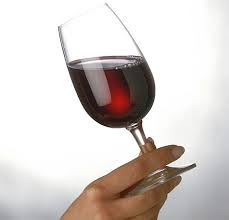 Cheers!
Penina