The first time I visited Naples, located in Southwest Florida on the Gulf coast, was in the early 1970s. My impression was that it was nothing more than a sleepy "ho hum" city. I was living in Miami Beach at the time, which was way more exciting. Of course, back then South Beach was far from being the trendy place it is now.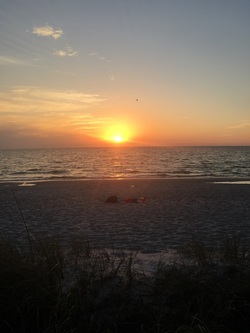 Today, Naples is a vibrant, bustling hotspot filled with fabulous restaurants, wine bars, shopping enclaves and over 10 miles of pristine beaches on the Gulf of Mexico. There are more than 80 championship golf courses in the Naples area. Performing arts and cultural events abound, including professional regional Broadway productions and opera. Many bars and restaurants are located waterside and offer great views of the sunset while enjoying a cocktail.

"Downtown" Naples is quite trendy while still maintaining an old world charm. Fifth Avenue South is Naples' main street. It is lined with boutiques, restaurants, sidewalk cafes, galleries, hotels and ice cream shops that are nestled within historical landmarks and colorful buildings. It is a popular place for both tourists and residents. Third Street is another shopping area filled with restaurants, galleries and shops.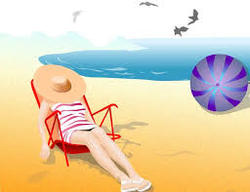 With only four days to explore Naples, my gracious host gave me illuminating tours while still allowing me time to rest and enjoy the beach. Vanderbilt Beach is one of the most popular beaches in Naples with white sand stretching for miles. It is within walking distance of several upscale hotels and restaurants.

The Vanderbilt Beach Resort is home to the Turtle Club Restaurant. It offers indoor and outdoor dining with steps leading up to the restaurant from the beach. I enjoyed sitting outside and watching a beautiful sunset while sipping on a martini! Afterwards, we sat at the bar and dined on perfectly grilled lobster tails. Of course, if you're lucky enough to get an outside table, there is nothing better than dining with your toes in the sand!
http://www.windwardhospitality.com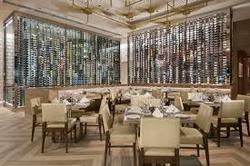 While browsing Fifth Avenue South one afternoon, we stopped in at Avenue 5, an upscale restaurant, boasting a 7,000 square foot space. The wine display was dramatic and impressive as was the entire 240-seat restaurant. The menu was inviting and eclectic, but we had other destinations to get to. Before leaving though, we sidled up to the bar and enjoyed a refreshing glass of Gloria Ferrer Blanc de Noirs. I will definitely dine here on my next trip to Naples.
http://www.avenue5naples.com
Dining at The Continental on Third Street South was exceptional. The ambiance was upbeat and the décor was whimsical. As with so many restaurants in Naples, it offered indoor and outdoor dining. We had a great table outside that gave us a wide view of all the comings and goings. Although this is a steakhouse inspired menu, there is a nice selection of daily catches from the sea. The steak menu is impressive and expensive, offering an unusual selection from American, Italian, Australian Wagyu and Japanese Wagyu beef. Everything we tasted was beyond divine. We drank 2012 J. Lohr Cabernet, a perfect choice with our meal, which I will review in my next post.
http://www.continentalnaples.com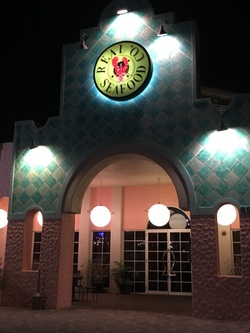 And, of course I couldn't travel to Florida without having stoned crabs before I left! So, for my last night there we went to Real Seafood Co. located in North Naples. We sat at the bar and enjoyed a Grey Goose martini with blue cheese stuffed olives. I savored the stoned crabs which were sweet and fresh. We also shared a side dish of brussel sprouts grilled in balsamic and honey, which were amazing!
http://realseafoodconaples.com
I will have to make another trip back to Naples. There is still so much to explore. It was a sweet intermission from my daily routine!

Happy Sunday!

Cheers!
Penina