It was a busy Thursday that ended on a gentle note with dinner and a movie. I escaped the "green food" being offered throughout the day in honor of St. Patrick's Day and welcomed normal fare and a nice bottle of 2013 Cabernet Sauvignon from Mercer Estates Winery.


Mercer Estates is located in the heart of Yakima Valley in Columbia Valley, Washington. It is a family owned winery run by brothers, Rob and Will Mercer. In September 2015, I reviewed their 2009 Reserve Cabernet Sauvignon which was very good. And, I was just as impressed with the bottle we opened last night.
The grapes for the 2013 Cabernet come from Mercer's estate vineyards in the Horse Heaven Hills and is a blend of 75% Cabernet, 15% Syrah and 10% Merlot. The aromas of lush fruity, spice and a hint of vanilla greeted me. The palate was layered with dark berries, plum and spice. The wine was balanced and rich with a very smooth and long finish. It was a definite thumbs up!
http://mercerwine.com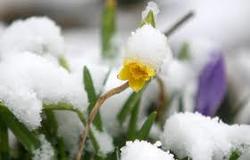 Spring officially begins this Sunday with the possibility of a major snowstorm. Winter does not want to go away! I would like to put my snowshoes away and slip into my summer sandals!

Have a great start to the weekend! Happy Friday!

Cheers!
Penina