I have never actually set foot on Loire Valley's terra firma, but on Tuesday I was transported there gratis of Loire Valley Wines "Spring to Loire 2016". It was a day filled with seminars and walk around tastings. The event took place under a festive glassed in garden at The Park in NYC's Chelsea district.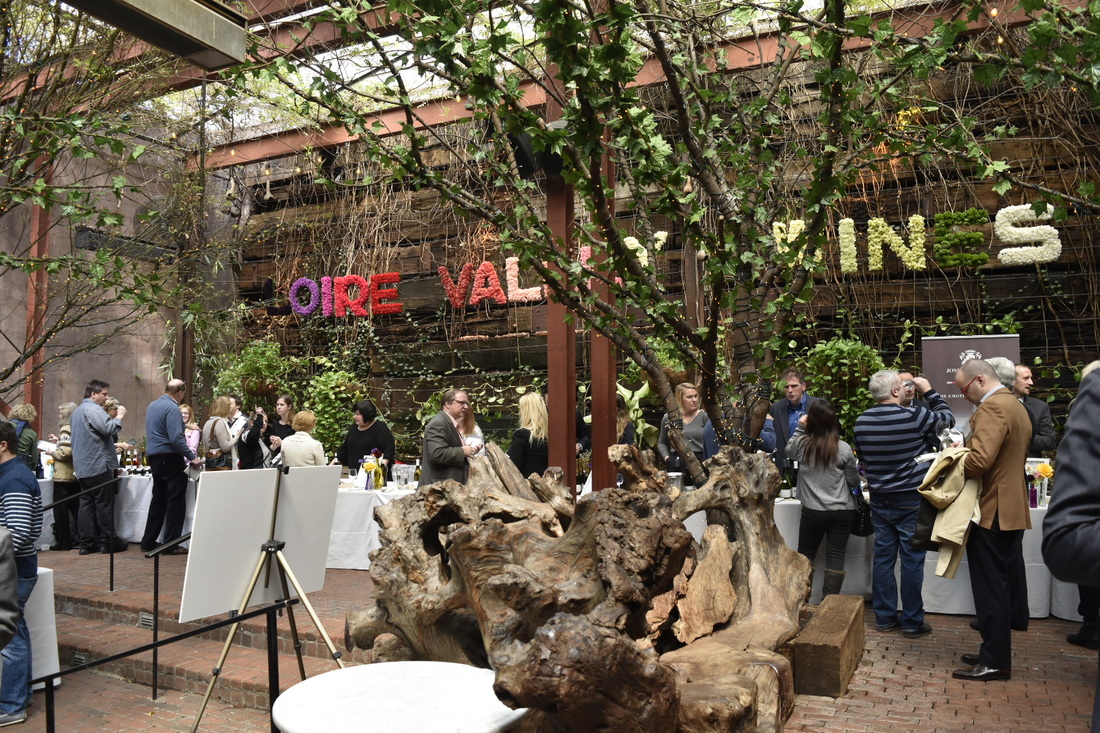 Twenty-seven importers showcased wines from the distinctive wine regions of Pays Nantais, Anjou, Saumur, Touraine and Centre-Loire. In addition, Christopher Bates, a Master Sommelier, gave three thirty-minute seminars on Touraine, Cabernet Franc and All styles Chenin.

Loire Valley spans 170 miles and is located in the middle stretch of the Loire River, (France's longest river) in central France. Loire Valley is also called the "Garden of France" noted for its vineyards, floral gardens, castles and historic towns.

The Loire Valley wine region is France's third largest wine making region and ranks second in production of rosés. The vineyards, situated along the river, stretch from the Atlantic coast to north central France. The diversity in soil composition and climate along this stretch plays a key role in the production and characteristics of the wine.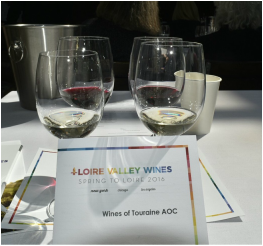 Pays Nantais region is closest to the Atlantic Ocean and produces Muscadet, made from the Melon de Bourgogne grape. An interesting note, more Muscadet is produced than any other Loire wine. Muscadet tends to be light-bodied and dry. The high acidity and soft citrus notes make for easy food pairing.

Anjou region is located in the western Loire Valley and is best known for its fruity rosés and red wines. Many of Loire Valley's sweet wines are produced here. Chenin Blanc and Cabernet Franc are the most prominent grapes used.

Saumur is considered a premiere sparkling wine region in France and is also noted for its red wines made with Cabernet Franc. The main variety of grape for white wines is Chenin Blanc. Due to the chalky soil, the sparkling wines tend to drink like champagne. The Reds lean towards fruity and light-bodied.

Touraine has many famous appellations that include Vouvray, made from Chenin Blanc and Chinon and St. Nicolas de Bourgueil, both made from Cabernet Franc. The red wines from this region are made mostly from Cabernet Franc, Gamay and Malbec and tend to be rich in tannins. Most of the white wines are made with Sauvignon Blanc and tend to be dry and refreshing with an edge of fruit and tart.


Centre-Loire region is at the center of France. "It is the original home of Sauvignon Blanc and of Sancerre, the world's most prestigious Sauvignon Blanc wine that sets international standards for the grape", as cited from Loire Valley Wines.
The majority of the wines that come from the Loire Valley are pressed from a single varietal as opposed to most classic French wines that are blended. It is easier to discern the terroir of the single varietal grapes through aroma and taste.

With over 4000 wineries in the Loire Valley, one could spend several months there exploring, enjoying and sipping. I was delighted to spend a few hours learning about the Loire Valley and tasting some very interesting wines! Hopefully, I will be able to move beyond NYC and experience this beautiful area of France first hand!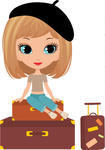 Happy Wednesday!

Cheers!
Penina