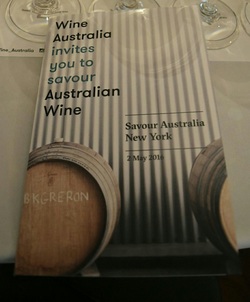 On Monday I found myself seated in the banquet room of the popular Tribeca Grill in NYC. Owned by Robert Di Nero and Lou Diamond Phillips, among others, this trendy establishment opened its door in 1990 and is still going strong. However, I wasn't there to dine. I came for the Savour Australian Roadshow, a highly anticipated event for media and trade that included a seminar and walk around wine tasting of Australian wine.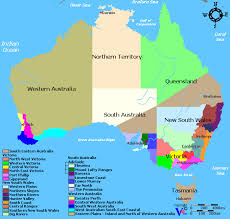 Australia, a single country continent, is the smallest of the seven continents but it is the sixth largest country by total area. Australia is also the flattest continent with a land mass almost equal to that of the United States and much larger than Europe. Australia is broken down into six states. Wine is produced in every state with more than 60 designated wine regions and over 2000 wineries. Temperatures and soil vary not only from region to region, but within the regions as well. The diverse climates and terrain in these unique wine regions are reflected in the wines.

There are no grapes indigenous to Australia. The first vines arrived in 1788 and vineyards were established in 1805. James Busby, regarded as the "father" of the Australian wine industry, went to Europe in 1831 and collected 650 varieties of which 362 survived the journey. They were planted in the Botanical Gardens in Sydney and a duplicate collection was planted in Busby's Hunter Valley property. Over time, cuttings made their way to other regions, establishing the "old vines" of which many can be traced to the original Busby collection.

With over 130 grape varieties, the major wines that are produced in Australia are Shiraz, Cabernet Sauvignon, Pinot Noir, Grenache, Merlot, Chardonnay, Riesling, Semillon, Muscat and Sauvignon Blanc.
Mark Davidson, Global Education Manager, moderated the seminar "Old Vines & Classic Wines of Australia" along with an impressive panel of winery principles, Charlie Seppelt, Chester Osborne, Bruce Tyrrell and Allister Ashmead. Fifteen glasses of wine were set before each of us to taste and compare. We tasted Marsanne, Chardonnay, Grenache, Cabernet Sauvignon and Shiraz ranging in style, vintage and region. As we sipped the wines, we were educated on the regions, terrain, various production techniques, some family history and a few humorous stories. I enjoyed listening to the panelists who were so dedicated and passionate about wine. In fact, every winemaker and owner that I met yesterday had a story to tell, whether it was about their family, the region, wine production or how they hand picked the grapes. The room was pulsating with enthusiasm!

Many different winemakers and regions were represented at the walk around tasting, including Hickinbotham Wines, Tyrrell's Wines, Brokenwood Wines, d'Arenberg, Elderton Wines, Leeuwin Estate and Kaesler Wines. Over the next few weeks I'll review some of these extraordinary wines and share a little history about the vineyards they come from.

I must confess that when I hear an Australian accent, especially when it's emanating from a handsome Australian man, my heart tends to melt. However, it was the Australian wines that stole my heart yesterday!

Happy Tuesday!

Cheers!
Penina