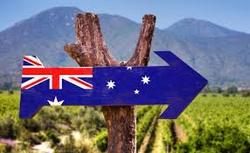 All my "wine" friends are talking about Australian wines. The Australians recently came to town and wowed us. After spending the beginning of the week at a seminar and tasting these magical wines, I'm ready to dive in and start sharing some of my thoughts.

I was very impressed with the Chardonnays. I had the opportunity to taste these lovely wines from different parts of Australia. They all had a unique style and range of flavors. Hunter Valley, one of Australia's best-known wine regions is located north of Sidney in the New South Wales region. It is home to some of the oldest vineyards in the world and was spared from the phylloxera epidemic that wiped out vineyards of Europe in the 19th Century.

It is in this "sacred site" that some of Tyrrell Wines premium vineyards are located. The vines (Chardonnay, Semillion and Shiraz) are over 100 years old and still produce and grow on their own roots. I tasted Tyrrell's Vot 47 Chardonnay 2010 that came from Hunter Valley, NSW. The wine was creamy with soft citrus, peach, hints of vanilla and oak with nice acidity, length and balance.

I had the pleasure of meeting with Bruce Tyrrell, 4th generation and managing director. He chose some outstanding Shiraz for me to taste (which I will reflect on in another post.)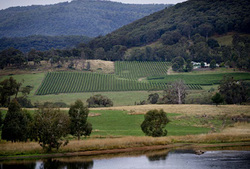 Another impressive Chardonnay came from Eden Road Wines located in Tumbarumba, NSW. Eden Road is a boutique wine company and fairly young but is producing award-winning wines. I was bowled over by their 2013 Chardonnay. Aged in 15% new oak, the aromas were heady with citrus and fruit. The palate offered creamy peach, nectarine and a hint of hazelnut. Nicely layered and a stunning finish.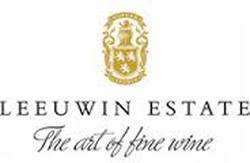 The Leeuwin Estate is located in Margaret River, WA. The Winery is one of five founding wineries in the Margaret River district in Western Australia. It is family owned and they have given themselves quite a name for combining fine wine, food, art and music. Now that's what I like, all my favorites under one roof. They have an award winning restaurant, art gallery and concert arena. Their Art Series Chardonnay 2012 was extremely good. The "Art Series" represents Leeuwin's most opulent and age worthy wines. The aromas were heady with floral, caramel and oak. Aged in 100% new oak, this wine was unbelievably rich in texture, with fruit, citrus and hints of oak and nuts on the palate. The finish was seductively long. It was a "wow"!

All the whites that I tasted at this event were focused and consistent with ripe fruit. Australian Chardonnays have certainly broadened my palate! More to come…

Happy Wednesday!

Cheers!
Penina