So, before I "leave" the continent of Australia, I want to share some thoughts on their red wines. As mentioned in a previous post, Australia's major red wine production is Shiraz, Cabernet Sauvignon, Pinot Noir, Grenache and Merlot. Below are a few examples of what I tasted.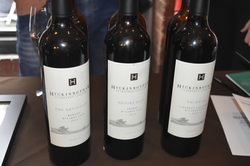 Shiraz was one of the original varieties brought to Australia. It is grown in just about every region. With varying climates, the styles vary as well. The cooler climates generally tend to produce medium-bodied wines that are spicy, while warmer climates produce more full-bodied, richer Shiraz. Each region brings it's own unique style to the wine. The Hickinbotham Clarendon Vineyard Brooks Road Shiraz 2013, from McClaren Vale, SA is 100% Shiraz. Deep purple in color, it was rich with dark berry flavors and spice. Firm tannins and a peppery finish made this medium-bodied Shiraz a standout. Heading north, I tasted Tyrell's Wine Vat 9 Shiraz 2013, Hunter Valley, NSW. This Shiraz was very dark red with more herb and floral on the nose. Lots of berries with fennel, floral and a little earth mixed in. Gentle tannins added to a lengthy finish.

Since Cabernet Sauvignon does not grow well with heat stress and drought, Coonawarra and Margaret River have developed the best reputation for growing Cabernet Sauvignon in Australia. However, there are other regions such as Langhorne Creek, McLaren Vale and Barossa in South Australia that also produce noteworthy Cabernet. At the tasting last week, I found most of the Cabernets to be "chewy" but very drinkable. Yalumba The Menzies Cabernet Sauvignon 2012 from Coonawarra was deep garnet with berry, plum and herbs on the nose. The palate was alive with fruit, oak and savory herbs. Tannins were high with more fruit on the finish.

Pinot Noir grows best in Australian regions with cooling influences of the ocean or altitude. The state of Victoria produces a wide range of styles as does Yarra Valley, Mornington Peninsula and Macedon Ranges. Tasmania is surrounded by the cooling effect of the Southern Ocean and does well with this particular variety of grape. One of the Pinot's I tasted was Giant Steps Yarra Valley, 2015 from Victoria. Floral and cherry were on the nose. Silky red fruits, spice and pepper greeted the palate with medium tannins and a hint of herbs on the finish.

I have touched on just a few of the varieties of wine that Australia has to offer, so I suggest that the next time you're in a wine store or out to dinner, try a bottle of Australian wine. You won't be disappointed!

Have a great Wednesday!

Cheers,
Penina