I've been waiting for a "cool" evening to open Soulmates Wines 2008 Zinfandel from California. The weather of late has had me reaching for wine from the refrigerator. However, last night with the temps hovering in the 60's, I finally popped the cork!

This boutique blend culls grapes from Sonoma, Napa and Lodi. The color was deep garnet with succulent blackberry aromas trailed by herbs and earth. Flavors of blackberry jam, dark cherry, fennel and spice danced around the palate giving a soft and silky mouth-feel. The finish was long with hints of pepper and chocolate covered cherries.
http://soulmateswines.com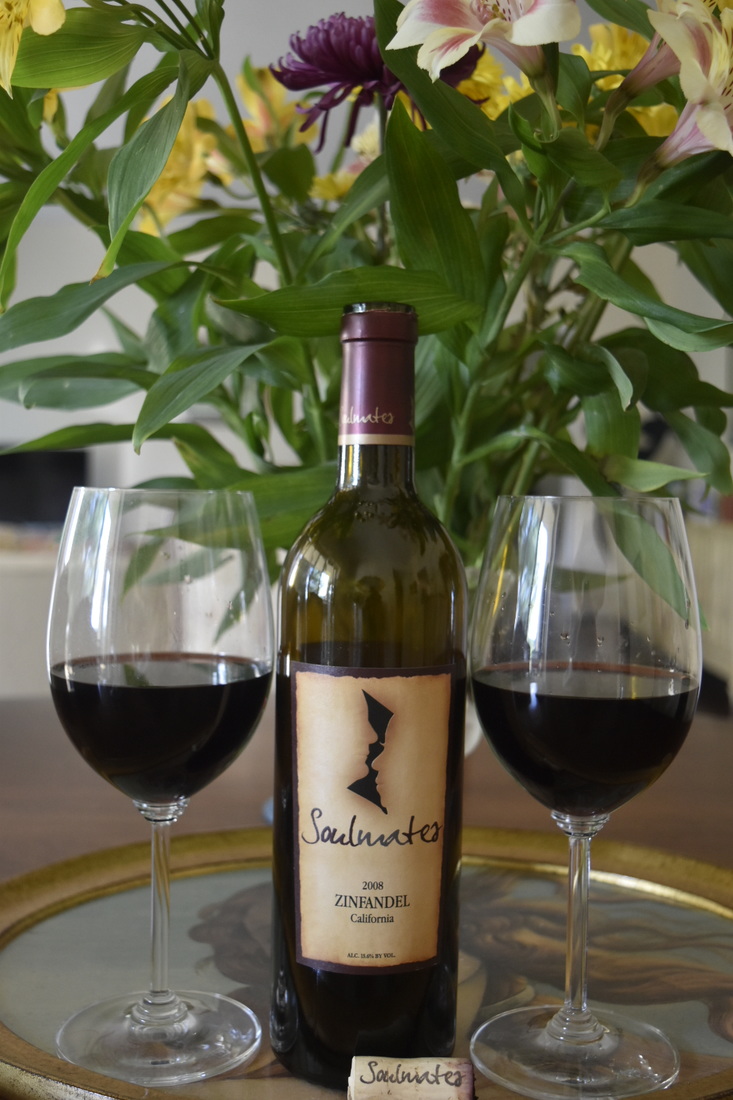 The inspiration behind this wine touched my soul deeply. It is a story of motivation, courage and perseverance. Having lost a young family member recently to brain cancer, I know what true courage and determination is.

Aggie Bonpua is the founder and CEO of Soulmates Wines. This is the story of Aggie and her brother Louie, who is the inspiration behind the wine. I have copied the story from their website for you to read.
"A soulmate has often been defined as the twin soul - the other half of one's soul. This is a story about a brother and sister with an unbreakable bond. An older brother of six years, born August 30, 1964, and a younger sister born August 28, 1970; nevertheless the six years in age did little to separate their unified vision and fervor for life; indeed, their relationship was, rather, one of twins joined in spirit and in heart. The unyielding will to assure his sister reaches the countless dreams she shared in her youth…the passion he felt, knowing she had a gift that could change the world, leaving a historical mark for generations to share – little did he know what a profound impact such qualities would have upon his sister as he entered into an unforgiving battle of life and death. Diagnosed with Leukemia with no correction after treatment, and having only the inevitable fate before him, Louie Bonpua kept a personal goal to train and perform in the Ironman Triathlon. He went on to compete and finish more than 15 triathlons, to include one Ironman triathlon throughout Northern California, with the Leukemia-Lymphoma Society Team in Training. He inspired those diagnosed with Leukemia, motivated competitors within the triathlon arena, rejuvenated his sister's dreams, and invigorated all who encountered his presence. He realized the words "perseverance" and "endurance" beyond polite sickbed conversation, proving them as the keys to unlocking the mysteries of life's impossibilities. He carried the torch for 2002 Salt Lake City Olympics Games – a symbol of his enduring light to a world that often takes for granted its full-functioning capacities. In memory of his strength, his inspiration, and his love, we invite you to share a glass of Soulmates Wines as you partake in this wonderful gift of life. Cheers!"
http://soulmateswines.com/the-louie-project/ 

A portion of every bottle sold goes to the Leukemia/Lymphoma Society.

Have a peaceful Thursday.

Cheers!
Penina