This is a brief look at Chile and its wines.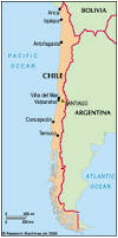 Chile is a long and narrow country bordering the Pacific Ocean to the west and the Andes mountains to the east. It spans 2700 miles of land running from north to south and is only 100 miles wide. Due to the expansive range of terroirs, the style of wines made has an equally wide range, with most of the climatic variations in the wine-growing regions running from east to west due to the influence of the ocean and mountains.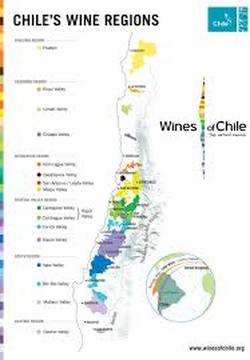 There are numerous wine regions in Chile that are then divided into sub-regions. Rather than listing them all, the map on the right should be helpful. Maipo Valley is home to most of the country's wineries and is Chile's most-established wine region. It is considered the birthplace of Chile's wine production. Curicó Valley is one of the oldest and largest wine regions with Maule being the oldest wine region. Chile has a long viticulture history dating back to the 16th century. There were only 12 wineries in existence in 1995 and today that number exceeds 476 across six regions.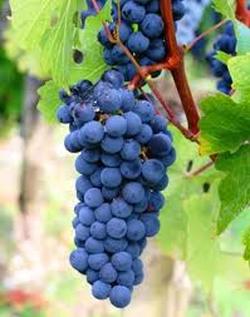 With over 20 varieties of grape grown, the Carménère grape has become the "signature" grape of Chile. Originally planted in the Médoc region of Bordeaux, France, it was thought to be extinct after the European phylloxera outbreaks in the 19th century. However, the grape was rediscovered in Chile in the 1990s. The Carménère grape is known for it's deep red color with flavors of blackberry, cherry and spice. Cabernet Sauvignon accounts for more than one third of Chile's grape production. In addition, Syrahs, Malbecs and old vine Carignan from Maule are among the more popular grapes grown. White wine grape varieties grown in Chile are also important such as Sauvignon Blanc, Chardonnay, Semillon and Riesling.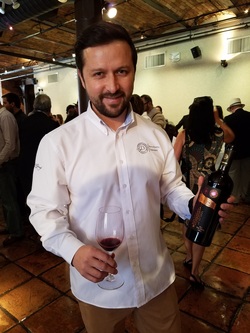 Last week I had the opportunity to meet and chat with Felipe Ortiz, Chief Winemaker of Casa Donoso Winery. Felipe has worked in France, USA, and Australia and has now brought his talents to Casa Donoso. The winery has four vineyards located in the Maule Valley. La Oriental Estate located in the heart of the Maule Valley boasts plants of more than 60 years of age. San Vicente Estate has plants that are more than 50 years old. Las Casas Estate is on the coastal zone of the Maule Valley and Fudno Pencahue is located on the coast. To quote Felipe with regard to Maule Valley's "multiplicity of characters"; "White wines with very fresh and mineral traces, in particular our Sauvignon Blanc. Red wines with short maturity cycles showing a very good balance between alcohol and acidity, like Merlot and Cabernet Sauvignon. And above all, a nice and silky Carménère, is a tricky and demanding variety which is hard to mature properly in other valleys". It was a pleasure conversing with Felipe and I look forward to visiting Casa Donoso in the near future and getting a first hand tour!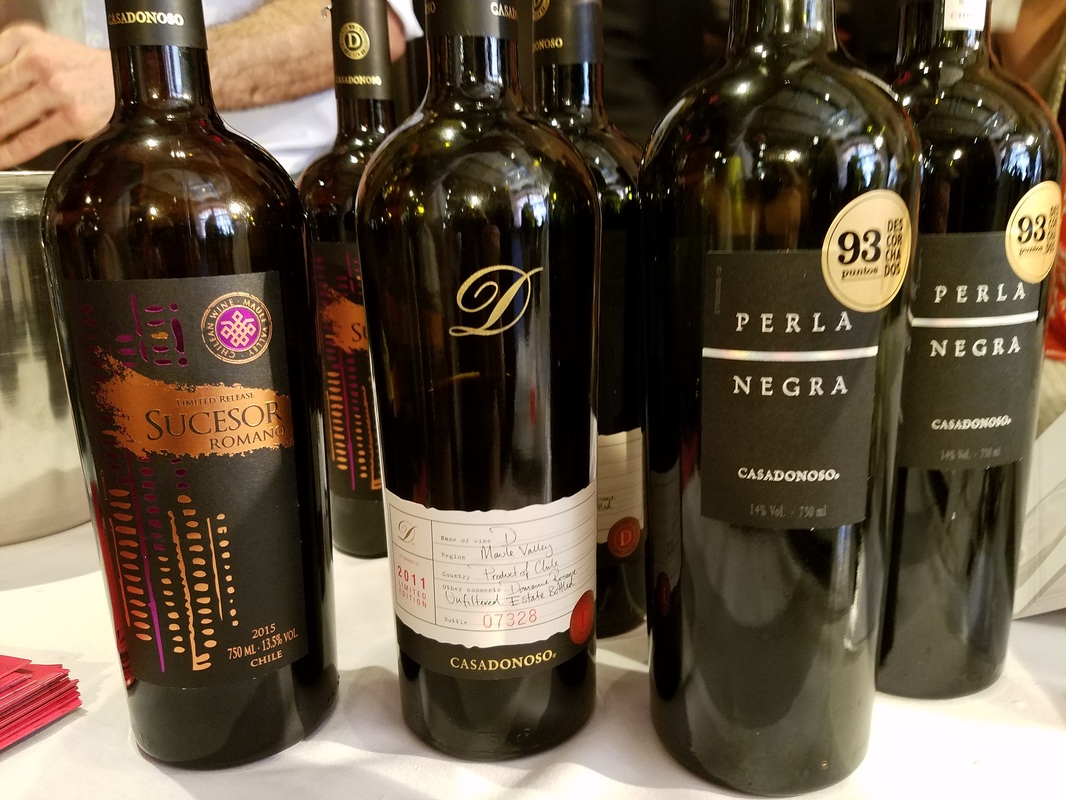 The first wine Felipe poured for me was Sucesor Romano Limited Release 2015. It is 85% Cesar Noir and 15% Carignan and is made from the grapes in La Oriental Estate. Ruby red and wild berry aromas give way to juicy blackberry and spices. The wine is sophisticated with medium tannins and a long finish. Alcohol: 13.5%

The next pour was "D" a 2011 Limited Edition blend of 40% Cabernet Sauvignon, 30% Carménère, 20% Malbec and 10% Cabernet Franc. This unfiltered estate bottle's origin is La Oriental Estate. The wine is elegant with dark fruits, oak and spice on the nose seguing into a balanced and silky finish with just the right touch of pepper and licorice.
Alcohol: 14%

The last wine I tasted was the 2012 Perla Negra, "a selection of grapes from the oldest and best musts of the domaine." The blend is 50% Cabernet Sauvignon, 20% Carménère, 20% Malbec and 10% Cabernet Franc. Aged in French oak barrels, the wine has heady aromas of berries, spice and herbs. The palate offers a rich array of ripe berries, spices and a hint of cocoa. Tannins were chewy, and needs time to open. This wine is a gem. Alcohol: 14%

I have more Chilean winemakers to talk about and will do so over the next few weeks.

Happy Weekend!

Cheers!
Penina