It's hard to believe that we are already into the month of August. Clothing stores are displaying fall fashions and back to school supplies are occupying the shelves.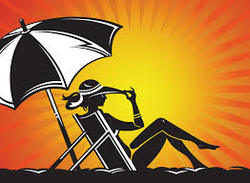 However, I am not ready to give up summer yet. I plan to swim, continue to grill food and enjoy summer quaffs for as long as I can! And fortunately, my friends are in agreement.


While visiting with a friend the other evening, we took advantage of the nice weather and sat outside and sipped a lovely rosé from Languedoc-Roussillon, France. The 2015 Château Tourril, Havana Minervois AOP rosé was a beautiful blend of 70% Cinsault and 30% Grenache. The color was pale salmon with subtle citrus aromas and fresh fruit. The palate offered strawberry, cherry and mild citrus notes. The finish was long with herbs and a hint of bitterness lingering. A very nice wine, indeed!
Alcohol: 12.5%
Price: about $13.00

Château Tourril is a family owned vineyard located between the Canal du Midi and the fortified city of Carcassonne. The small 13-hectare estate produces wine from its Syrah, Cinsault and 100 year old Carignan, Grenache and Roussanne vines. The entire production process is conducted at the Château, using sustainable agricultural techniques.
http://www.chateautourril.fr
Happy Wednesday!

Cheers!
Penina