My introduction to Donnafugata wine (owned and operated by the Rallo family) was this past February and it was a memorable one. Not only did I taste some delicious wines from Sicily, I also had the pleasure of meeting and lunching with Josè Rallo, one of the family members who is head of management control and communications manager. I encourage you to read my story about the family, their vineyards and wines at:
http://thewineknitter.com/1/post/2016/02/day-431-donnafugata.html
as a prelude to this post.

Donnafugata recently sent me two bottles of wine from their "Fresh and Fruity" collection, SurSur 2015 and Sherazade 2015, representing Sicily's indigenous grape varieties.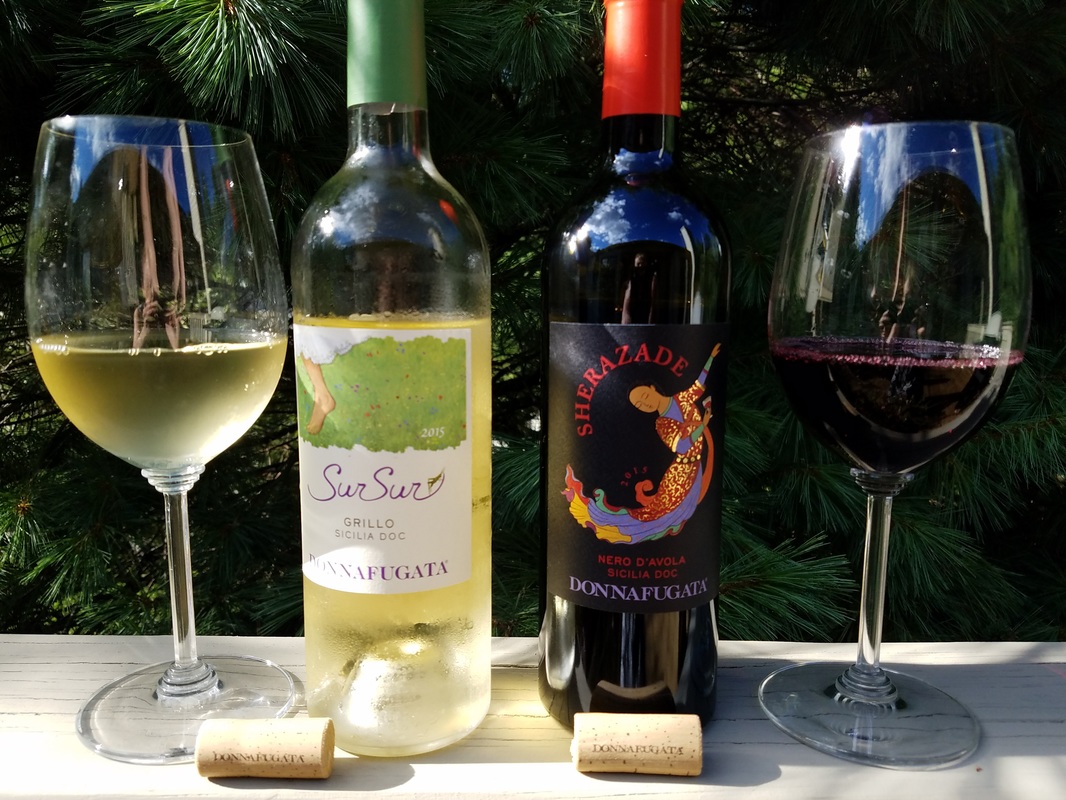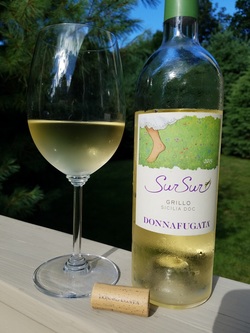 SurSur is made with 100% Grillo grape, an ancient indigenous variety from Sicily. Having tasted the 2014 vintage several months ago, I was looking forward to trying the 2015 vintage. The wine was beautifully balanced with a soft straw color. The nose offered citrus, grapefruit, floral and peach. The aromas carried over to the palate with stone fruit, most notably peach and hints of pear. It had a creamy mouthfeel with pleasant notes of floral and vanilla on the finish. SurSur is lovely served as an aperitif or with any summer meal. To quote Donnafugata, "a fresh and fruity Grillo with a youthful spirit".
Alcohol: 12.73%
Price: $23.00 (SRP)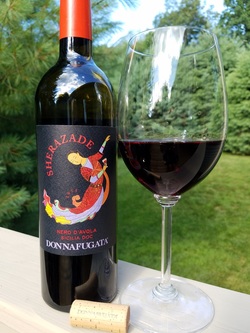 Sherazade 2015 is made with 100% Nero d'Avola, another indigenous grape that is also considered Sicily's most important red wine grape. Nero d'Avola is named after the city of Avola which is located in the far south of Sicily and is referred to as "the black grape of Avola". The color of the wine was dark ruby, bordering on purple. The aromas were a playful blend of dark berries, violets and a touch of candy apple. The palate was fruit forward offering red berries and cherries with pepper and spice on the finish. Soft tannins and a lush mouthfeel make this a perfect "go to" wine for light meals.
Alcohol: 12.86%
Price: $23.00 (SRP)

Donnafugata's wine labels are whimsical and always tell a story. Most of the artwork is created or inspired by Gabriella Rallo. Each label interprets the personality of the wine in addition to paying homage to art and literature. Sur Sur mean cricket which comes from the classical Arabic language once spoken in Italy. Crickets are good luck and are part of the sounds of spring and summer. The SurSur label shows Gabriella as a young girl running barefoot through "flowers and fresh grass" following the singing crickets.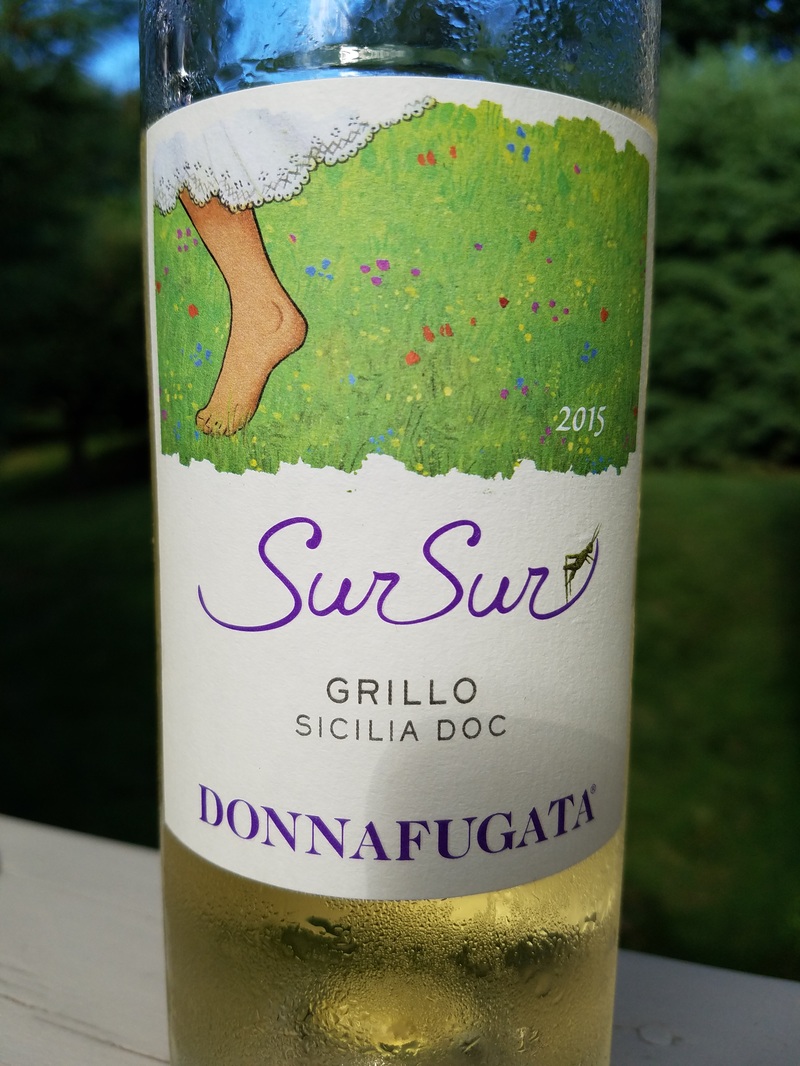 The Sherazade label represents the leading female character in The Arabian Nights. To quote Donnafugata "a fruity flesh voice, wrapped in a spicy drape, that tells you the fairy tale of this masterpiece of Oriental literature."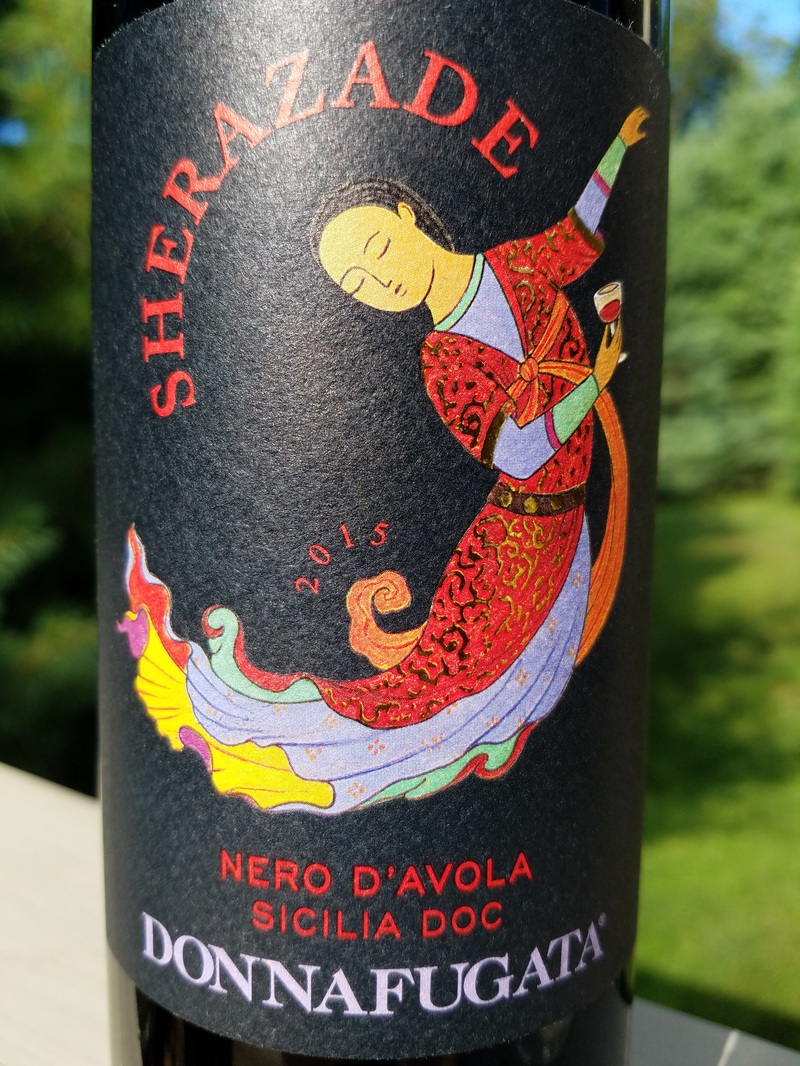 If you're looking for authentic Sicilian flavors, pick up a few bottles of these wines to drink throughout the rest of the summer and into the fall. Serve as an aperitif or enjoy with most any meal!
www.donnafugata.it
Cheers!
Penina