Wines of Chile Visits Whole Foods Markets

Over the past few months, I have written several posts pertaining to Chilean wines. I have described the land, talked to wine producers and reviewed some amazing wines. For a better understanding of Chile, its regions and grapes, please go to
http://thewineknitter.com/1/post/2016/06/day-482.html.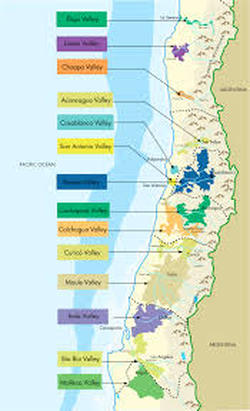 Recently, Wines of Chile sent me nine bottles of wine to taste and review. These wines representing eight regions throughout Chile will be available in Whole Foods Markets nationwide for the "Country of Origin In-Store Program" from August 24th through October 26th, 2016.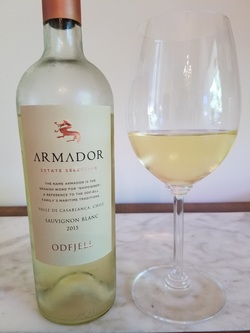 Odfjell 2016 Armador, Sauvignon Blanc, Casablanca Valley

Odfjell Winery is located in a small corner of the Maipo Valley. Started 25 years ago by Norwegian born ship owner, Dan Odfjell, it is a family run business carried on today by his sons Laurence and Dan Jr. Odfjell Winery prides itself in producing unique wines with an emphasis on sustainability.

Armador, which is the Spanish word for "ship owner", is 100% Sauvignon Blanc harvested from their vineyard in Casablanca Valley. The color is soft yellow with a green tinge to it. A floral bouquet with citrus and pear continues onto the palate with light fruit and citrus notes. This is a crisp wine that would make a great aperitif or served with light meals.

http://odfjellvineyards.cl
Alcohol: 14%
Price: $12.99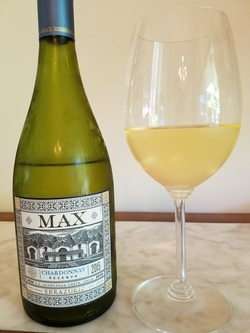 Viña Errazuriz 2015 Max, Chardonnay, Aconcagua Costa
Don Maximiano Errázuriz founded Viña Errazuriz in 1870. It is a fifth generation family owned winery. Eduardo Chadwick Claro is president of Viña Errazuriz and a descendent of the winery's founder. Errazuriz was the first estate to plant vines and cultivate the coastal area of Aconcagua Valley and also one of the first wineries to be granted the Certification of Sustainability.
The Viña Errazuriz 2015 Max Chardonnay Reserva is 100% Chardonnay. The color is straw with citrus, tropical fruit and pear on the nose. The palate is layered with citrus, lush fruit and a creamy mouthfeel. Lemon and flowers are persistent on a long crisp finish. This is a refreshing wine that would pair well with most meals.

http://www.errazuriz.com
Alcohol: 13.28%
Price: $17.99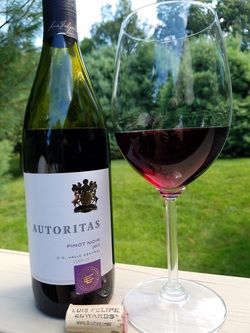 Autoritas 2014 Pinot Noir, Valle Central

Autoritas wines are produced by Luis Felipe Edwards in the Valle Central region. The name Autoritas is derived from the Latin word Auctoritas that means respect and prestige.

The 2015 Autoritas is 100% Pinot Noir. The color is dark cherry with aromas of berries, spice and pepper. The palate offers cherry, plum and spice with almost no tannins to speak of. This is a very clean and uncomplicated wine. You can't beat the price!

http://www.lfewines.com
Alcohol: 13.5%
Price $7.99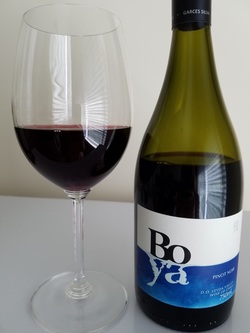 Boya 2014 Pinot Noir, Leyda Valley (San Antonio Valley)

Boya Winery is a boutique estate winery located just five miles from the ocean. Matias Garces Silva is founder of Boya Winery and pioneered winemaking in Leyda, a sub-region of the San Antonio Valley in the coastal zone. Fittingly, Boya means, "buoy" in Spanish.

Boya 2014 Pinot Noir is 100% Pinot Noir with a dark ruby color. The wine has intense aromas of fresh fruit, strawberry, tea rose and a hint of spice. The palate is nicely balanced with ripe fruit and spice. Soft tannins with a little pepper on a medium finish add to the character of this wine.

http://www.boyawines.cl
Alcohol 13%
Price: $14.99

Criterion 2014 Carménère, Colchagua Valley
Criterion Cellars is located in the southernmost region of Chile. Colchagua is the southernmost portion of the Rapel Valley and one of Chile's best-known wine regions. It is noted for the Carménère grape. This is a dark skinned grape that was originally planted in the vineyards of Bordeaux and has found its home in Chile.
The 2014 Criterion Carménère is 100% Carménère. The color is deep crimson, bordering on purple. The nose offers black fruits, spice and a hint of earth. The palate is layered with dark cherries, blackberries, pepper, cocoa, coffee and soft tannins. The finish is medium to short, but has all the elements for an enjoyable wine.
http://www.criterioncellars.com
Alcohol 13%
Price: $13.99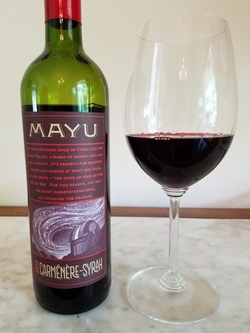 Mayu 2014 Carménère-Syrah, Elqui Valley
Mayu Winery located in the Elqui Valley at the northern edge of Chile, was founded in 2005 by Mauro Olivier. The focus of Mayu winery is "only the production of Premium wines originated in the Elqui Valley with unique style and personality." The arid desert climate and cold nights are ideal for growing grapes, leading to more concentrated aromas, deep color and developed tannins. Mayu is the Incas word for "river of stars in the Milky Way".
The 2014 MAYU Carménère-Syrah Reserva is a blend of 55% Carménère and 44% Syrah. The color is deep ruby with purple hues. It is an interesting combination of aromas, from ripe fruit to earth and spice. The palate offers dark cherry, plum, spice and hints of vanilla lingering on a medium finish. It has depth, but yet light enough to serve in the warm days still ahead.
http://mayu.cl
Alcohol: 14.5%
Price: $12.99
Erasmo 2010 Reserva de Caliboro, Maule Valley

In 1995 Count Francesco Marone Cinzano, owner of the Col d'Orcia estate in Montalcino, Tuscany, brought his expertise and knowledge to "Riserva di Caliboro" in the Maule Valle of Chile to produce high quality wines from grape clones imported from France.

The 2010 Erasmo Reserva de Caliboro is a single vineyard handcrafted wine. The blend is 60% Cabernet Sauvignon, 30% Merlot and 10% Cabernet Franc. The color is deep ruby with aromas of dark berries, earth and a hint of floral. This is a full-bodied wine with a beautiful richness to it. Layers of blackberry, cherry, candy apple, licorice and pine give way to soft tannins and a long velvety finish. This is a wine to drink now and right through winter.

Alcohol: 14.5%
Price: $19.99
http://www.erasmo.bio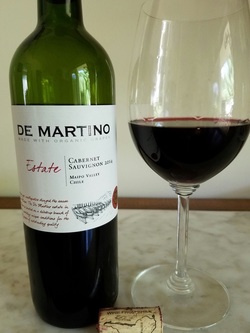 De Martino 2014 Estate Organic Cabernet Sauvignon, Maipo Valley

De Martino winery was established in 1934 when the De Martino family moved to Maipo from Italy. The winery is now run by the family's third and fourth generation and is one of the leading organic producers in Chile. They have vineyards in seven regions throughout Chile.

The 2014 Estate Organic Cabernet Sauvignon is 100% Cabernet Sauvignon. The color of the wine is ruby with subtle aromas of cherry, red and black fruit with a hint of mushrooms. The palate offers lush fruit with traces of tobacco, earth and lingering spice on the finish. Medium-bodied with mild tannins. Very nice!

http://www.demartino.cl
Alcohol: 13.5%
Price: $12.99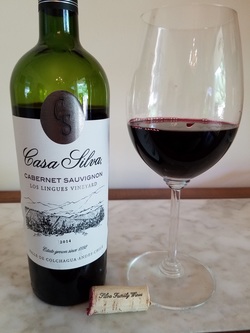 Casa Silva 2014 Los Lingues Vineyard, Cabernet Sauvignon, Colchagua Valley
Viña Casa Silva is a family owned winery that was established in 1997 and is located in Colchagua Valley. Although recently under a new name, the family's passion for winemaking began in 1892, when Emilio Bouchon arrived from France. The fourth and fifth generation decided to make wines under their own label, creating a new family winery, Viña Casa Silva.
The 2014 Los Lingues Vineyard Cabernet Sauvignon is 100% Cabernet Sauvignon. The color is deep garnet with lovely aromas of dark fruit, strawberries, anise and pepper. The palate is lush with juicy red fruit, hints of tobacco, and soft tannins. The finish is medium with a touch of pepper lingering. This wine would pair well with a hearty meal!
http://www.casasilva.cl/home
Alcohol: 14%
Price: $17.99
With all the above wines costing below $20.00, this is a great opportunity to "visit" Chile at Whole Foods Market and experience some wonderful wines. There is a wine for everyone and every occasion!

Salud!
Penina