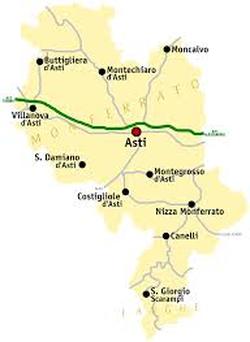 Nestled in the Province of Asti, in the Italian region of Piedmont, lies the town of Canelli which is home to over 10,000 inhabitants. Ancient villages, castles and bountiful vineyards perched on gentle slopes surround Canelli. The town is steeped in history and was declared a UNESCO World Heritage Site on June 22nd, 2014. It is also considered the birthplace of the Italian sparkling wine, Asti.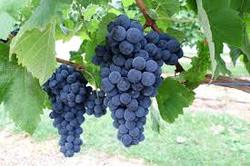 The municipality boasts many grape varieties such as Moscato, Barbera, Dolcetto, Cortese and Chardonnay.

The Barbera grape is the third most planted red grape variety in Italy and the most famous appellation is the DOCG Barbera d'Asti. Almost half of all grape vine plantings in Piedmont are Barbera. The grape is a deep color and is known for producing low tannins and high levels of acid.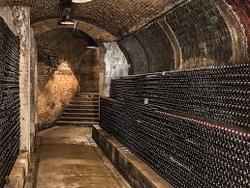 Coppo Winery is located in Canelli and was founded by Piero Coppo in 1892. It has remained in the family for over 120 years and is now run by Piero's four grandsons, Piero, Gianni, Paolo and Roberto. Cousins Max and Luigi who are fourth generation, have recently joined the team. Piero began building the winery in the late 18th century, creating small underground cellars to store wine. The cellars were expanded between the 1800s and 1900s and are know today as the Underground Cathedrals. Due to their historical value, these underground cellars have been recognized as a UNESCO World Heritage site.

What began in the 1800s with Coppo making the first Italian spumante with secondary bottle fermentation and giving Canelli a place in wine history, led to Coppo's production of red wines in the 20th century. Among their most notable red is Barbera d'Asti. In 1984, the Coppo family produced the first vintage of Barbera d'Asti Pomorosso, "making it the symbol of the winery and paradigm of a new history of Barbera". Quote taken from Coppo website.

I recently tasted three Barbera d'Asti releases from the Coppo Winery, courtesy of the importer, Folio Fine Wine Partners.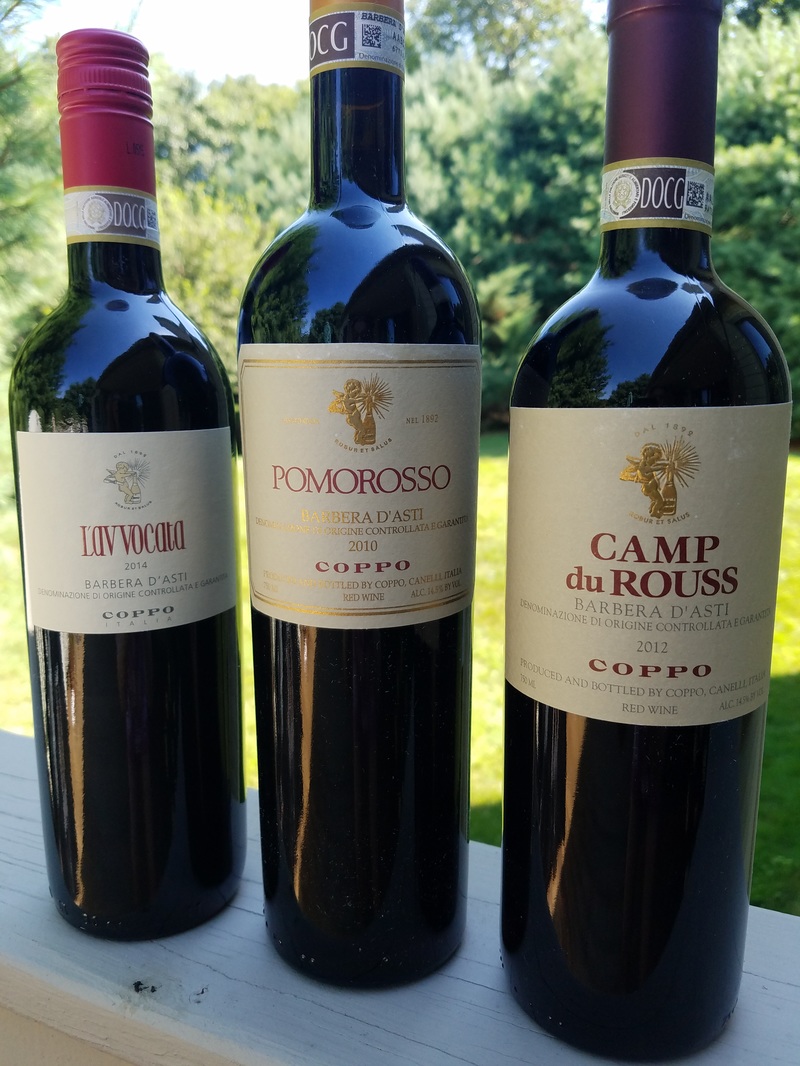 2014 Coppo L'Avvocata Barbera d'Asti DOCG
2012 Coppo Camp du Rouss Barbera d'Asti DOCG
2010 Coppo Pomorosso Barbera d'Asti DOCG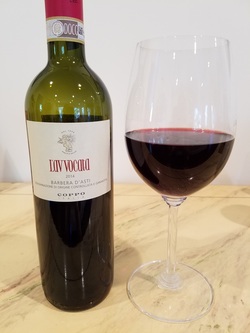 The 2014 L'Avvocata is Coppo's entry level Barbera d'Asti. It is made with 100% Barbera grapes and aged in stainless steel tanks. The color of the wine is dark cherry bordering on ruby. The aromas of cherry, plum and a bit of earth spill over into a subtle fusion of fresh berries, raspberries, spice, pepper and a hint of sour cherry on the palate. It is a medium to long finish. The wine is clean and nicely balanced with soft tannins. This is a great wine to pair with pasta, piquant red sauce, meaty fish and bold cheeses.

Alcohol 13%
Price: $15 (SRP)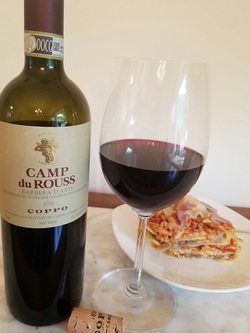 The 2012 Camp du Rouss Barbera d'Asti is made with 100% Barbera grapes and aged in French oak barrels. The color of the wine is deep ruby with cherry, red raspberry, tobacco and spice on the nose. On the palate this full-bodied wine leads with sour cherry seguing into hints of plum, pepper and oak with a long and crisp finish. This is another well balanced wine with soft tannins, making it a perfect wine to drink alone or pair with a hearty lasagna!

Alcohol: 14.5%
Price: $21.00 (SRP)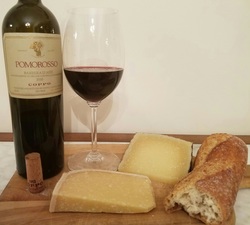 The 2010 Pomorosso is Coppo's signature Barbera d'Asti. Made with 100% Barbera grapes, it is aged for 14 months in French oak barrels. The color of the wine is dark ruby with purple hues. It has intense aromas of spice and cherry with hints of blueberry and oak that are layered and continue onto the palate. A blast of pepper and hints of tobacco linger on a long finish. Again, as with the previous wines reviewed, the Pomorosso is full-bodied, crisp and clean, with mild tannins. This wine will complement any hearty meal such as stews, meat entrees or one of my famous soups! However, I found it also paired well with the Manchego and Piave del Sapore cheeses!

Alcohol: 14.5%
Price: $50.00 (SRP

Barbera d'Asti wines pair beautifully with a wide range of food. So, if you're looking for full-bodied Italian red wine with lots of character and low tannins, put a little swirl in your glass and try Barbera d'Asti!
To learn more about Coppo's history, wines and integrated farming and biodynamic techniques, please visit their website.
http://www.coppo.it/en/
Cheers!
Penina