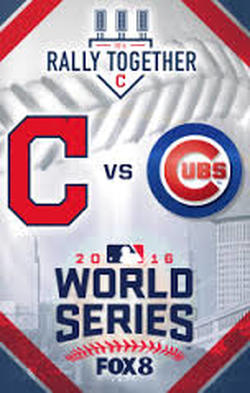 The World Series begins this evening and it is going to be very exciting with two "underdog" teams playing, the Indians vs. Cubs. I'm rooting for the Cubs! And you?

For the next week or so, most of us will be gathered around the television as baseball takes over our lives. Selecting the right food and drink is key while viewing the games. Finger food is great to serve because it requires the least amount of attention to eat. You don't won't to be slicing a steak or twirling spaghetti and miss out on a grand slam or someone stealing bases! A variety of "tea size" sandwiches work well, as does mini crab cakes, sushi, and sliders. You can turn most any recipe into bite size portions.

Unless you're watching the game at a bar or restaurant where the bartender is shaking up the cocktails, forget about serving complicated drinks or you'll be spending most of your time in front of a blender or martini shaker. Wine, beer, cognac and single shot spirits work best.

So, have a great evening watching the Series Opener and I'll be back soon with thoughts on New Zealand wines and some interesting seminars I attended at Simply Italian Great Wines Tour US.

Happy Tuesday!

Cheers!
Penina