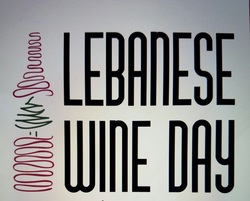 This past week I had the opportunity to attend Lebanese Wine Day in NYC. In addition to taking a Master Class on Lebanese wines with Christy Canterbury, Master of Wine, I sampled wines from twenty-six wineries representing several regions of Lebanon at a "walk around" tasting.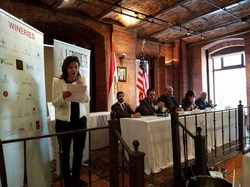 Prior to the class, a press conference was held where we listened to several speakers talk briefly about Lebanon's rich wine heritage and its global presence today. Louis Lahoud, Director General of the Ministry of Agriculture was among the speakers.

Lebanon is a very small country in the Middle East bordering the eastern shore of the Mediterranean Sea on one side and imposing mountains on the other side, bordering Syria. Lebanon enjoys a Mediterranean climate. With a long growing season that has minimum variance in temperature, little or no rain and cool nights from the high altitude, Lebanon is producing wine with unique characteristics. The vineyards are the highest in altitude in the northern hemisphere ranging from about 3,000 to 6,000 feet. The combination of the warm sea air and cool evening temperatures, plus the limestone and clay soils, makes this environment very conducive for growing grapes.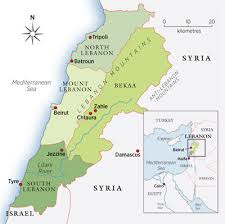 Lebanon is considered one of the oldest sites of wine making that dates back to 6000 BC. And, it is steeped in history and stories from the bible. Here is an interesting timeline taken from Wines of Lebanon website:

Timeline
• 7000BC Modern scholarship is cautiously confident that early Lebanese create a vine and wine culture
• 3000BC – 330BC Phoenician traders begin making and exporting their wines to Egypt, Cyprus, Greece and Rome as well as what is now Sardinia and Spain
• Lebanon's reputation for producing fine wines continues into the Middle Ages when those produced in Tyre and Sidon are coveted in Europe and traded by Venetian merchants.
• 1517 What is now Lebanon is absorbed into the Ottoman Empire. Winemaking is forbidden, except for religious purposes. This allows Lebanon's Christians, mainly Maronites and Greek and Armenian Orthodox, to produce wine.
• 1857 Jesuit missionaries introduce new viticultural and vinicultural methods as well as new vines from French-governed Algeria, laying the foundations of the modern Lebanese wine industry.
• 1918 The French civil and military administration that govern Lebanon between the wars create unprecedented demand for wine,while Lebanon's post-independence role as a cosmopolitan, financial hub sees the country enter an economic golden age, presenting further opportunities for a new wine culture to take hold.
• 1975 Lebanon descends into a 15-year civil war that stunts the development of the sector
• 1992-present with peace come new opportunities and unprecedented growth.

The three major wine growing regions are Bekaa Valley, Batroun and Mount Lebanon.

Bekaa Valley is the most well-known wine region, producing 90% of Lebanon's wines. It profits from 3200 hours of sunlight during the growing season and has an altitude ranging from 3000 feet to 6000 ft. It is also home to Lebanon's oldest and largest producing winery, Chateau Ksara, founded in 1857 by a Jesuit priest and Chateau Kefraya, second largest producer, established in 1979.

Batroun is a mountainous region to the north and the second largest in wine production. Vineyards thrive in an altitude of 1000 to 3300 feet grown on terraces due to the steep terrain. Batroun produces 6% of Lebanon's wines.

Mount Lebanon is located in the south with the average vineyard planted at 3,000 feet and produces 4% of Lebanon's wines. Although Mount Lebanon benefits from a Mediterranean climate, the altitude brings wet and snowy winters. Chateau Musar, founded in 1930 by Gaston Hochar is located here. Chateau Musar is considered the third largest producer of wine in Lebanon and is also one of the most well known wineries.

An international influence is seen in the varietals planted in Lebanon with Cabernet Sauvignon, Cinsault, Carignan, Grenache, Syrah, Muscat, Merlot, Mourvedre and Sauvignon Blanc being the most widely planted. Lebanon's indigenous white grapes are Obaideh and Merwah and are grown by a few wineries, with the most famous being Chateau Musar. Most of the wines are aged in oak and convey the imprint of French wine making techniques.

I found the wines that I tasted to be surprisingly unique and quite enjoyable with a range of styles and complexities that would please any palate. The passion and dedication of the winemakers is evident in every bottle. The white blends were aromatic with a lovely combination of fresh fruit and citrus. The Sauvignon Blanc blends were my favorite, although the Chateau Musar White 2007, a blend of Obaideh and Merwah was exceptional. It was rich and aromatic with tropical fruit and floral dancing on the finish. Most of the reds that I sampled were robust and ranged from layers of juicy ripe fruit to dark fruit and spices. They were full-bodied with medium tannins and fresh acidity. Hands down, the reds are exotic and leave a lasting impression.

Below is a slide show of some of the wines I tasted.

In 2015, nine million bottles of Lebanese wine were produced. Thirty percent was exported, and the Lebanese consumed four million bottles of their country's wine. I know what I'm going to be checking out the next time I'm in a wine shop. I suggest that you pick up a bottle or three as well. You'll be happy you did!

Cheers!
Penina

To leave a comment or if you have an inquiry, please contact me at wineknittercomments@gmail.com