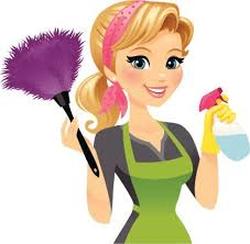 While cleaning kitchen cabinets the other day, I uncovered a bottle of Teton Glacier Potato Vodka that had been shoved all the way to the back of the cabinet and out of sight. I couldn't determine how old it was, but the bottle was a beautiful decanter style with an impressive glass stopper that gave it a vintage look.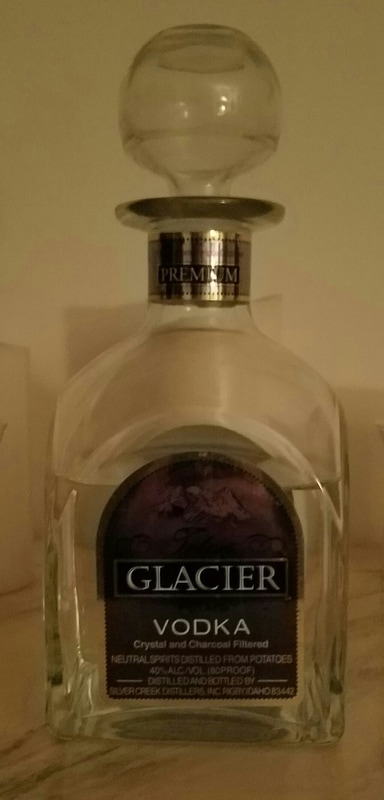 Teton Glacier Potato Vodka is made in Rigby, Idaho, the heart of potato country. All ingredients are sourced from Idaho; the wellspring of high-mountain glacial water is blended with spirits distilled from volcanic soil-grown potatoes. As the label indicates, the vodka is "Crystal and Charcoal Filtered".

The bottle was sealed tight, but had been opened at some point in time. Not knowing the age of the bottle made it all the more difficult to determine if
evaporation had taken place or if it was just that the vodka had been consumed. Eighty proof spirits contain a high alcohol content that helps to prevent the spirit from "turning" over time. Vodka is one of the more stable spirits that can be stored for a long time. However, once opened it will begin to very slowly evaporate and possibly start to lose flavor. Since this bottle was stored in a cool and dark place, light exposure was not a contributor to altering the flavor of the vodka.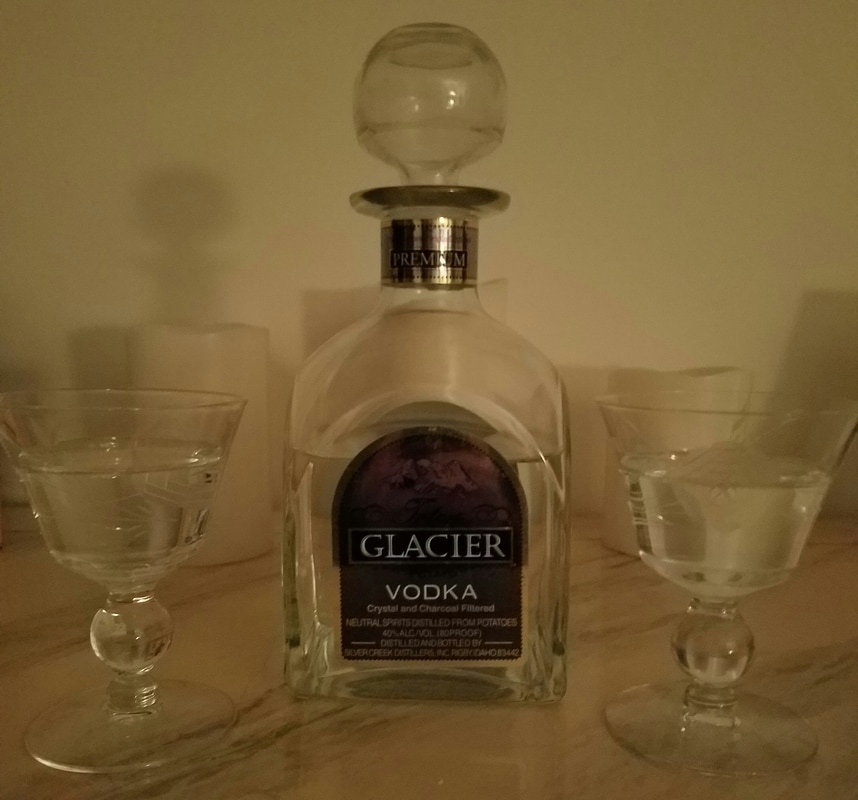 We had difficulty removing the cork from the bottle because it was jammed in tight. It took patience and a strong hand, but we were rewarded for our efforts. In keeping with the vintage theme, I poured the vodka into antique cut crystal glasses. We drank it straight and at room temperature. It had a clean scent with sweet overtones and a hint of yeast. The palate offered a subtle sweetness and nutty bite to it with a combination of bitter and sweet on the finish. There was no "burn" to this vodka; on the contrary… it was rather smooth. Finding this vodka was a treat and I will have a decanter to use when the vodka is gone!
80 proof
Alcohol: 40%
http://tgvodka.com
Have a great weekend!
Cheers!
Penina
To leave a comment or if you have an inquiry, please contact me at
wineknittercomments@gmail.com