The other day I was transported to Bordeaux, if only for a few hours. I attended the 2017 United States Tour of The Union Des Grands Crus de Bordeaux 2014 vintage tasting held in NYC. Thirteen appellations and 90 châteaux were represented. Bordeaux is famous worldwide for its wines and beautiful châteaux. It is also the largest wine growing area in France. Although I didn't visit any of the châteaux, I did taste an impressive array of wines with memorable expressions on the palate that varied between the appellations.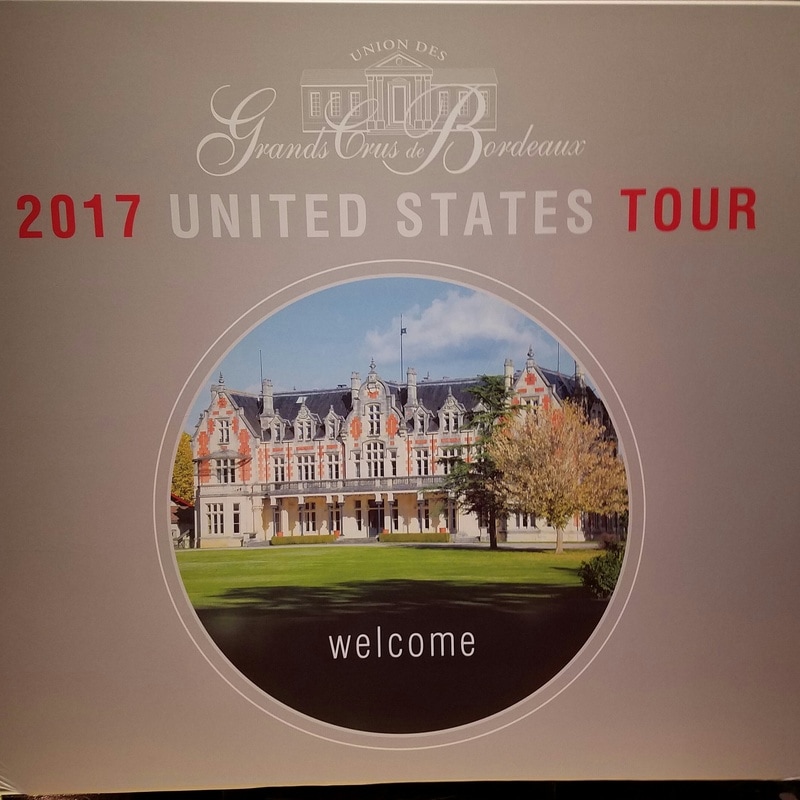 Bordeaux has an extensive wine history dating back to the Romans around mid-1st century. However, I'm going to skip ahead to 1855 when Emperor Napoleon III requested a classification system of the best Bordeaux wines. Without going into too much detail, the wines were ranked according to the trading price and the reputation of the château and then classified in importance from first to fifth growths establishing a classification system that is still used today. It has only been altered twice since the 1855 classification, once in 1856 and 1973.

Just to give you an idea, here is the First Growths list. I'm sure you will recognize these wines! It is interesting to note that Pomerol appellation was not included in the 1855 Classification and still remains unclassified. But Château Petrus tends to be included with the First Growths, although not officially.

Red Wines First Growths (Premiers Crus)
Château Lafite Rothschild
Château Latour
Château Margaux
Château Haut-Brion
Château Mouton Rothschild

White Wines
Superior First Growth
Château Yquem

First Growths (Premier Crus)
Château Climens
Château Clos Haut-Peyraguey
Château Coutet
Château Guiraud
Château Lafaurie-Peyraguey
Château Rabaud-Promis
Château Rayne-Vigneau
Château Rieussec
Château Sigalas-Rabaud
Château Suduiraut
Château La Tour-Blanche


The grapes permitted in the Red Bordeaux blend are Cabernet Sauvignon, Cabernet Franc, Merlot, Petit Verdot, Malbec and Carménère. Cabernet Sauvignon tends to dominate the blend in red wines produced in the Medoc and other left bank appellations. Whereas Merlot tends to dominate the blends made in the right bank appellations such as Saint-Emilion and Pomerol.

White Bordeaux is made from a blend of Sémillon Sauvignon Blanc and Muscadelle grapes. Other permitted grapes are Colombard, Merlot Blanc, Sauvignon Gris and Ugni Blanc.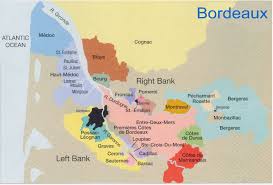 The main river in Bordeaux is the Gironde River which separates the Left and Right bank. The Dordogne and Garonne are small rivers that feed into the Gironde. The soil in Bordeaux is excellent for growing grapes and is mainly composed of gravel, limestone and clay. The Left bank has gravelly topsoil and limestone bedrock creating a desirable environment for old vines. It is interesting to note that all the original châteaux from the original 1855 classification are on the Left Bank.

On the Right bank, the limestone is at the surface as opposed to being buried like it is on the Left Bank. And the gravel is not as prevalent, except for Pomerol where gravel has been deposited from a tributary of the Dordogne, creating a base of sandy clay deposits and iron rich sand. Most of the terrain on both banks is flat except for Saint-Émilion and Côtes de Castillon which slope down to the river.

This post is a general overview of the wines that I tasted. I will be focusing on and exploring individual châteaux over the next few weeks.

The 2014 vintage Bordeaux are exceptional and touted to be the best since 2010. All the wines that I tasted were of high quality stretching from Left to Right bank. The red Bordeaux of Médoc and other Left bank appellations exhibited fresh and rich fruit flavors. As expected, due to Cabernet Sauvignon being dominant, the tannins were light to medium, but not overpowering. The red Bordeaux of the Right bank were lively, focused with juicy berries, restrained tannins that gave the wines a silky feel and nice levels of acidity.

I tasted several Sauternes including the First growth Château Coutet. The wines can only be described as elegant, sexy, rich, with perfect acidity and a long and beautiful finish. I will be posting a separate story on the Sauternes in the next few days.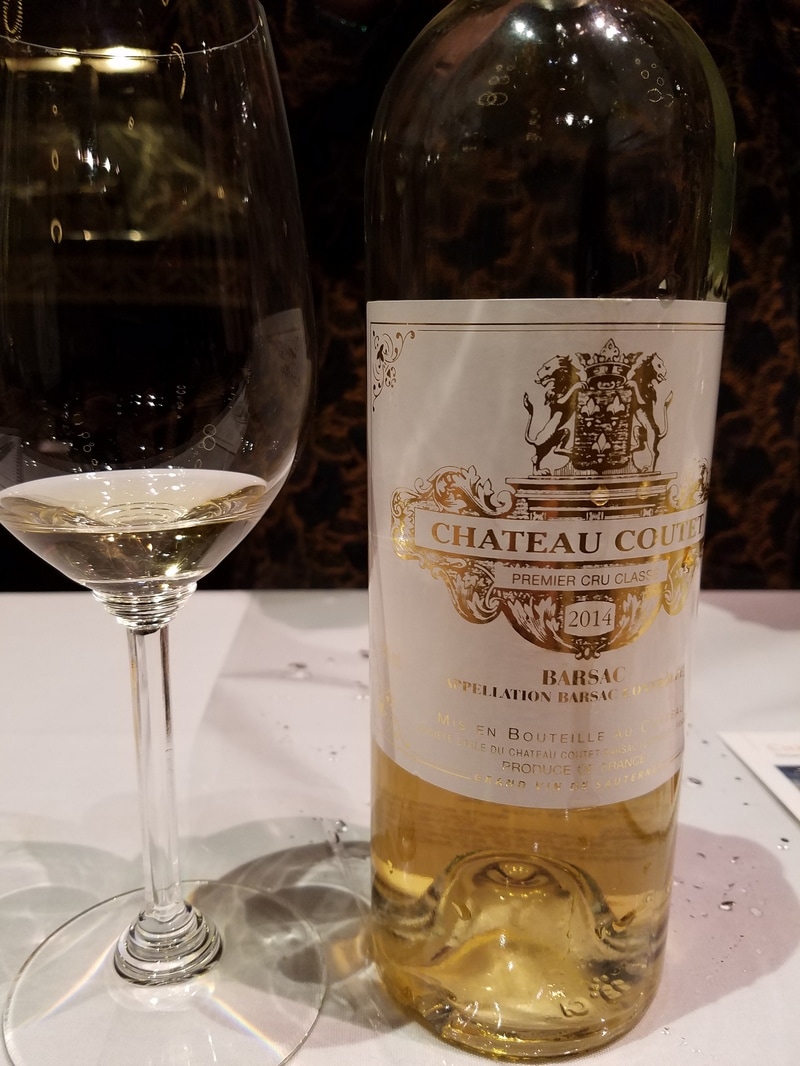 All the wines were very approachable and one can only imagine what they will be like in ten to twenty years!
Until next time!
Cheers!
Penina
To leave a comment or if you have an inquiry, please contact me at
wineknittercomments@gmail.com