As mentioned in my previous post, I traversed Sicily from west to east and back again touring vineyards and meeting with winemakers. Logically, I should begin this story with the first winery that I visited on the western side of Sicily. However, I'm going to begin "our tour" with Feudo Montoni, located in the middle of Sicily, high up on a mountain, surrounded by wheat fields and vineyards in a commune called Cammarata in the Province of Agrigento. Feudo Montoni was my last stop on the wine tour before heading for Catania. And for me it summed up all the passion, love and pride of the Sicilian winemakers that I had met so far.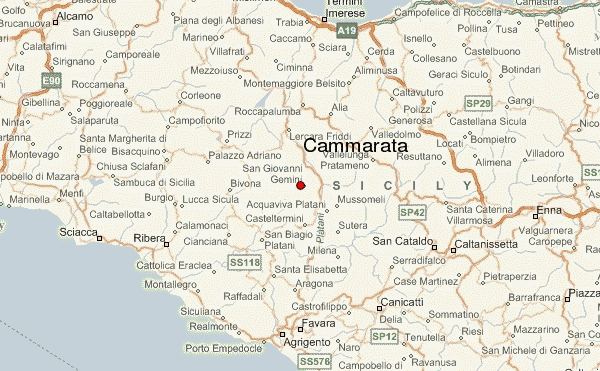 As we made our way up a long, narrow and twisty road towards Feudo Montoni, more meadows of wheat fields, sheep and goats emerged.

Fabio Sireci is owner, winemaker and third generation of Feudo Montoni. His grandfather Rosario purchased Feudo Montoni in the late 1800s, having observed and appreciated the land, its biodiversity and the ancient vines of Nero d'Avola, Perricone and Cataratto. I'd also like to mention that Feudo Montoni is one of Sicily's most historical producers of Nero d'Avola and is the highest vineyard in Sicily for Nero d'Avola. The estate dates back to the 16th century where at that time the prized "Vrucara" single-vineyard was first planted.

Fabio's father, Elio planted new vineyards and modernized the cellar in the late 1960s. Today, 600 years later, the wines are made in the same cellars and on the same land. The baglio (a typical Sicilian interior court square) was built in 1469 and is an impressive and beautiful structure.

Fabio, like his grandfather and father before him, continues "acting as guardian of the ancient plants and their grapes." Fabio is involved in every process, from the vineyard to the cellar. Feudo Montoni philosophy is as follows: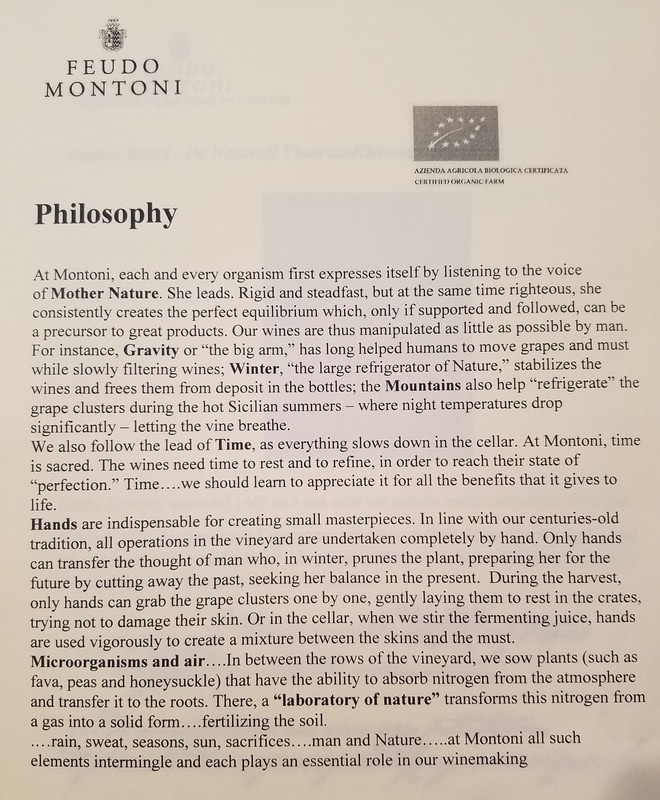 We arrived to a warm welcome from Fabio and Melissa Muller. Melissa recently published a book called "Sicily: The Cookbook: Recipes Rooted in Traditions". This book is a seven-year endeavor delving into Sicilian gastronomy sprinkled with narratives and beautiful photographs. Wine and food…a perfect union!

As we stood outside overlooking the vineyards and wheat fields, Fabio gave us a wonderful verbal tour of Feudo Montoni's history, philosophy, harvesting and winemaking techniques. He pointed out the 90 year old bush vines in one of his vineyards and explained how ancient vines are propagated from their vineyards using traditional techniques of propagation or grafting. All wines are certified organic.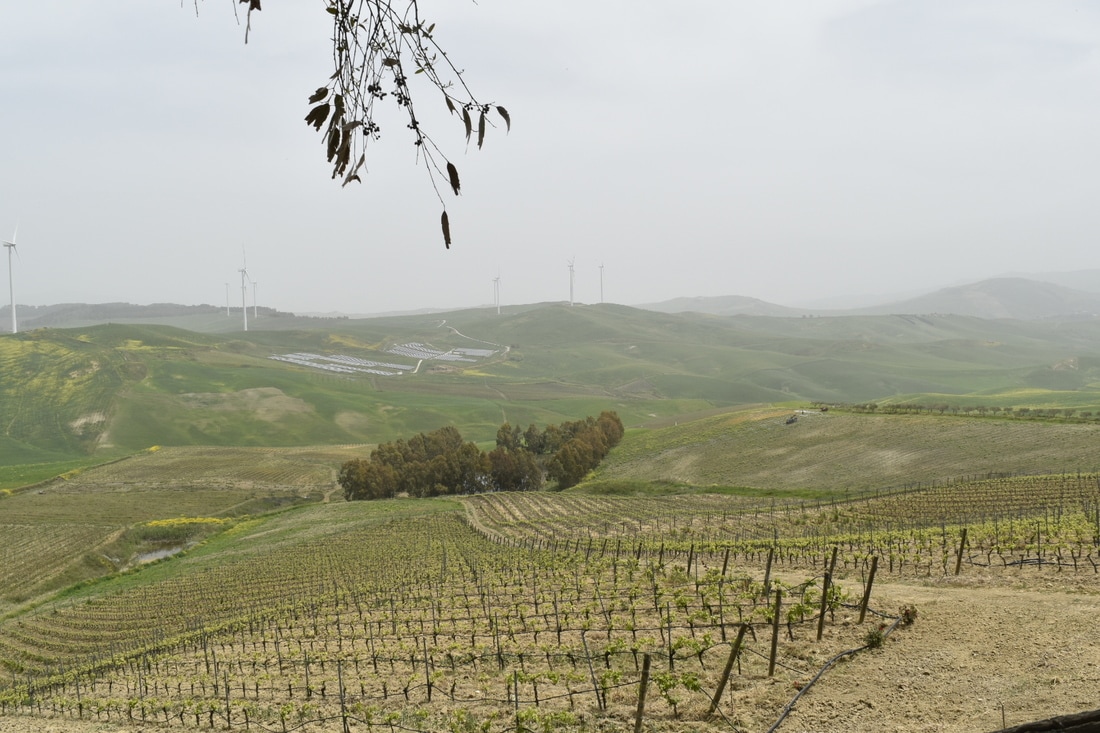 We were invited into their home for a fabulous feast prepared by Melissa and a tasting of seven wines produced by Fabio. The slide show below will give you a glimpse into a beautiful afternoon spent at Feudo Montoni. I have also included a short video of Fabio and Melissa talking about Nero d'Avola Vrucara and Lagnusa.


All the wines were memorable, with my favorites being:

2013 Vrucara, intense aromas, full-bodied, dark cherries, juicy and elegant.

2015 Perricone Smooth with plum and spice. Earthy and full.

2016 Catarrato Delicately aromatic with floral and citrus, hints of mint. Fruit fresh with good balance and acidity.
We took a quick tour of the cellars and bottling area.

As we said our good-byes with an autographed cookbook in hand and the taste of sweet Passito still lingering on my palate, Fabio's parting words said it all "the heart and soul transfers to the grapes and wine".

Thank you, Fabio and Melissa for an inspiring afternoon!
Cheers!
Penina
To leave a comment or if you have an inquiry, please contact me at
wineknittercomments@gmail.com