Perhaps my use of the term "magical" is played out, but I can't seem to come up with a better description of the three days I recently spent as a guest of the Rallo family of Donnafugata in Sicily. This is not my first story about Donnafugata and their delicious wines, but it is my first visit to their wineries and vineyards at Contessa Entellina, Marsala and Pantelleria.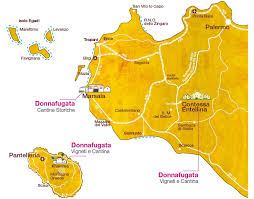 With a family history of making wine dating back to 1851, Giacomo Rallo (fourth generation) and his wife Gabriella created Donnafugata in 1983. Giacomo, who sadly passed away in May 2016, is considered a pioneer of a new generation of modern winemaking in Sicily, seeking a quality-based approach to winemaking and promoting the island's cultural heritage. His wife Gabriella is a pioneer in her own right, being the inspiration and author behind most of the Donnafugata labels. The labels are quite whimsical and pay homage to various works of art and literature. The name Donnafugata means "woman in flight" and refers to a piece of literature called "Il Gattopardo". The story is about a queen who found refuge in the part of Sicily where the company's vineyards are located today. This image and logo capture the very essence of Gabriella.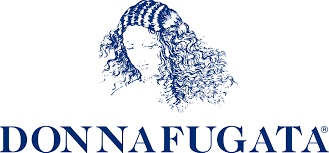 In 1990, their children José and Antonio joined them at Donnafugata with José as head of management control & communication and Antonio as a dedicated agronomist, winemaker and head of the Consorzio Sicilia DOC. Together, the Rallo family has dedicated themselves to eco-sustainable management, biodiversity and paying special attention to their carbon footprint.

My adventure began at Contessa Entellina along with three other journalists. In addition to seeing José Rallo again and meeting her spirited team of Baldo and Laura, I had the honor of being introduced to and spending time with Gabriella Rallo. After a lovely dinner and much needed sleep, we were ready to begin our tour of the vineyards the next day.

Contessa Entellina is located in the heart of western Sicily. It is comprised of 270 hectares of vineyards and a 9 hectare olive grove. In addition to growing many indigenous grape varieties such as Ansonica, Grillo and Nero d'Avola, several international varieties are grown here as well. Grapes like Cabernet Sauvignon, Merlot, Chardonnay and Viognier are conducive to the climate of the Mediterranean.

We had an in-depth tour of the vineyards led by Antonino Santoro, Donnafugata's winemaker. He explained the pruning methods used, the more common being the spurred cordon pruning (leaving 6 to 10 buds per plant) and pruning with Guyot training which limits the vine's lignified growth to the trunk. The vines grow in clay loam soil, which gives the grapes their unique characteristics. A slide show is below.

In addition to our tour, we had the opportunity to sit with Antonino and José to taste the 2016 Anthilia and Sur Sur, the 2015 Vigna di Gabri and Sherazade and the Tancredi 2006 and 2012. All the wines were very good, but I especially enjoyed the Anthilia which is predominantly Catarratto grape. It has a beautiful fruity bouquet with a palate of stone fruit, soft citrus and the sea. The Vigna di Gabri is primarily Ansonica grapes. It has great intensity blended with herbal and citrus notes and a burst of floral on the finish. This is a wine that Gabriella wanted to create, believing in the "full-flavored fragrance" of Ansonica. This is a delicious wine!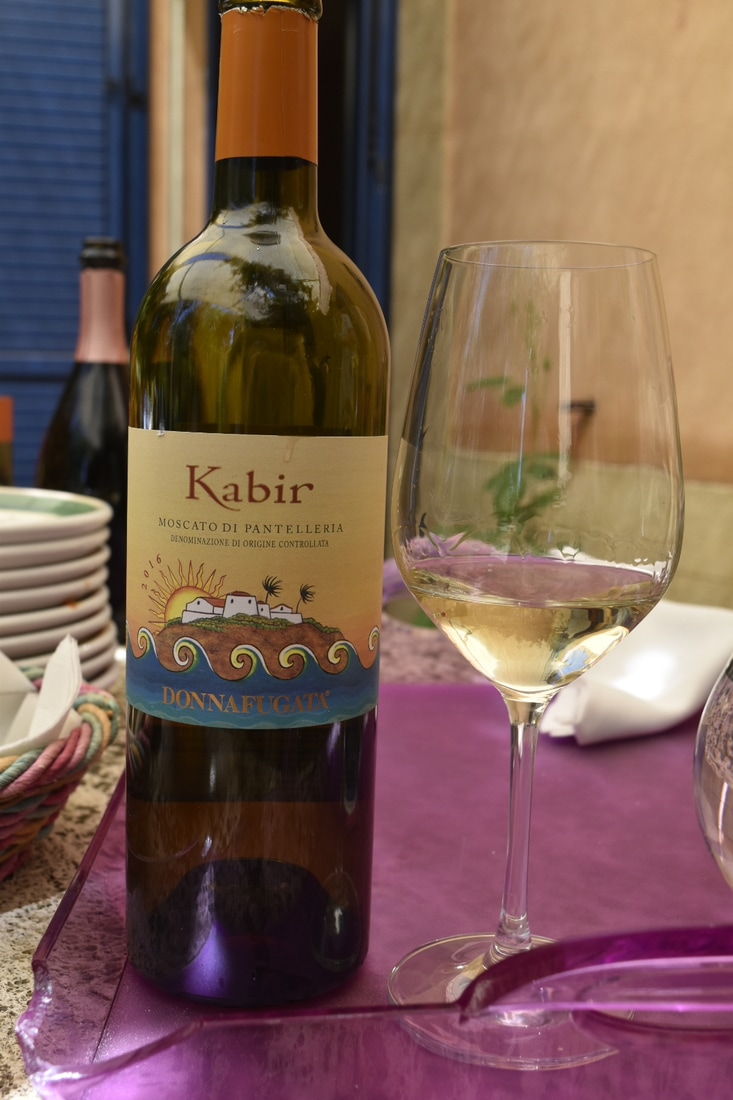 We had a delightful lunch outside while enjoying the beauty around us. A bottle of Kabir was opened at the end of the meal. This is a naturally sweet wine made with Zibibbo grapes, which I will be discussing when we land in Pantelleria. The wine is very aromatic with floral, citrus and stone fruit and herbs that carries over to the palate and is beautifully balanced.

After lunch, I walked around the property with Gabriella as she proudly pointed out all the trees and bushes that she personally planted so many years ago. My admiration for her definitely accelerated! As you go through the slide show, I think you'll see why.

Before we said our good-byes to José, Gabriella and Antonino, José, who is also an accomplished singer, sang a little song for her mother. It was a very special moment. Here is the video…

The other journalists and I departed with Laura and Baldo for our next stop to the ancient family cellars in Marsala where the bottling and aging process take place. On our way there we did a little scenic sightseeing and stopped at the Salt Pans located between Trapani and Marsala. These are Europe's oldest salt marshes. In the photos, you can see the windmills that are used to drain the water from the pans.

When we arrived in Marsala, we had just enough time to check into the hotel, freshen up and enjoy a complimentary glass of Marsala before heading to the Aging Winery with Baldo for a vertical wine tasting and dinner.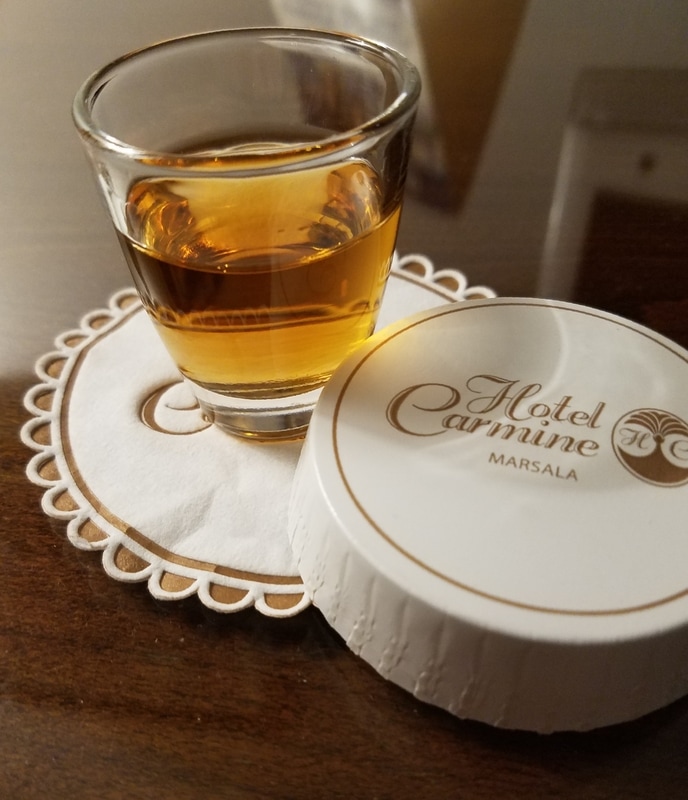 When we arrived at the winery, we were met by Pietro Russo, winemaker. The historic cellars date back to 1851. It is a typical baglia layout with a dramatic courtyard. Wines produced at Contessa Entellina and Pantelleria are brought here for aging and bottling. The aging process takes place in steel, cement and wood (French oak). The underground barrique cellar was built in 2007 and is carved out of the tuff rock allowing for a reduction in the use of energy to maintain desired temperature and humidity. Tuff rock contains debris (ash) from volcanic eruptions. A slide show and video of the winery and cellar are below.

This is a video of the underground Barrique cellar.

Pietro led us through a vertical tasting of Chiarandà 2014, 2005 and 1996, Mille e una Notte 1996, 2008 and 2012 and Ben Ryé 2008 Limited Edition.

The Chiarandà 2014 is made with Chardonnay grapes, whereas the 2005 and 1996 are made with Chardonnay and Ansonica grapes. The 2014 had more "fresh" fruit and was balanced with herbs and nice minerality. The 2005 was less fruity and more herb dominant. The 1996 Chiarandà had lost its edge, but there were still subtle notes of herbs and hints of muted fruit.

The Mille e una Notte is made with Nero d'Avola and a small percentage of other grapes. The 2012 has a heady bouquet of lush fruit and spice. The palate offers layers of fruit with soft tannins and a long finish. The 2008 offers fresh cherries, spice and herbs. A touch of Syrah adds the softness and Petit Verdot rounds it out with medium tannins and licorice. The 1996 Mille e una Notte was showing its age. The color was leaning towards red/rust and the nose was indiscernible but fruit was present. The palate offered soft tannins, herbs and fruit. It was very drinkable! The Ben Ryé 2008 Limited Edition is made with Zibibbo grapes and is aged at least six years in the bottle before release. This naturally sweet wine embraces the palate with apricots and floral. It is rich and elegant as all the wines were that we tasted.

Below is a slideshow of the vertical tasting and a sampling of our dinner that followed.

The next morning we assembled in the hotel lobby at 7 am to catch a flight to Pantelleria Island. Baldo and Laura were our guides for the day.
Below is a slide show of Pantelleria taken from plane.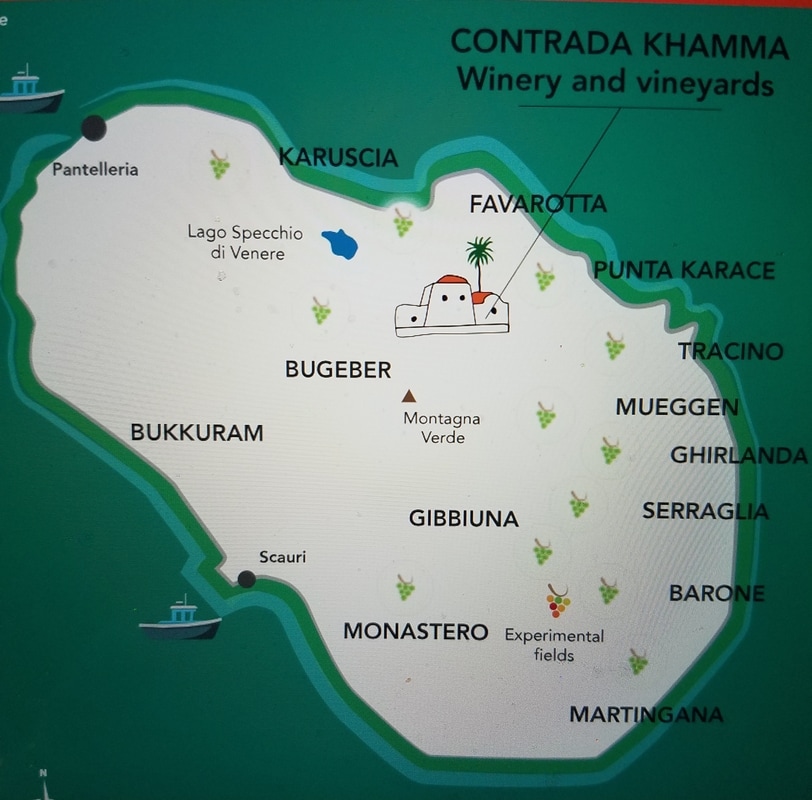 Pantelleria is a volcanic island situated between Sicily and Africa. It is about 35 miles from Tunisia. Donnafugata has a winery and 68 hectares of vineyards that are spread out over 14 districts. The districts differ in soil, altitude, exposure and age of plants. Zibibbo (Moscato d'Alessandria) is the wine variety grown. The name zibibbo comes from the Arabic "Zibibb" which means dried grape. Some of the plants are more than 100 years old. The vines are cultivated by hand, planted in a basin and trained to grow low and horizontally on terraces bordered by dry-built lava stone walls. This system of planting allows the vines to withstand the wind on the island. The soil is sandy and originates from lava, thus the term "volcanic soil". Zibibbo is harvested for a whole month beginning in mid-August. The best clusters are laid down in the sun for drying. In September, the grapes are picked for use in making Kabir, Ben Ryé and Lighea that are made here.

The winery is located in the Khamma district of the island in a natural amphitheater of 13 hectares of terraces. In addition to grapes, Biancolilla olives, capers and figs are grown. Lava stone can be seen throughout the island and there are many miles of stone wall on the winery property. Rain barrels collect water, kept in water tanks and are used to irrigate.

We toured the winery and vineyards including a special vineyard with vines that are over 100 years old. The Giardino Pantesco was a special treat to see. It is a circular fortress made from lava stone that protects the most beautiful orange tree from the micro-climatic conditions of the island.

We also visited other districts including the experimental vineyard in Campo Barone. The slide show below depicts various districts of the island and a few scenic moments.

In addition to visiting the vineyards, Laura and Baldo took us on a little sightseeing adventure. We stopped at Lago di Venere, which is the crater of a former volcano. It is a popular spot for swimming, mud bathing and is known for its healing qualities.



Sese del Re was intriguing. It is a 5000 year old monument constructed of rocks of lava with sepulchral chambers within. And no…I didn't venture inside!

We also saw the Elephant's Arch, a rock formation that leads from the town of Tracino and out to sea. It looks like an elephant's trunk dipping into the sea. The view is breathtaking!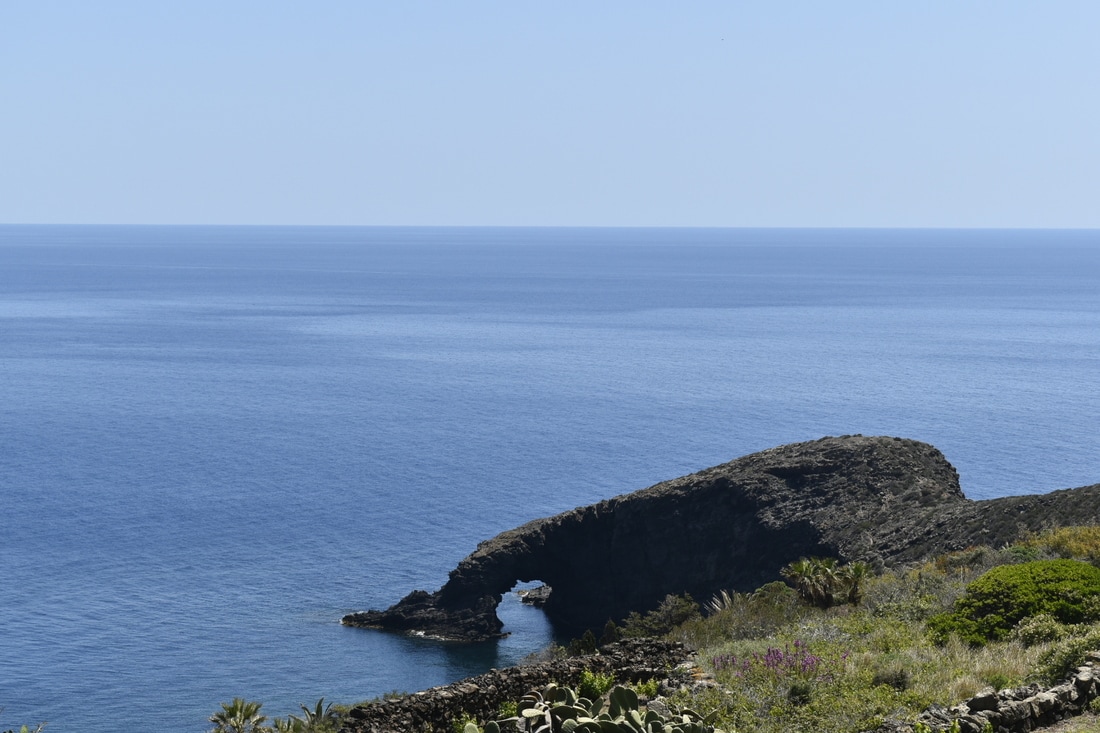 We ended the day with a leisurely lunch at La Vela, a wonderful seaside restaurant in Scauri Scalo resort. Of course, drinking Donnafugata wine complemented the meal! It was a perfect ending to a glorious day!

Tired but happy, we boarded the plane back to Marsala where José was waiting to take us to a farewell dinner. My gratitude and a big thank you go out to the Rallo family for inviting me to be a part of the world of Donnafugata for a few days.

Donnafugata produces high quality and elegant wines that express not only the uniqueness of the soil and climate of Sicily, but the wines also reflect the passion and dedication that goes into each bottle. I quote from their website "Every bottle of Donnafugata is a tale filled with emotion, a sensory fabric perceived in the mouth that remains in the heart and mind."

The next time you're in a wine shop, pick up a bottle of Donnafugata wine and pour a little "Sicily" and "magic" into your glass.

Saluti!
Penina